new
4002973234044
356106
24.99
/cats-best-sensitive-cat-litter-29kg-p-34597
AUD
InStock
CATS BEST SENSITIVE CAT LITTER 2.9KG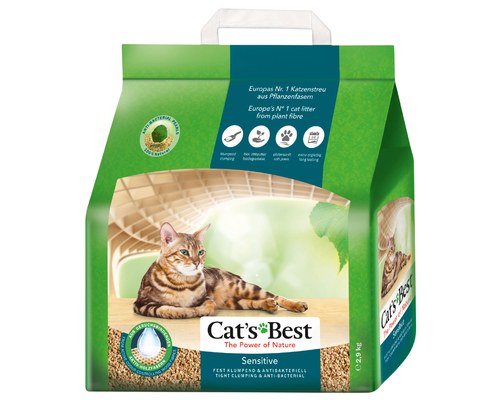 CATS BEST SENSITIVE CAT LITTER 2.9KG
FREE SHIPPING over $49.99*
SAME DAY DELIVERY**
CLICK & COLLECT
Note: Availability depicts company wide stock levels; *Shipping exclusions apply; **Select zones only; Please refer to Shipping page.
CATS BEST SENSITIVE CAT LITTER 2.9KG

Take care of your cat's hygiene with Cat's Best Sensitive Cat Litter. This long lasting litter is great for the environment and soft on your cat's paws. With 100% natural ingredients and antibacterial benefits without the use of chemicals. Cat's Best Sensitive ensures the hygiene of your cat without taking away the comfort of their toilet time.

Benefits:
!00% natural, bio-degradable and compostable
Odour control made possible with unique active wood fibre technology
Anti-bacterial
High absorption - 800% of litter volume
Soft on paws
Lasts up to 8 weeks
Dust-free
Light weight
Materials:
Refined active wood fibres from PEFC-certified secondary raw wood materials - no trees are felled to make Cat's Best!


How to use:
1. Ensure your litter tray is dry, fill your litter tray with Cat's Best litter to create a depth of about 5-7cm
2. Remove clumps and solid excretions regularly. Dispose of clumps and excretions by flushing down the toilet, composting or disposing of in the bin.
3. Cat's best litter lasts for up to 8 weeks, so complete cleans can be done every 6-8 weeks or when you have gone through the whole bag.

Tip
: If your cat is hesitant with changing their litter, simply sprinkle their old litter on top of Cat's Best to help them transition.
Do You Have A Question About This Product?
Please note: Product information will be included with the form automatically.
CATS BEST SENSITIVE CAT LITTER 2.9KG
is rated out of
5
by
1
.
Rated

5

out of

5
by
lastninja
from
I wish I had found this litter earlier
First things first - there is a LOT of 'bad' litter out there. Too smelly for kitties with fragrances, too bumpy for paws, too dusty for sensitive noses, etc etc. We are trying to imitate sand or soft soil - that is what kitties are meant and want to do their business in! So the finest and softest and least smelly material you can find. And no you are not meant to flush any type of litter down the toilet, just ask your water company. Litter trays are a whole other subject. I recommend anyone that thinks 'toilet' training a cat or self-cleaning trays are good to please watch some youtube, maybe Jackson Galaxy, on the subject. Just get a normal tray and clean it, it's less work than picking up dog poo on walks. Now I haven't tried Cat's Best regular cat litter, but I will probably be trying that in future as it's a bit cheaper. However my cat is definitely sensitive so I wanted to try the sensitive first (as well as there being a special/discount on it currently). It's the best cat litter I've ever used. It clumps well with good fluid absorption (can break off if not slow and gentle to pick out though, but only a little and still mostly in clumps - there are far worse clumpers out there) so good value, it has no discernible smell, it doesn't have dust, it's lightweight and easy to handle the bags for pouring and the tray for full emptying, it's a natural product so safe for kitty, it has fine/small enough size grains that are soft on kitty's paws and it comes in a recyclable paper packaging. The only downside is the cost - it's definitely one of the most expensive litters I have tried. But if you want to read further below you will see why I was expecting to be spending up to or possibly over $1000 on behavioural therapy and how I hopefully now won't have to!! My kitty is elderly at 15 years old and very sweet in every way except problem elimination, she's been pooping next to the litter tray and in random places the past year and I couldn't figure out how to solve the problem. It looks like Cat's Best may be (at least a big part) of the solution! Here's the backstory. I've used a LOT of different litters over the years. Pretty much all the non-fragranced options from the supermarket and a lot of pet store exclusive options also. I would keep coming back to Catsan ultra clay after trialling on and off using Max's, Breeder's Choice/other recycled paper, Catlux soft wood, soy options, corn options, walnut options.. a lot. The past year kitty has been deciding to go next to the cat litter more and more, and then to go on the carpet and next to windows and doors. I've been going crazy the past year trying to sort the issue out - more cat litter trays, different litters, feliway spray, litter attractant, vet visits, washing all the trays regularly, enzymatic cleanup of accidents, changing the litter after every movement (3-6+ times per day just following her around pretty much) - sometimes all the trays would be clean and still there would be accidents, next to the litter or nearby. The past four days have been ACCIDENT FREE. I'm not sure what worked because I did a few things the past week but this cat litter certainly is playing a big part. So my kitty has presumed IBD and was put on steroids medication this week. So BMs have been more solid and maybe she is having less pain so more comfortable using the cat litter (not associating it with pain). I've not been trialling any new foods to try to make sure no diarrhoea (had been trialling for the past month or two various new foods). I repositioned the cat litter trays and STOPPED washing them regularly - thinking maybe the new trays needed to have more 'kitty smell' for her to feel comfortable with them (previously washing with pure soap every couple of weeks because of diarrhoea). I also after failing with Feliway spray, tried a Feliway diffuser. The diffuser did not help in the sleeping area but may be helping near the problem area, after moving it from the sleeping area last week. I also stopped using an air purifier I bought as much, in case the noise was disturbing or was filtering the Feliway pheromones out of the air. The last change was CAT'S BEST SENSITIVE CAT LITTER. I think the medication and diffuser might be helping as there are new cats that moved in the past year so anxiety could be causing marking around the house. But as the accidents were not just near windows and doors but also right next to the litter, as well as her choosing to only use a JUMBO tray ONCE for ONE thing - ie one tray a small wee, one tray a small wet poo, then instead of using the 3rd to 5th trays, going next to the 2nd tray for another poo, this would usually mean she is not happy with the tray or litter type also. It was just so much to take in all in one year and so many solutions attempted to resolve the issue. Anyway we are up to day 4 with no accidents. She was previously avoiding her most regularly used tray due to 'Arm and Hammer' litter being trialled - it was amazingly dust free and clumped brilliantly but had an horrendous smell from bicarbonate soda and other fragrances. So kitty entirely avoided it the past weeks. But as soon as I put the CATS BEST SENSITIVE in after giving it a wash with water and pure soap and drying it off, I showed it to her and she was straight into it. Today, the second day I've had it, I found a wee AND a poo in the litter - something I've been praying would happen for a long time now (and what was totally normal prior to the past year). So while I think medication has been playing a big part, this litter is now invaluable to me. It's the only one that seems decent for my kitty and her sensitive paws (she's 15). I wish it was a bit cheaper but understand that importing litter from overseas isn't cheap with postage/freight costs and taxes. Please, please Cat's Best, come to Australia for regular distribution/suppliers!! I love your litter!! I'd tried litter attractant and buying 10 different trays and placing them all around the house but nothing was working. Turns out it could have just been the types of litter I was using.
Date published: 2021-04-23