Fresh & Frozen Pet Food
Every pet owner will tell you that the way to their furry friend's heart is through their stomach. Whether it's a tuna loin or their favourite bone to gnaw on, mealtime is the perfect opportunity to keep your pet fit and healthy.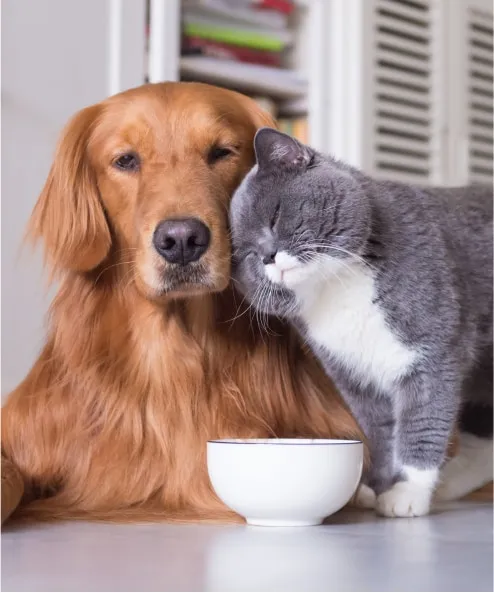 What does Fresh & Frozen mean?
We know you want the best for your bouncy buddy, balancing delicious treats with a nutritious diet plan - but time gets in the way. Frozen raw cat and dog food (or raw BARF) delivers the vitamins and minerals your pet needs to thrive with an added dash of convenience and science; foods are freeze-dried and stored, ensuring no nasties can infect your pets dinner, while still reaping the benefits of a farm to table diet.
What about fresh?
Also known as chilled pet food, our fresh range focuses on delivering a preservative-free (or near preservative free) dining experience for your cat or dog. Made up of essentials like muscle meat, grains, seeds and vegetables, fresh raw pet food belongs in your fridge to be prepared and served by a certain date - just like human food!
Explore our brands
Fresh & Frozen 101: Just the facts
When it comes to flavoursome fresh and frozen pet food, we're experts. We've gathered all of the facts in one place so you can make an informed decision about what your favourite feline or playful pup devours day to day, keeping their wellbeing top of mind at all times. Go raw and fresh without losing time to prep!
Our fresh and frozen brands
Find the right fit for your pet
Not ready to change completely? The benefits of mixed feeding
Is your pet losing interest in their old favourites? Maybe they've taken an interest in your dinner instead, excited by the textures and tastes promised by kitchen aromas… it's time to mix things up. Create new combinations with fresh and frozen toppers, balancing their need for something new with your desire to get them fed - try animal parts, like duck necks, for a delicious and dental-friendly snack!
Find out more about the benefits of mixed feeding below:
Ready to try Fresh & Frozen? What to do next
Our range of Frezh & Frozen foods are readily available to all in-store and Click & Collect shoppers. Plans are also underway to offer Fresh & Frozen foods through our regular delivery services. Stay tuned for more news on that when the time is right!
Keep in mind that you will also need to gradually switch your pet's food over a seven day period to help avoid digestive upsets. You can always slow down and add a little extra time between changing the amount of food if you notice your pet needs a little extra time to adjust.
How to transition to raw dog food:
| | Feeding Ratio |
| --- | --- |
| Days 1-2 | Change 25% of their normal food with their new food. |
| Days 3-4 | 50% of their meal should be their old food, the other half new. |
| Days 5-6 | 75% of their food should be the new diet. |
| Days 7 | 100% change |
As you begin to transition their food, make sure you monitor how your pet is reacting to the change. Always keep track of their weight and keep an eye out for symptoms like a loss of appetite or vomiting after eating, make sure to get in contact with your vet should this occur.