SavourLife is a family-owned, Australian company inspired by a love for dogs and a desire to make a difference.
They make natural, Australian-made food and treats for dogs and donate 50% of their profits to pet rescue organisations; helping them save and re-home abandoned dogs.
Every SavourLife product you buy helps contribute towards their mission of helping reduce the number of adoptable dogs euthanised in Australia to ZERO. It's dog food that makes a difference!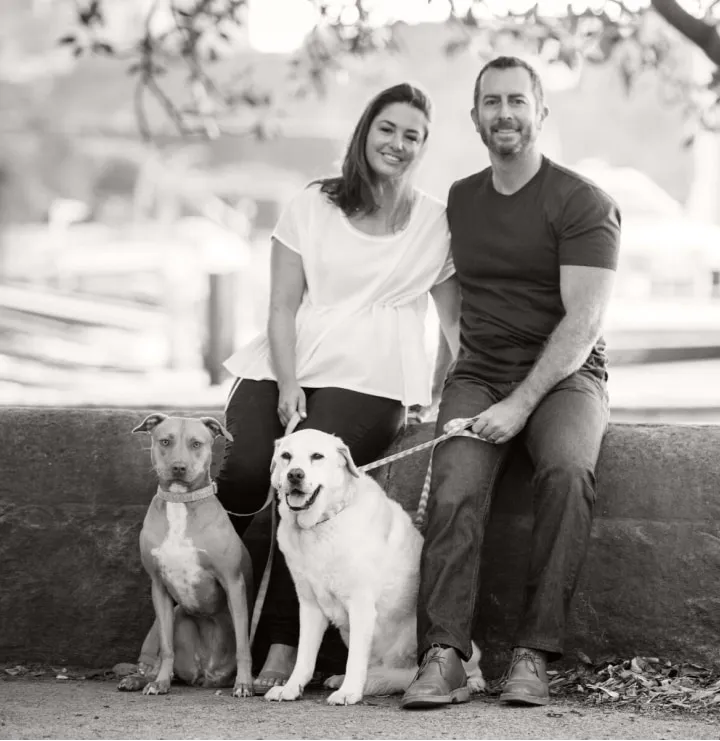 Missy and Buddy, the inspiration behind SavourLife.
"It all started with our first dog Buddy. He brought so much joy into our lives, and we wanted to be able to allow other people to experience that same happiness only a dog can bring. We believe every home should have a dog and every dog should have a home."
MICHAEL McTEIGUE - FOUNDER OF SAVOURLIFE
SavourLife is proudly one of the few Australian-Made and Owned pet food companies
So you can be assured that not only is your product made in Australia, but it's also owned by an Australian company. By choosing to support a locally owned business you are getting behind Australian farmers, suppliers, and of course, a family business trying to make a difference. Find out more about our natural Australian food and treats ranges below!
SavourLife have a huge goal - to help reduce the number of adoptable dogs euthanised in Australia to ZERO. Inspired by their late dog Buddy, and their rescue tripaw Missy, founders Michael and Kim are committed to helping pet rescue organisations all over Australia save and rehome abandoned dogs.
Grain Free Food
SavourLife's Grain Free food range is an all-natural, Australian-made, gluten-free food with Australian meat and natural superfood inclusions like Sweet Potato, Yucca, Kelp, Carrot, Broccoli and Blueberries; plus vitamins, minerals, natural pre-biotics and amino acids, and contains absolutely no artificial flavours, colours or preservatives.
Features & Benefits:
80% of protein from animal sources
Added glucosamine for healthy joints
Added fish oil to promote healthy skin and coat
Shop Grain Free Range
Treat Range
SavourLife's Treat Range has something for everyone! Crunchy bikkies, meaty strips, training treats, dental bars, and other natural goodies from ocean delicacies, to veggie delights. Their entire range is Australian made, using Australian proteins and there are absolutely no artificial flavours or colours.
Shop Treat Range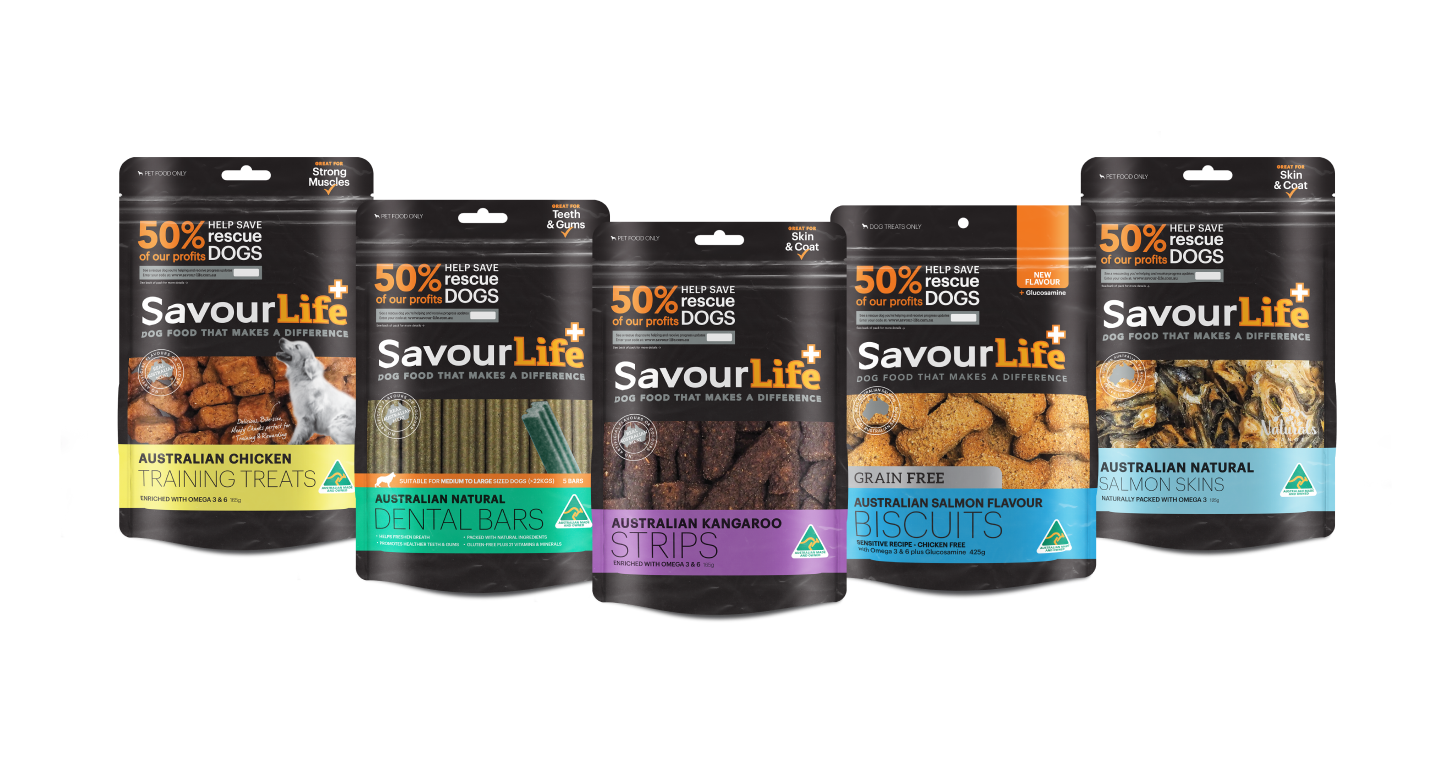 Puppy Range
The first months of a puppy's life are crucial to their long-term health and well-being. SavourLife's Puppy Range contains all the extra nutrients, energy, and healthy ingredients your puppy needs to help support muscle and bone development so they grow up to be the best dog they can be!
Shop Puppy Range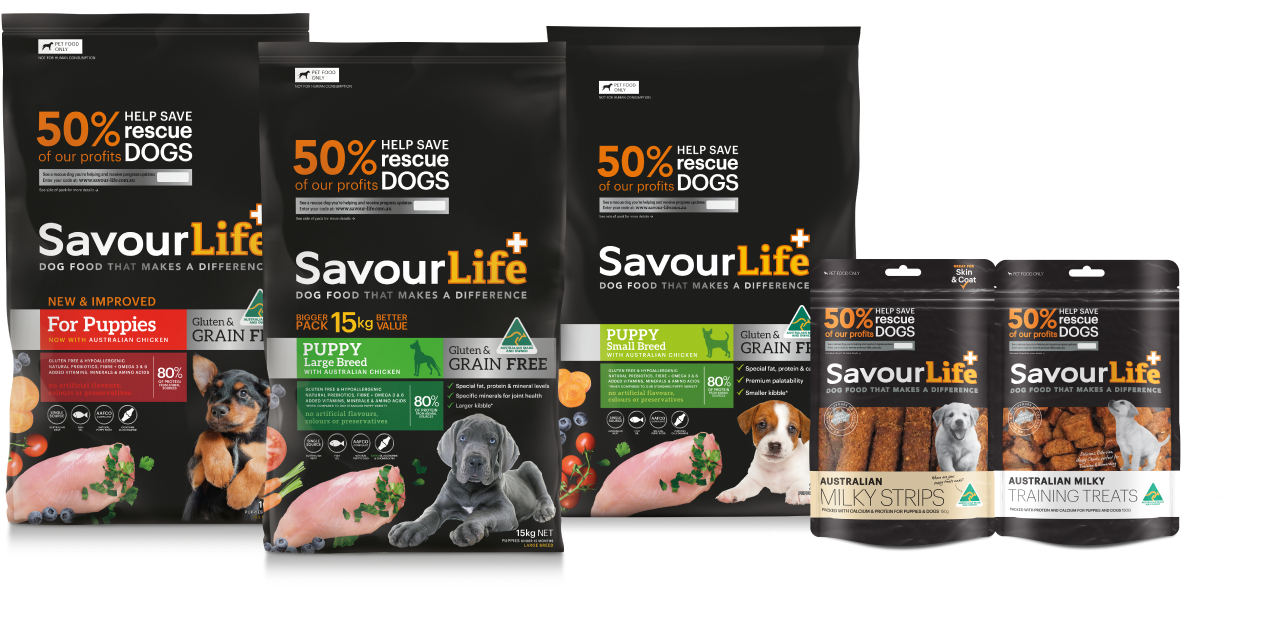 In 2019 SavourLife launched their dog adoption platform called Adopt-A-Dog to help you find your perfect soul mutt!
Adopt-A-Dog provides a simple way for you to search for a dog that fits your home and lifestyle, while at the same time providing rescue groups financial assistance for each dog that they list for adoption. Visit Adopt-A-Dog to find your new best friend!
Visit Adopt-A-Dog