new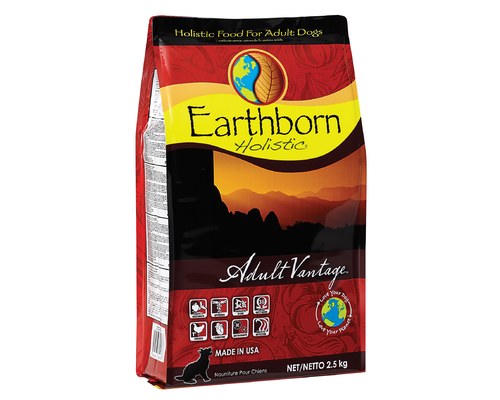 EARTHBORN HOLISTIC ADULT VANTAGE 2.5KG
Availability:
Out of Stock
Are you a Frequent Feeder? Purchase this product continually and your 11th bag is supplied FREE
more information
EARTHBORN HOLISTIC ADULT VANTAGE 2.5KG
Adult Vantage helps condition your dog for life, with quality animal proteins such as chicken meal and whitefish meal, which aid in building and maintaining your dogs lean muscle mass. Formulated with high-quality ingredients, vitamins, and minerals, Adult Vantage provides excellent digestibility and nutrient absorption.
Proper levels of calcium and phosphorous help ensure that your dog will get the right mineral balance to build strong teeth and bones. Fruits and vegetables such as blueberries and carrots, help support a healthy immune system. Easily-digested grains such as oatmeal, barley, brown rice, and rye provide natural fiber to maintain a healthy intestinal tract.
Adult Vantage is 100% guaranteed for taste and nutrition, for the maintenance of adult dogs.
Feeding Guidelines
You may keep Earthborn Holistic Adult Vantage before your adult dog at all times, because most dogs will eat as their bodies require food.
If you prefer to control your dogs food intake, we suggest you use the chart below as a guide. Adjust amounts accordingly over time. These portions are averages; portions will vary by the age, activity, size, and temperament of your adult dog.
When introducing Earthborn Holistic Ocean Fusion dog food, mix increasing amounts of Ocean Fusion with decreasing amounts of the old food over a one-week period.
CUPS of Adult Vantage to feed your dog each day
Weight of Dog / Food per Day
1 - 7 kg / 1/4 to 1 cup
8 - 10 kg / 1 to 1&1/4 cups
11 - 20 kg / 1&1/4 to 2 cups
21 - 29 kg / 2 to 2&1/2 cups
30 - 38kg / 2&1/2 to 3 cups
39 - 48kg / 3 to 3&1/2 cups
49 - 57kg / 3&1/2 to 4 cups
Do You Have A Question About This Product?
Please note: Product information will be included with the form automatically.