new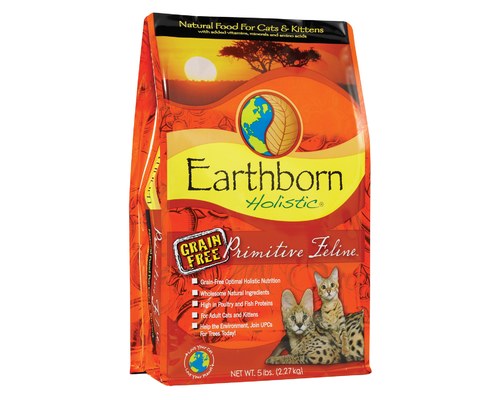 EARTHBORN HOLISTIC GRAIN FREE PRIMITIVE FELINE 2.27KG
Availability: In Stock
Note: company wide stock level.
Are you a Frequent Feeder? Purchase this product continually and your 11th bag is supplied FREE
more information
EARTHBORN HOLISTIC PRIMITIVE FELINE 2.27KG
Before conventional cat food, your cat's ancestors relied on their instincts and hunting capabilities to capture protein-rich food. Today your cat relies on you for food, but that doesn't mean his natural diet has to change. Because cats are true carnivores, they crave protein from high quality sources like turkey, chicken, herring, salmon and whitefish. Earthborn Holistic Primitive Feline is formulated to provide this high protein nutrition with a taste your cat will love. Along with protein, there is a healthy mix of vegetables and fruits, which contain natural antioxidants important for everyday optimal health. Vitamins and minerals help support your cat's immune system. This grain-free diet is a healthy alternative and is sure to be one your cat will enjoy.
Quality animal and fish proteins such as turkey meal, chicken meal, herring meal, salmon meal and whitefish meal help build and maintain lean muscle mass. Balanced levels of calcium to help build strong bones and teeth.
Guaranteed levels of antioxidant nutrients like Vitamin E and Vitamin C blended with nutrient-rich vegetables and fruits such as peas, apples, blueberries, carrots, spinach and cranberries help support the immune system, good digestion and intestinal health.
Made without grain or gluten, this special formula is perfect as a grain-free alternative diet. Primitive Feline is 100% guaranteed for taste and nutrition.
Feeding Guidelines
Taking care of your cat's overall health starts by feeding him properly. Adjust amounts accordingly over time. Please remember these portions are averages and will vary according to age, activity, size and temperament of your cat. When introducing Earthborn Holistic Primitive Feline, mix increasing amounts of Earthborn Holistic Primitive Feline with decreasing amounts of the current food over a one week period. During gestation and lactation, feed 2 to 3 times as much food as recommended in the Daily Feeding Guide for the weight of your adult cat. Kittens start to eat solid foods at three to four weeks of age and should have free access to moistened food from this time until weaning (6 - 8 weeks). Moistened food should be one part warm water with three parts Earthborn Holistic Primitive Feline. You may keep Earthborn Holistic Primitive Feline before your kitten at all times; most kittens will satisfy their nutritional needs as their appetite dictates.
CUPS of Primitive Natural to feed your cat each day
Weight of Cat / Food per Day
1.8 - 2.7 kg / 1/4 to 1/3 cups
2.8 - 4.1 kg / 1/3 to 2/3 cups
4.2 - 5.4 kg / 2/3 to 3/4 cups
5.5 - 6.8 kg / 3/4 to 1 cups
6.9 - 9.1kg / 1 to 1&1/2 cups
CUPS of Primitive Natural to feed your kitten each day
Age In Months / Cups per Day
1 - 2 / 1/4 to 1/3 cups
2 - 6 / 1/3 to 3/4 cups
6 - 12 / 3/4 to 1 cups
Do You Have A Question About This Product?
Please note: Product information will be included with the form automatically.
EARTHBORN HOLISTIC GRAIN FREE PRIMITIVE FELINE 2.27KG
is rated out of
5
by
5
.
Rated

5

out of

5
by
Sydneysider
from
Great food
I have an 11-year-old tabby who has always been a monster with food and coincidentally has always had a bit of extra weight. Since he has been eating this - which is around 8 months, he has lost 1kgs and has no itchiness - like he used to. I would try this product if you cat has skin issues or is a little heavy ;)
Date published: 2018-08-09
Rated

5

out of

5
by
Cats for pets
from
Cat dry food
Great quality food, no fillers etc, I would recommend this good and my cat loves it, which is great as it's good for her
Date published: 2018-03-24
Rated

5

out of

5
by
Kitty
from
Low carbohydrates
My cat eats these, no problem. I started buying when he was diagnosed diabetic - thankfully a condition he no longer suffers from since I put him on a raw diet. These are his low carb treat :)
Date published: 2017-02-26
Rated

1

out of

5
by
cindy09
from
Very small kibble size
Read great reviews about this biscuit but was a little shocked how small the pieces were. I mix several different brands in one bowl for my multi cat household and so far with 100% accuracy they leave this at the bottom of the bowl and refuse to even touch it so unfortunately it's a no for me.
Date published: 2019-05-27
Rated

1

out of

5
by
Fernie
from
Chemical smell - My cats won't eat it
I am extremely disappointed with this product. It was one of the grain-free cat food products recommended online, and I bought a large bag of it. Most of the bag is uneaten; months later. My cats will only eat it as a very last resort, and usually not even then. I have noticed a chemical smell to it - it doesn't smell like food at all, let alone cat food. I realise that I am not a cat, and thus I don't know what type of smell a cat would like. Nevertheless, the proof of it is in the fact that they largely refuse to eat it.
Date published: 2016-11-20