new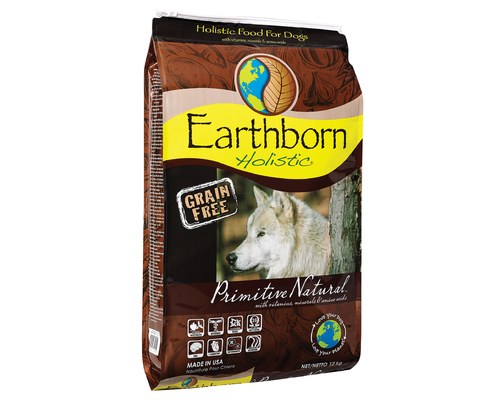 EARTHBORN HOLISTIC GRAIN FREE PRIMITIVE NATURAL 12KG
Availability: In Stock
Note: company wide stock level.
Are you a Frequent Feeder? Purchase this product continually and your 11th bag is supplied FREE
more information
EARTHBORN HOLISTIC PRIMITIVE NATURAL 12KG
Before conventional dog food, your dogs ancestors relied on their instincts and hunting capabilities to capture raw, protein-rich food. Today your dog relies on you for food, but that doesnt mean his natural diet has to change. Dogs still crave animal nutrition, and grain-free Earthborn Holistic Primitive Natural is formulated to provide the taste he loves and the nutrition he needs for physical well-being and good health.
Turkey meal, chicken meal, and whitefish meal provide high-quality protein sources. Carefully-chosen fruits and vegetables, such as apples, blueberries, carrots, peas, and spinach, complete the balance to give your dog the nutrition he needs. Formulated without grain or gluten, this special formula is ideal as a high-protein, grain-free alternative diet.
Primitive Natural promotes lean muscle mass and body conditioning, with a natural ingredient that helps convert body fat into muscle and energy, supporting lean muscle mass and body conditioning. Further ingredients that play a vital role in establishing the lipid barrier of the skin, supporting your dog's healthy skin and coat.
Made with our high-quality ingredients and processing technology, Primitive Natural provides excellent digestibility and nutrient absorption. Primitive Natural is 100% guaranteed for taste and nutrition for dogs at all life stages.
Feeding Guidelines
To control your dogs food intake, we suggest you use the chart below as a guide. Adjust amounts accordingly over time. These portions are averages; portions will vary by the age, activity, size, and temperament of your dog.
When introducing Earthborn Holistic Primitive Natural dog food, mix increasing amounts of Primitive Natural with decreasing amounts of the old food over a one-week period.
During gestation and lactation, feed two to three times as much food as recommended in the Daily Feeding Guide for the weight of your adult dog.
Puppies start to eat solid foods at three to four weeks of age and should have free access to solid food from that time until weaning. You may keep Earthborn Holistic Primitive Natural dog food before your puppy at all times. Most puppies will satisfy their nutritional needs as their appetites dictate.
CUPS of Primitive Natural to feed your dog each day
Weight of Dog / Food per Day
2 - 9 kg / 1/4 to 1&1/4 cups
10 - 16 kg / 1&1/4 to 1&3/4 cups
17 - 23 kg / 1&3/4 to 2&1/4 cups
24 - 29 kg / 2&1/4 to 2&3/4 cups
30 - 36kg / 2&3/4 to 3&1/4 cups
37 - 43kg / 3&1/4 to 3&3/4 cups
44 - 52kg / 3&3/4 to 4&1/4 cups
Do You Have A Question About This Product?
Please note: Product information will be included with the form automatically.
EARTHBORN HOLISTIC GRAIN FREE PRIMITIVE NATURAL 12KG
is rated out of
5
by
9
.
Rated

5

out of

5
by
Kia_Nanuq
from
Best grain free dry food on the market !
Nanuq, my husky, loves this food with his chicken necks each evening ( he's been having it for over 4 years) and it also completely agrees with him, bonus !
Date published: 2019-01-11
Rated

5

out of

5
by
Alize
from
Very nice
Bought this for my Corso after other food started out well but ended up making her sick. Two bags in and she is doing nicely. Great quality and ingredients.
Date published: 2018-09-25
Rated

5

out of

5
by
akitapup
from
Awesome product
Our Akita pup had been having digestive issues so we decided to change him over to this kibble, he has been perfect since the day we changed and enjoys this food, highly reccommend!
Date published: 2018-04-13
Rated

5

out of

5
by
Jamacca
from
Approved by my fussy poodles !
I tried this product for the first time, with much hesitation. However my fussy toy poodles have given it their 'stamp of approval' (even arguing over the bowls!).
Date published: 2018-03-21
Rated

5

out of

5
by
2 POODLES
from
No more irritated skin !!
Highly recommend this grain free food. My two poodles love this food and since being on it i haven't had any problems with their skin at all. Also ear problems have more or less gone on my one girl who suffered terribly from constant ear infections.
Date published: 2017-11-15
Rated

5

out of

5
by
Gammer
from
Tami's favourite
I have been feeding this to my Japanese Spitz for a few months now and she really loves it. It is on the recommended healthy, nutritious, dog food lists too so I have no qualms feeding it to her.
Date published: 2017-08-17
Rated

5

out of

5
by
Tiana86
from
Earth born
We have been feeding our golden retriever earth born since our friends recommended it. The breed is renowned for being greedy and becoming obese and having hip problems. Our dog is extremely healthy no dental problems no weight issues. Since the change to earth born we have noticed our dogs droppings are much less aggressive smelling. Now we have a new pup and she had tummy issues when we first adopted her from a shelter. She is now fantastic on earth born puppy diet.
Date published: 2017-06-14
Rated

5

out of

5
by
FrRD
from
Frenchies skin condition healed
Our Frenchie had such terrible skin and the Vet couldn't get to the bottom of it. After several years antibiotic, steriod creams, medicated washes, expensive allergy testing and trying every dog diet variation imaginable - we were recommended Earthborn Grainfree Primitive by a family member and by the time we finished our 12kg bag our dogs coat and skin was completely healed. Not only healed but he was getting compliments on how shiny his coat was!! This was a dog which just a month or two before had chunks of fur falling out and smelt so terrible constantly due to the bacteria on his skin. He's now the happiest dog, please if you're dog has been suffering from a skin condition at least give this a try first before damaging their insides with constant rounds of medication to treat the symptoms. It will be the best money you've spent!
Date published: 2017-06-14
Rated

3

out of

5
by
Mike R
from
My dogs just don't want to eat it.
Researched the ingredients and whilst it looked good my two huskies just don't like to eat it. Have to add cheese etc to encourage them to get through it.
Date published: 2019-09-30