new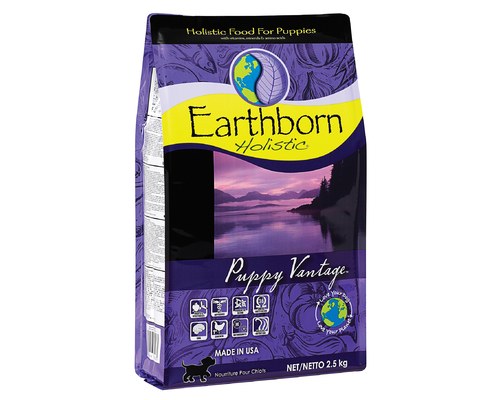 EARTHBORN HOLISTIC PUPPY VANTAGE 2.5KG
Availability: In Stock
Note: company wide stock level.
Are you a Frequent Feeder? Purchase this product continually and your 11th bag is supplied FREE
more information
EARTHBORN HOLISTIC PUPPY VANTAGE 2.5KG
Puppy Vantage offers optimal holistic nutrition, which fulfills the special needs of growing puppies. Puppy Vantage contains DHA, a type of long-chain Omega-3 fatty acid concentrated in the brain and retinal tissue and aids in healthy brain and eye development and function in puppies.
Puppies are always on the go and they need energy for growth and play. We use wholesome, nutrient-rich carbohydrates such as sweet potatoes, brown rice, oatmeal, and barley, because they are easy on your puppys digestive system and important for his overall good health. Real chicken meal and whitefish meal are high-quality protein sources that support the development of strong, lean muscles and provide necessary energy for growing puppies. Balanced Omega-6 and Omega-3 fatty acids play a vital role in establishing the lipid barrier of the skin, supporting your puppys healthy skin and coat. Proper levels of calcium and phosphorous help ensure the right mineral balance for building strong teeth and bones.
Made with our high-quality ingredients and processing technology, Puppy Vantage provides excellent digestibility and nutrient absorption. Puppy Vantage is 100% guaranteed for taste and nutrition for puppies.
Feeding Guidelines
Earthborn Holistic Puppy Vantage may be fed to puppies from the age of four to six weeks through to 12 months. For the first six months Puppy Vantage should be available to your puppy at all times. After six months, using the chart as a guide, divide the recommended daily portion into two meals per day. The recommended feeding portion may vary according to age, breed and temperament. If unsure, consult your veterinarian. Have fresh water available at all times. No need to supplement.
Age: 2 Months
Weight of Dog / Food per Day
1 - 3 kg / 70 - 170g
3 - 5 kg / 170 - 250g
5 - 10 kg / 250 - 380g
10 - 15 kg / 380 - 500g
Do You Have A Question About This Product?
Please note: Product information will be included with the form automatically.