new
811794012250
345013
56.24
/furminator-large-short-haired-cat-deshedding-tool-metallic-purple-p-31068
AUD
OutOfStock
FURMINATOR LARGE SHORT HAIRED CAT DESHEDDING TOOL METALLIC PURPLE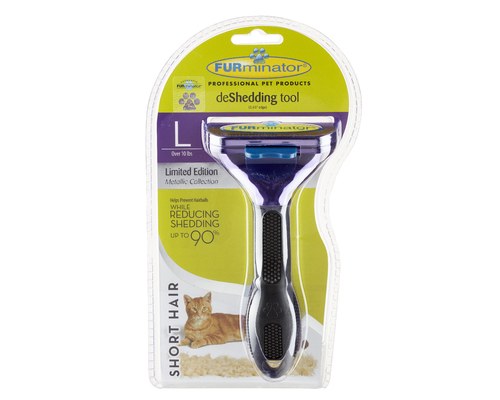 FURMINATOR LARGE SHORT HAIRED CAT DESHEDDING TOOL METALLIC PURPLE
Regular Price: $74.99
Your Price: $56.24
You Save: $18.75 (25%)
Availability:
Back in Stock Soon
FURMINATOR CAT DESHEDDING TOOL | SHORT HAIRED | LARGE | PURPLE
Owning and taking care of dogs and cats can be quite the hairy affair. With the house and car covered in your little buddy's loose and shed hair, cleaning up all that hair is way too time consuming to have enough quality time playing with them. Sometimes even grooming them to pick up that shed hair right at the source doesn't do the job and isn't easy nor fun to use.
Here comes the FURminator deShedding tool, a uniquely designed metallic deshedding gadget that guarantees a significant reduction in shedding and hairballs by your pet. Made and used by professional groomers, the results are certified to make the whole process of shedding and cleaning easier whilst being a whole lot faster.
Featuring a comfortable ergonomic grip that makes the tool easy to control, the deShedding edge is made with stainless steel and gets in deep within the undercoat to maximise its uptake in one single gentle stroke. Closing it off is the maintenance of the actual tool, which is easy to carry out thanks to the FURjector button that needs only one push to seamlessly remove any hair on the FURminator deShedding tool.
- Reduces shedding and hairballs
- Easy to control
- Made with stainless steel and easy to grip rubber
- FURjector button makes it easy to clean the FURminator deShedding Tool
Be sure to choose the perfect FURminator deShedding Tool that matches your pet's size and length of hair.

This particular FURminator Large Short Haired Cats deShedding Tool is for cats with hair shorter than 2 inches and who weigh more than 10lbs in bodyweight.
Choosing the right one:
- "Long Hair" is for cats with hair longer then 2 inches
- "Short Hair" is for cats with hair shorter than 2 inches
- Small is for cats up to 10lbs in bodyweight
- Large is for cats more than 10lbs in bodyweight

Colour:
Purple

Hair length:
Short

Size:
Large

Dimensions:
6.73cm (edge length)
Do You Have A Question About This Product?
Please note: Product information will be included with the form automatically.
FURMINATOR LARGE SHORT HAIRED CAT DESHEDDING TOOL METALLIC PURPLE
is rated out of
5
by
11
.
Rated

5

out of

5
by
Laram83
from
Furminator large short haired cat deshedding tool
My cat has the thickest coat for a short hair, this deshedding tool absolutely works a treat in thinning it so that he doesn't constantly leave hair everywhere! Does exactly as it says it does!
Date published: 2020-03-06
Rated

5

out of

5
by
M mitchell
from
Great product
This comb is easy to use, clean and my cat enjoys it!
Date published: 2019-11-14
Rated

5

out of

5
by
Yola09
from
Amazing comb for a finicky grumpy cat
This thing is a great tool. Well made and feels robust. Hate that it is purple but it was on special. Color doesn't matter since this is the only comb that my cat actually enjoys and doesn't shred your arms every time you approach to brush him. It takes out so much hair and my boy has less hairball throw ups because of it. Money well spent and would buy again.
Date published: 2019-02-17
Rated

5

out of

5
by
Huggz11
from
Cats absolutely love it!!!
I brought this 2 weeks ago and have used it daily, the cats keep coming back for more!! They love being stroked with it! Best purchase!'
Date published: 2019-01-12
Rated

5

out of

5
by
TeBuddy
from
Amazing
this product lives up to its name 'furminator' the first time I brushed my cat I was amazed with all the hair it collected it was also easy to clean, the furminator also left my cat softer than she has ever been. She loves being brushed with this
Date published: 2018-12-22
Rated

5

out of

5
by
Helen77
from
worth the money
I wouldn't have believed it if I hadn't seen it myself. I got a solid handful of fur - mostly undercoat- from just a few minutes of brushing. My hint- don't be too forceful with the strokes as it really pulls the lower coat out.
Date published: 2018-12-09
Rated

5

out of

5
by
Bonnykins
from
Very helpful!
Recently purchased to help my shorthair shed her winter coat. Easy to use at a great price from My Pet Warehouse. A very good quality tool; a quick comb and it will help kitty eliminate excess fur.
Date published: 2018-12-04
Rated

5

out of

5
by
Vanitascake
from
AMAZING!
We bought this for our two short-haired cats, who shed like nuts. First brush, I got handful after handful of fur, and their coats were even softer than their usual silky selves! I'll never use another brush, this thing is amazing.
Date published: 2018-05-31
Rated

4

out of

5
by
BentoMum
from
Furballs be gone :)
Great for keeping furballs and dust bunnies at bay. Only negative would be it's a little heavy, so need to be a little light handed and cautious while grooming. I'm very happy with it overall.
Date published: 2019-12-14
Rated

4

out of

5
by
Izzy1234
from
Great tool
Does a great job of removing loose hair and its reassuring to know that is a few less that will end up all over the house! The cats took a bit of getting used to a new object being waved about around them but seem to enjoy it now.
Date published: 2019-04-15