new
811794012236
345011
45.74
/furminator-small-short-haired-cat-deshedding-tool-metallic-pink-p-31066
AUD
InStock
FURMINATOR SMALL SHORT HAIRED CAT DESHEDDING TOOL METALLIC PINK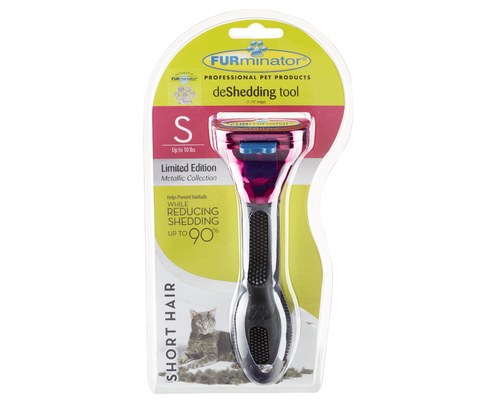 FURMINATOR SMALL SHORT HAIRED CAT DESHEDDING TOOL METALLIC PINK
Regular Price: $60.99
Your Price: $45.74
You Save: $15.25 (25%)
Availability: In Stock
Note: company wide stock level.
FURMINATOR CAT DESHEDDING TOOL | SHORT HAIRED | SMALL | PINK
Owning and taking care of dogs and cats can be quite the hairy affair. With the house and car covered in your little buddy's loose and shed hair, cleaning up all that hair is way too time consuming to have enough quality time playing with them. Sometimes even grooming them to pick up that shed hair right at the source doesn't do the job and isn't easy nor fun to use.
Here comes the FURminator deShedding tool, a uniquely designed metallic deshedding gadget that guarantees a reduction in shedding and hairballs by your pet. Made and used by professional groomers, the results are certified to make the whole process of shedding and cleaning easier whilst being a whole lot faster.
Featuring a comfortable ergonomic grip that makes the tool easy to control, the deShedding edge is made with stainless steel and gets in deep within the undercoat to maximise its uptake in one single gentle stroke. Closing it off is the maintenance of the actual tool, which is easy to carry out thanks to the FURjector button that needs only one push to seamlessly remove any hair on the FURminator deShedding tool.
- Reduces shedding and hairballs
- Easy to control
- Made with stainless steel and easy to grip rubber
- FURjector button makes it easy to clean the FURminator deShedding Tool
Be sure to choose the perfect FURminator deShedding Tool that matches your pet's size and length of hair.

This particular FURminator Small Short Haired Cats deShedding Tool is for cats with hair shorter than 2 inches and who weigh less than 10lbs in bodyweight.

Choosing the right one:

- "Long Hair" is for cats with hair longer then 2 inches
- "Short Hair" is for cats with hair shorter than 2 inches
- Small is for cats up to 10lbs in bodyweight
- Large is for cats more than 10lbs in bodyweight

Colour:
Pink


Hair length:
Short

Size:
Small


Dimensions:
4.45cm (edge length)
Do You Have A Question About This Product?
Please note: Product information will be included with the form automatically.
FURMINATOR SMALL SHORT HAIRED CAT DESHEDDING TOOL METALLIC PINK
is rated out of
5
by
13
.
Rated

5

out of

5
by
TempestSkye
from
Great tool to minimise shedding fur clumps around the house
I didn't know it was possible to pet a cat without a fluff of fur coming away with your hand. I do now! This tool has made it so easy to get all of the loose fur out of the cat's coat and put in the bin so that we don't have plumes of fur everywhere and we can pet the cat without finding our hand covered in cat fur after brushing.
Date published: 2019-12-17
Rated

5

out of

5
by
Drew B
from
Great brush
This is a great brush removes so much hair and moves smoothly over my cat
Date published: 2019-07-09
Rated

5

out of

5
by
DeeRC
from
Worth every dollar
AMAZING! With a British short hair who sheds a lot of hair this brush removes all the loose hair, more than any other brush I've tried. 100% worth the money
Date published: 2019-07-02
Rated

5

out of

5
by
Bellaboo
from
Absolutely Awesome!
Read about it from a lady in Spain about how this fantastic this cat shredding grooming tool is & Googled it thinking it wouldn't be in Oz but it was. I rang to check if it was in stock & bought it & just tried it on my cat & it sent her into 7th heaven with loud purring. I brush her often but this is awesome as it made her black fur even more shinier looking. OMG all the old fur is removed. WOW! 10/10
Date published: 2019-06-07
Rated

5

out of

5
by
omar
from
I love this!
Best cat grooming tool ever. So much hair comes off and so quickly. Poor cat must have been so uncomfortable. And he loves the grooming now.
Date published: 2019-02-12
Rated

5

out of

5
by
Sophieabv
from
It really works
Worth the money. This brush really collects cat fur. And my cat doesn't *hate* it either.
Date published: 2019-02-05
Rated

5

out of

5
by
Vinn
from
Great buy
My mum has been nagging me to get one and finally found one on special at My Pet Warehouse. Great for my short haired cat but not so good for my medium haired cat will now have to buy another one for long haired cats.
Date published: 2019-01-28
Rated

5

out of

5
by
Jamielouiseee
from
This is exactly what I needed!
I did not expect this product to work so well. It's the middle of summer and my cat is still shedding her winter coat. This tool is exactly what I've been looking for and has stopped most of her shedding and she absolutely loves it!
Date published: 2019-01-22
Rated

5

out of

5
by
Pres
from
Really works!
I used it on my two Burmese cats and a whole cat size of hair came off each cat! Day 5 since we used furminator and I can pat them without much hair coming off. Very handy with a 6 month old baby who likes to grab at their coat. I can be confident he won't get a handful of hair!! I love it.
Date published: 2018-03-15
Rated

4

out of

5
by
Livvy
from
Cat is not a fan, I love it though
This tool is amazing at picking up not only the top layer of shedding fur but the fine downy fur underneath as well. The push function helps clear the fur easily, however my cat really hates it and will only allow me to brush her if she gets treats. Once the treats are gone so is she. This probably isn't a reflection on the brush though as she hated her previous one too. Overall would recommend
Date published: 2018-11-20