new
8858788709392
356104
20.49
/kit-cat-soya-clump-charcoal-litter-7l-p-32336
AUD
InStock
KIT CAT SOYA CLUMP CHARCOAL LITTER 7L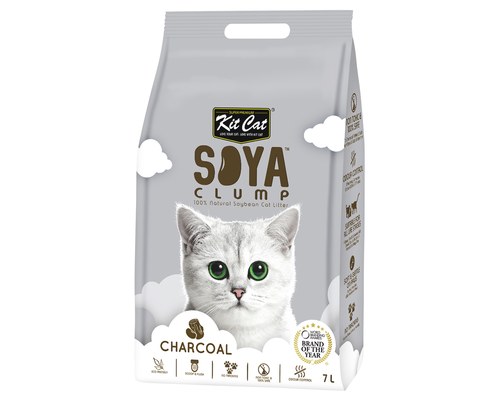 KIT CAT SOYA CLUMP CHARCOAL LITTER 7L
FREE SHIPPING over $49.99*
SAME DAY DELIVERY**
CLICK & COLLECT
Note: Availability depicts company wide stock levels; *Shipping exclusions apply; **Select zones only; Please refer to Shipping page.
KIT CAT SOYA CLUMP CHARCOAL LITTER 7L


Want to do something that's good for your cat and the environment? Kit Cat Soya Clump Litter is made from soybean waste, which would otherwise go into landfill. Now it's being used to make clumping litter. It's a win/win!
Because of it's natural properties, this litter is safe to use and won't cause harm to your cat if it's accidentally ingested. Charcoal scented, it neutralises odours in 5 minutes.
Features:
Quick clumping
Virtually 99.9% Dust Free
Non Toxic and 100% safe to use
Eco friendly
Safe to flush in small quantities
Odour controlled
Suitable for all life stages
Soft and gentle on paws
No tracking, reduces mess
Do You Have A Question About This Product?
Please note: Product information will be included with the form automatically.
KIT CAT SOYA CLUMP CHARCOAL LITTER 7L
is rated out of
5
by
17
.
Rated

5

out of

5
by
Cleo and Archie
from
Great product
I made the switch to flushable soy based litter, to becoming more sustainable and use less plastic. After using soy based littler for a while I tried this charcoal soya product. It's great! The charcoal helps to stop or lessen odours and it's easy to use being scoopable and flushable. Plus it's low tracking and more importantly low dust, so we don't get all that whit power floating around making a mess!
Date published: 2021-11-06
Rated

5

out of

5
by
JackieB
from
My fav brand
This is the only boring smell. But it's still a good clumping litter
Date published: 2021-10-14
Rated

5

out of

5
by
Andrea B
from
Great product
Love this litter, I have tried a lot w my 2 indoor cats, less tracking, great clumping, little smell with the charcoal, was not keen on the green tea fragrence and flushable.
Date published: 2021-07-16
Rated

5

out of

5
by
Lili S
from
Happily surprised.
I read so many reviews for different brands of litter before, but was always somehow dissatisfied when trying them. This is different. The best litter I've used, and I have a lot of cats! (I foster as well as having my own.) This litter is the best at odour control, hands down. The clumping also amazing; no yucky sludge, and super easy to scoop. A little bit goes a long way, so it's actually quite good value for money. And the tracking is minimal, and easily swept up. This is a winner on all counts.
Date published: 2019-10-17
Rated

5

out of

5
by
marodepal
from
Great litter!
We prefer natural litters and have been experimenting with a few. Most are fine but, for us, one of the big issues is that the cats tend to want to eat it. They don't do it with this one! It clumps well and I don't noticed any odors if the emissions are covered properly. It's also flushable which is very convenient for us. I wish it came in larger bags though!
Date published: 2019-09-02
Rated

5

out of

5
by
Bandilea
from
Wonderful product, please keep stocking it.
I am a registered breeder of Pedigree cats and have literally tried every litter on the market in the past 10 years. I used to use Rufus & Coco and have done for the past 6 years as it was the best on the market. However, this trumps even that. The odour control is even better and it doesn't get dusty as the end of the bag or bottom of the litter tray. Highly recommend this product, although I wish it came in bigger bags and was a bit cheaper.
Date published: 2019-06-19
Rated

5

out of

5
by
aloegram
from
I've tried sooo many different litters...
And this one is definitely my favourite so far! I've tried clay, recycled paper pellets, wood dust pellets, crystals and they've all been pretty good with odour control and clumping but the TRACKING is the reason I keep bouncing around. The wheat-based flushable litter was my last favourite but this ones triumphs it because of the tracking and the clumping power (the wheat one got too soggy sometimes and couldn't scoop cleanly). Would recommend and also will be trying different scents; green tea was a little too sweet smelling for me but charcoal so far is the best.
Date published: 2019-02-27
Rated

5

out of

5
by
Karmy
from
Excellent product. Please keep stocking this!
I used to buy wee kitty which was good but there were some cons - expensive, would develop an ammonia-like odour and the clumps would crumble easily and create lots of dust at the base of the litter tray. This kitty litter is perfect. I am so glad we tried it. No dust, the clumping is instant and solid and doesn't break apart. So easy to scoop and clean and stays fresh for longer. No offensive odour. Our two kittens love it. Please continue stocking this great product. I highly recommend it.
Date published: 2019-02-05
Rated

4

out of

5
by
MIss May
from
Good clumping
Good clumping quality leaves a small amount of dust residue in tray
Date published: 2022-07-18
Rated

4

out of

5
by
Sunn
from
First impression
Clumps really well and less tracing than other litters that I have tried but I don't think it absorbs odour that well. Will be repurchasing it but I will have to mix it with other litter for better odour control
Date published: 2020-09-23
7.00