Let me start with a quick story...
Our senior Danish Dog Listener lives in Copenhagen. Down her street, every single house has been burgled, with one exception. That house is the one with Karina's four Doberman living there. Now, I don't know any burglars (I am not a ne'er-do-well) but I imagine that there are very, very few burglars who, upon seeing four Doberman running out into the garden and barking, will think to themselves, "I like a challenge!"
Why am I telling you this? Well, barking has to be the most annoying behaviour problem that is suffered by dog owners and neighbours alike. However, Karina in Copenhagen will be the first to tell you that she is glad that her dogs bark. Of course, it helps that she knows what to do to get them to stop barking so they do not become a neighbourhood nuisance. Here's what she does… Are you ready?
She thanks them, and you can do this to stop your dog barking! When she hears them barking outside, she calmly walks outside and says, "Tak". N.B. This is Danish for "Thank you"; she is not telling them to attack! This might sound like a crazy way to solve barking, but bear with me; it will all make sense very shortly.
A human perspective
First of all, let me talk about my childhood. Do not worry, I am not going off at a tangent here. Nor am I writing this while stretched out on a psychiatrist's chair. When I was little – say 4 years old – happily playing with my Lego in the living room, if someone came knocking at the door I would not go and answer it. After all, I am only little. Plus, as a child growing up in the 70s in the UK, we had Public Information films on TV that were (it seems) designed to scare the living Beejeezus out of us. I remember all too vividly one that advised people to put the metal chain on the door before opening it, in case there was an axe-wielding maniac on the other side (I kid you not – and why is it always an axe?)
In case you think I'm making this up…
Unsurprisingly, this image has an effect on young Tony, so I would call out, "Mum! There's someone at the door!" adding, "possibly an axe-murderer…" under my breath. If Mum was upstairs vacuuming, I would say it louder. When Mum heard me, she would come into the living room and say "Thanks, love". As I was a smart child (my avoidance of potential psychotic lumberjacks being a good example of this) I would then stop calling for Mum. It would have looked odd if I had carried on, especially if the visitors walked into the living room to find me gibbering away. Now, if upon hearing me, Mum had come downstairs and told me to shut up, or even hit me for letting her know, that would have been ridiculous.
So, given that often dogs bark at things that come to, or go past the house, what is a usual attitude of their owners? Hmm…
Why do dogs bark? A dog's perspective
Let's look at this from the dog's point of view. A dog in the home is in its den, and there are often potential threats passing by (anything could be a problem seeing as they are in a world they don't really understand). Often, dogs will bark at the passing person/dog/bike/car/hot air balloon (this last one comes from personal experience a few years ago in the Netherlands). How many dog owners thanks their dogs for letting them know? What is the usual response to a dog barking? It's OK, there is no need to tell me; I may not understand Dutch but I can tell if someone is happy or not...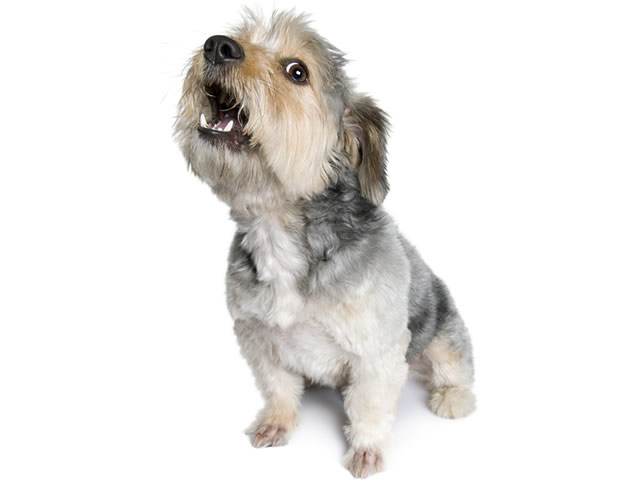 The problem with shouting at a dog is that it thinks that you are upset as well. The problem is that it does not blame itself for your distress. It thinks that you are concerned about the threat too. Also, if you carry on shouting at your dog, it actually thinks you are joining in, thereby reinforcing its initial alert. I once met a couple whose dog would bark non-stop for 30 minutes. The only reason it stopped after a half-hour was because the wife's voice stopped working, she screamed at it for so long.
In Nature, there are plenty of animals living in groups that have "sentinels" – members of the group looking out for potential danger while the others are at rest or playing etc. If the sentinel sees something that could be a problem, it is raise the alarm. In wild canines, the leaders will check out the problem once alerted and act accordingly. The sentinel is never punished for doing its job, just like how I was never hit by Mum for letting her know when someone was at the door.
The process of how to stop your dog barking
It is understandable that a dog barking all the time can be annoying and even distressing, but if this happens when you are at home and you know that your dog is barking at something outside, try thanking it instead of what you may have one before. You are letting your dog know that you are aware of the situation and (most importantly) you are calm. This is vital in encouraging a dog to calm down. If you get animated and/or annoyed, the dog feels your adrenalin level rise too. The thing it is barking at must be a problem in that case.
Saying something positive like "Thank you" or "Good dog" starts training the owner to think of barking as a positive thing, which helps the dog to calm down sooner. Remember the Dobermans in the non-burgled house?
If the dog carries on barking, then go to where it is and look to see what the problem is. Do not pay attention to your dog at this point just in case it is doing it to try to get your attention on its terms (Simon Says is a game that dogs are VERY good at). Instead, show your dog that you are investigating the problem. Whether anything is there or not is not important. The main thing is that your dog sees you assessing the situation as the responsible one in the family. Give another "Thank you" and either take the dog away or just leave. Your dog sees that you have had a look and you do not think it is a problem. If your dog still continues after that, then quietly put your dog somewhere on its own until it is quiet. Your attitude is one of "Calm down". Once you get silence, you can let your dog out again. If it goes back, repeat the process. If this happens three times then leave the dog in Time Out to show it that it really needs to chill out. This helps your pulse rate to stay low which will always have a good effect on your dog. The best leaders remain calm in a crisis.
Summing up
Incidentally, while I was at the home of the 30-minute barker, he started to do his thing. I casually called out "Thank you", and he trotted back into the living room and sat down. This was quickly followed by two thuds as the owners' jaws hit the floor…
Remember, a barking dog can be a good thing, so treat it that way and be calm. You'll be amazed how well this works.
If you want to find out more about what makes your dog tick, and what to do about any unwanted behaviour you may be experiencing, then The Dog Listener by Jan Fennell (my Mum) is available at your local library, online and in all good bookstores. If you would like more hands-on help, let me know.
Author Bio
Tony has been dog training (in association with his mother Jan Fennell) since 1999. The Dog Listener book has been translated into over 25 languages. He has been on radio and television on 4 continents and teaches the Amichien Bonding dog training process all over the world in English and French.
Head to www.janfennellthedoglistener.com to find out more about Amichien Bonding. You can also find Tony on Google+