3, 2, 1…. HAPPY NEW YEAR! Its midnight and the dawn of a brand new year – a chance to start afresh, a time to make resolutions. While we humans might resolve to lose weight, eat healthy, start a new hobby or maybe spend more time with the family, what New Year resolution would your dog pick?
The start of a new year is always a great excuse to change old habits and start new things. According to a briefing organised by the Australian Science Media Centre around 50% of Aussies make New Year Resolutions but about 88% of us fail to keep them! With dogs however, they're creatures of habit – so keeping a New Year's resolution for them is a walk in the park (literally)!
We asked our customers what they think their New Year's Resolution would be and they came up with a few suggestions:
More walkies!
Learn a new trick
Make a new doggy friend
Try a new flavour treat
Go somewhere new
Get an Instagram account
We absolutely love all of these and think each one is achievable! With these in mind, we've come up with some of our ideas for your dog's New Year's resolution.
Start eating the right food
January is a great time to re-evaluate what you're feeding your dog. Older dogs will always benefit from age-appropriate food, while puppies need food that supports their development.
Here's a handy guide to help you decide what kind of food you should start feeding your dog in the New Year, depending on their age:
Puppies:
Puppyhood begins from the moment your doggy is born and ends when they're 6 months old. Some puppies won't completely transition into adolescence until they're 18 months old. During this time of your dog's life, it's critical that they're eating plenty of dry food and fresh meat. You'll find that puppy specific kibble and wet food contains plenty of protein to promote steady growth. If you're considering raising your puppy on a holistic diet this is a good time to start them off on the diet you intend on feeding them in future.
Adolescent dogs:
Adolescence is an ideal time to transition your dog from puppy food to adult appropriate food. Your dog will reach adolescence at around 18 months of age. Remember when you're starting them on a new food formula that it is important to allow a 7 day transition period where you introduce them to small portions of the new food mixed in with their current food. By gradually doing this, their tummies will stay happy and they'll be more familiar with the flavour and taste.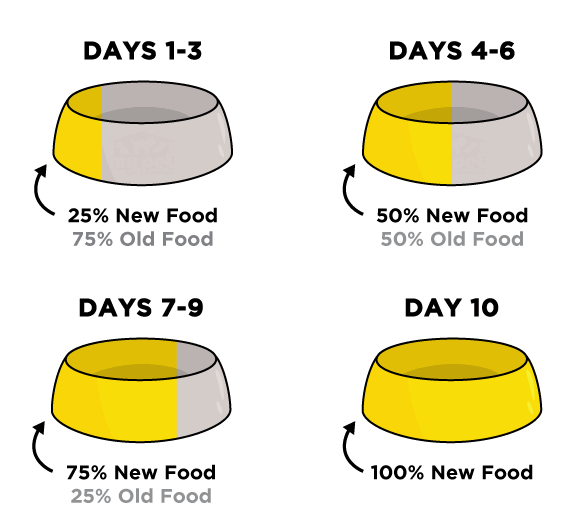 Adult dogs:
Dogs become fully fledged adults between the ages of 12 months and 3 years. By this time they should ideally be off of puppy food and have a stable diet of meat, dry food, rice and veggies. This is a great time to try out any breed specific food. Alternatively, if you have a working dog why not take this opportunity to feed them a high-energy mix that supports them while they take on their daily agility challenges with performance food from brands like Eukanuba. Continue to consult your vet during this time to ensure you're feeding your dog the right blend of food.
Senior dogs:
Senior dogs have been around long enough to have an acquired taste for their food. Dogs are considered senior after about 6 to 10 years, depending on their breed. Now they're approaching their golden years it is important that their diet changes to suit their new lifestyle. Senior dog food doesn't compromise on flavour but still contains the right nutrients they need to support joint function and a healthy immune system which is important as they age.
Even if your dog isn't transitioning between particular life stages this year, anytime is a good time to evaluate their diet. If you want them to start eating a salt-reduced kibble or perhaps you'd like them to eat a mix with no beet-pulp, change their diet over now. Regardless of what you decide to change their food to, make sure you allow the 7 day transition period to avoid upset tums.
Exercise
Every year in January you probably have noticed the gym is full with people who have resolved to get fit in the New Year. Why not save money on the gym membership this year and make the world your gym? Bring your dog along for the fitness journey with you! Map out local parks with playground equipment so you can get an outdoor workout during your daily routine walk. By including your dog, they'll get a nice long walk and also benefit from socialising with other local dogs they cross paths with.
When you find yourself getting a little bored of the same surroundings each time you go to work out, change it up! Don't just limit your workouts to the same old neighbourhood park – find a national park, forest or beach to go explore. Your pet will be exploring brand new lands while you can enjoy a change of scenery while you get fit and active.
Your pet's weight and food
Everyone can admit to spoiling their dog just a little over the festive season. You might have slipped them a sliver of food once or twice at the table. Even if you didn't, it's likely another family member did after seeing those cute big doggy eyes! Trying to get your dog to shed the kilo or two they have put on over Christmas is easier than you may think.
Measure your dog's food portions:
It's really important to check with your vet to make sure the amount of food you're feeding your dog daily is not too much or too little. If they're on a bit of a diet, your vet may suggest lowering their daily food portions to help them along. Your dog needs the right level of nutrition but will suffer over time if they're being overfed. Daily recommended feeding guides can be found on the back of food bags and tins and you should adhere to the suggested amounts. Portion sizes will vary depending on your dog's age, weight and temperament so keep these factors in mind when it's time for din dins.
Choose an appropriate diet:
Consult your vet if you're concerned about the type of dry or wet food you've been feeding your dog. Food plays a big part in doggy weight loss so when coming up with a plan to combat those cheeky little kilos that pop up over the festive season, consider how their current diet is benefitting them. Lucky for them, there are food mixes available that are specifically made for weight loss and weight maintenance. They still have a rich, meaty flavour and best of all they won't break the bank.
Avoid feeding treats excessively:
Even if they're on their absolute best behaviour, you're going to need to cut back on the food rewards. It's so important not to overfeed your dog, especially with treats, yet it is so easy for treats to start adding up over time. Allow your dog no more than 2 or 3 bite sized treats daily to keep their weight under control. If you're in need of an alternative, try rewarding your dog with toys instead of treats when you're training them.
Timely reminder to ensure their ID is up to date
This one is an easy resolution which you can achieve quickly. Check that your dog's microchip is up to date so in the event your dog goes missing, there's a higher chance they'll be found. If you haven't had your dog microchipped yet, then get that booked in before the end of the month.
For something so easy not many people do it – most pet owners will agree that it's important to have their little mate wear ID, but not all of these owners take the time to update it when they move house or get a new phone number. Make it your goal to get your dog's name tag updated with your current address or contact details. It takes a little effort now for a big difference should the worst happen this year.
If you need an excuse to update your dog's tag, why not get them a brand new collar at the same time. 2016 is all about both bright and neutral colours as well as geometric patterns, so get your dog's gear up to date with the current trend.
Grooming
New Year, new 'do! It might be time to try a new look for your dog in 2016. You don't have to have a Poodle to be able to try a new hairstyle on your dog. If you usually get your dog's hair cut to a very short length, why not experiment with a different length and work with whatever looks good? Not sure where to begin? Why not ask one of our groomers in store – we have plenty of staff who specialise in grooming.
January is also a good time to update your dog's grooming accessories. Perhaps take the opportunity to get a brand new brush or comb for your furry friend. Or you could try a new shampoo and conditioner and help your dog to look their absolute best throughout the year – starting now!
Temporarily out of stock...
Dogs want a home
Unfortunately there are plenty of dogs without a home right now. Some have spent the entire Christmas period in a shelter by themselves. Maybe your dog's resolution is to find love in another doggy companion and if so, why not check out the lonely hearts waiting patiently for a forever home. We always suggest supporting shelters with a no-kill policy.
If you don't have a pet now, why not consider adopting a doggy as your New Year's resolution. It does a world of good for the community and means the world to an abandoned friend.
Conclusion
If you're one of the 50% of people who make New Year's resolutions and you think you may fall into the 88% who fail to keep them, then give 100% of your attention to fulfilling your dog's resolutions. Most of these goals involve both you and your dog teaming up to make this year coming the best you've ever had.
Make it the year of the dog.
Author bio
Alana is our chief pet writer. A lover of pets both big and small, she's cared for cats, dogs, birds, horses, fish and chickens and just about everything in between! Her current companion is a Jack Russell Terrier named Rosie.