You've probably been thinking about how to make your special day, really, really special for a while. You've been to your friends' weddings, cousins' weddings, colleagues' weddings and every time you walk away knowing exactly what you would or wouldn't do when it's your turn to get hitched.
Well we're here to tell you the answer to making your wedding the most unique and memorable day of all has been sitting right in front of you, at your feet, all along.
Here's how to get your dog involved in your wedding.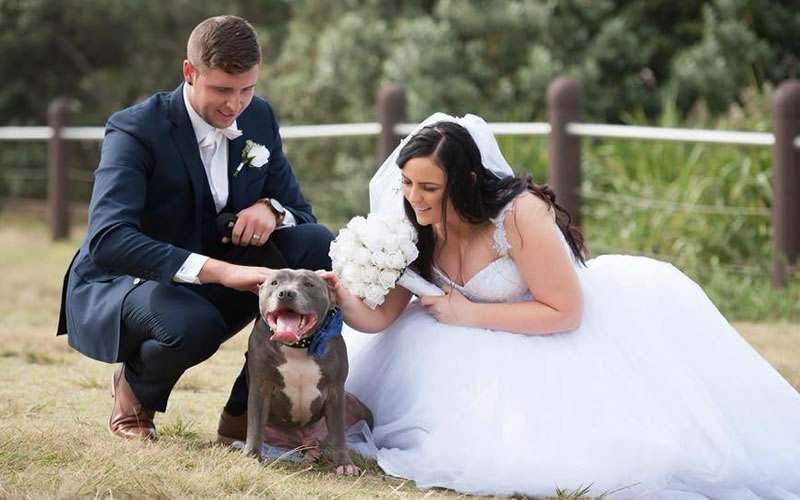 Kristy and Ryan's beach wedding in Wollongong with Kai the dog. Photo courtesy of Emotiva Photo and Video
Top ideas for doggy roles in the ceremony
Consider your dog's talents and strengths. Do they know a particular trick that could come in handy? Think about their weaknesses too. If they're timid, they probably won't perform well in the spotlight. If they're overly friendly, then they may become too distracted when faced with a big crowd. Ultimately, your dog needs to be obedient. If not, your dog's cameo may turn into a bit of a catastrophe!
Here are some popular choices for doggy roles in your wedding…
Roles for your dog:
Ring bearer
Including your dog as the ring bearer might make the jewellery box a little slobbery, but the payoff is totally worth it. It's easy to teach your dog how to 'carry' – show them how to do it with a toy first and then slowly graduate them to the ring box.
Pros: No chance of the Best Man forgetting the rings.
Cons: Slobber.
Camera Dog
This might be one of our all-time favourite roles to give to your dog. Not only does it require zero training, it will transform your dog into a cheap wedding videographer! You will need a GoPro and a Velcro strap to attach the GoPro to your dog. Make sure the camera is firmly attached to your dog and if your dog shows any sign of discomfort during the ceremony, make sure the camera is removed as soon as possible.
We found footage of Addie and Josh who have recently used their Husky, Ryder as a camera dog at their wedding. The footage captured is so beautiful – it truly captures the bride and groom along with their guests in a surprisingly intimate way.
Pros: Encourages guests to interact with your dog and the camera.
Cons: Shaky-cam footage!
Flower-dog or Page-dog
If your dog can't be trusted to roam off lead, this role is perfect. As your bridesmaids process past guests at the start of the ceremony, let your dog be guided down the aisle with them. If you want to go all out, put a little petal carrier on them so as they walk, petals will drop by their side! Those who include their dogs in their ceremony as a page-dog might like to dress their dogs in either a tux or a tutu for added cute-appeal.
Pros: Getting to walk down the aisle after the cutest member of your family
Cons: Uneven distribution of petals
Four legged spectator
Arguably the easiest of the roles – sometimes the best way to get your dog involved is simply by having them in the audience.
With any of these roles, you'll need someone in your bridal party to be designated dog watcher for the day. It's a fun role – just as long as they're up for cleaning poop. By having someone dog minding your pooch, you'll be able to focus on your own special day without the distractions.
If you'd rather not ask a guest or bridesmaid to mind your dog during the ceremony, there are services available through companies like Wedding Paws who will take care of your dog during the ceremony for you. They come and collect your dog the morning of your wedding and have them washed and groomed before chauffeuring them to the ceremony. There are plenty of options available.
Pros: Not having to prepare your dog for the wedding yourself.
Cons: Your dog will be jealous they didn't get included in the bridal party.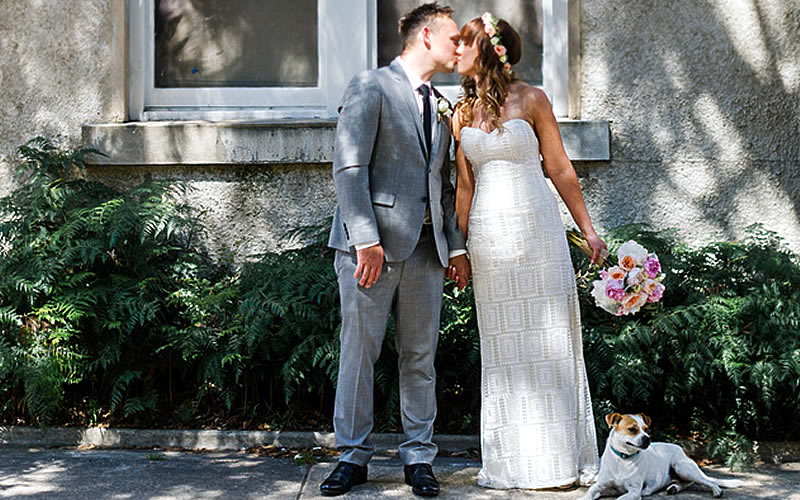 Sally and Adam's big day at Abbotsford Convent with their Foxy x Whippet, Zeke. Photo courtesy of Erin & Tara Photography
How to prepare for the big day with your dog
Now that you're convinced your dog's presence at your wedding is an absolute must, it's time to work out logistics and make some arrangements.
Everybody needs to know about your dog
It might seem like a great idea to make your dog's appearance at your wedding a surprise but if you want to keep the harmony between venue managers and your guests, it's important for you to forewarn everyone about the canine cameo.
Letting your guests know in advance that your dog will be at your wedding will help those who have a fear of dogs or who are allergic to prepare themselves. A great way to do this is to include your dog in your invitation photos. Loads of couples get their dog involved in save-the-dates and engagement party invitations as a personal touch.
Don't forget to tell the Photographer
Dogs can be a little hard to capture on camera. They're fidgety, they get distracted easily and when you ask them to 'say cheese' they will probably lick their lips and start sniffing around for cheese instead of posing!
Our Photographer, Rebecca believes you've got nothing to worry about here,
"When you hire a good photographer, their ability to capture photos of a pet shouldn't be a problem. They will have the right equipment."
She says it is still courteous to mention it.
"It's important to let the photographer know that there will be pets in the wedding."
Katherine and Mandi's wedding at Jasper Park with their dog. Photo courtesy of Lauren Hannah Photography
Make sure the venue allows pets well in advance
If having your dog at your wedding is critically important to you, then make this part of your criteria when you're looking for wedding venues. If you've already selected a venue, then find out what their pet policy is whether they'll allow them or if they'll restrict them to certain areas only. If your venue doesn't allow pets then don't stress! We've still got plenty more ideas on how you can get your dog involved in your wedding.
Get the right gear ready
We have plenty of items and accessories for you to incorporate into your wedding theme and colours.
Alternatives if your dog can't attend your wedding
Some places are simply too strict on their no pets policy, so you may need to think of other ways to get them involved. Others might find that having their dog involved in their wedding is just a little too much to manage on their big day, which is perfectly reasonable.
Have them at the reception or engagement party
This might be a given for those having their engagement party at home – but you can easily get your dog involved in your engagement party or bridal shower. Dress them up for an extra cute addition to your celebrations or put a GoPro on them to capture a really special day in the lead up to the wedding. The footage they capture will be absolutely priceless and it makes an affordable and effective way to capture the special moments.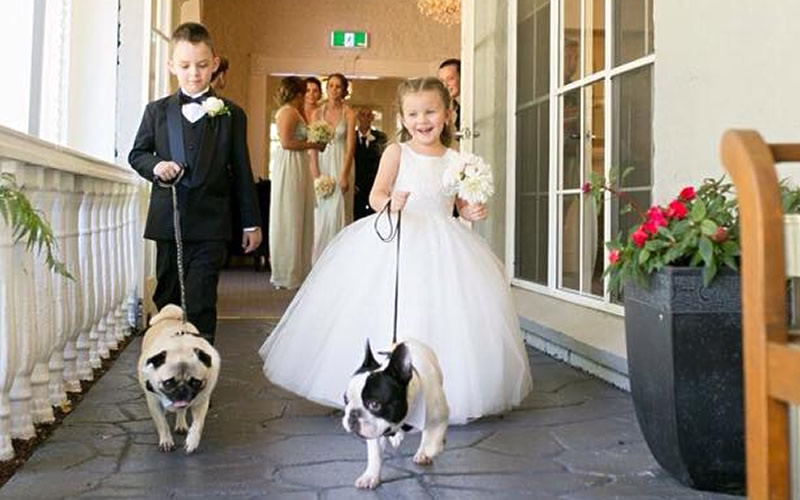 Kayla and Troy's little helpers at Bram Leigh Wedding Receptions in Melbourne. Photos by MMG Photo and Cinema - Courtesy of Wedding Paws
Add some doggy products to your registry
If you need some extra loot for your pets – why not add pet accessories to your registry? It's the ultimate way to include your dog in your ceremony!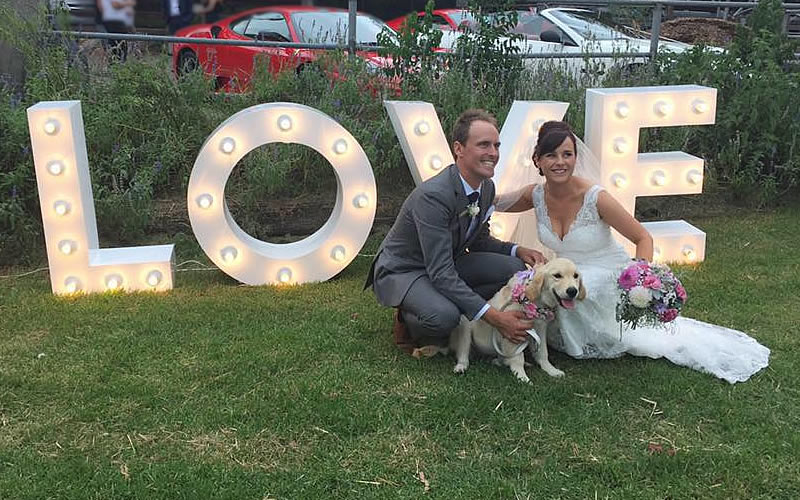 Tim and Bec's wedding with their 4 month old Golden Retriever, Allan. Photo courtesy of Amy from Wedding Paws
Conclusion
According to Ava.com 39% of households in Australia include dogs and the majority of these families and couples consider their pets to be members of the family (Australian Veterinary Association ). Weddings are about family and friends congregating to celebrate the union of a new partnership, so it makes sense to involve your dog in your big day.
It's a good idea to keep everything civil with your dog during the ceremony. If it seems as though the novelty of having them in your ceremony is overwhelming (perhaps your guests are laughing a little too much) then simply get a friend to take them away from the festivities for a moment so they can calm down and your guests can compose themselves. Everything is under control!
Be prepared for the possibility of awkward, unplanned moments. Bring plenty of poo bags, you never know when they'll need to drop one (this includes potentially during your ceremony). Dogs can be unpredictable by nature, so be sure to supervise them around children at your wedding.
Weddings are about family and friends congregating to celebrate the union of a new partnership therefore getting both bride and groom's dogs involved is a modern, symbolic gesture to show a prosperous union.
AUTHOR BIO
Alana is our chief pet writer. A lover of pets both big and small, she's cared for cats, dogs, birds, horses, fish and chickens and just about everything in between! Her current companion is a Jack Russell Terrier named Rosie.