Got questions about dog teeth cleaning? This article will help you understand how to clean a dog's teeth at home in between vet visits.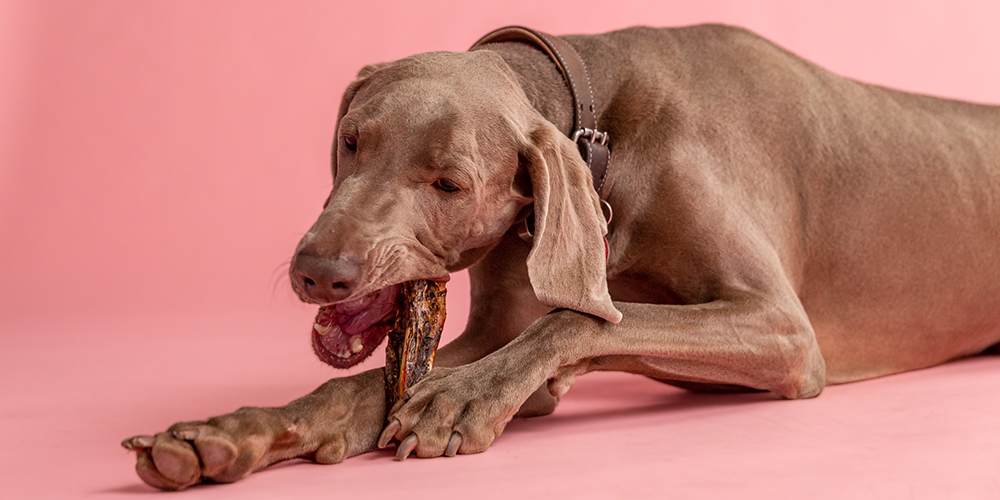 What can you clean a dog's teeth with?
Great question! The answer is a combo of products, from dog toothpaste to dental wipes. Please never use human toothpaste or floss, as these can make our four-legged friends ill.
What you need to know about dog tooth brushing
You should brush your dog's teeth between three times a week and twice a day.

Use gentle, circular motions on the front and back of their teeth.

Brush along the gum line.
#1: Toothbrush and gel
Tropiclean Fresh Breath Oral Care Kit

Available for small and large dogs, this oral care kit has a TripleFlex toothbrush for dogs which helps remove plaque in three directions, and a finger brush for more control in harder-to-reach spots.

There's also a minty brushing gel, which you use like toothpaste.
How to clean dog teeth without brushing
Not all dogs like having their teeth brushed, but luckily there are heaps of other products you can use to stay on top of their dental care at home. Here's how to reduce plaque from dog's teeth with preventative dental products:
#2: Dental wipes
TropiClean Fresh Breath Dental Wipes

How it supports dog dental care: These durable, tear-resistant wipes can brave your dog's teeth, and are especially great for dogs who shy away from the brush.

The textured surface helps remove build-up and can freshen their breath.
#3: Dental sticks
Bell & Bone Chicken with Mint & Seaweed Dental Stick

How it supports dog dental care: These dental sticks make great daily chews, and most dogs love the chicken flavour.

Bell & Bone products are Australian-made, and these all-natural active ingredients help freshen the breath and remove plaque and tartar.

Made for small, medium and large dogs.
#4: Dental bone
How it supports dog dental care: This cleanser bone is excellent for feeding in between meals.

It shouldn't lead to overfeeding when used as part of a healthy diet, so please be mindful.

Tearing the chewy meat from the bone can keep your dog entertained and encourage the chewing instinct, which can release the happy-hormone serotonin.

While they happily munch away, the bone can help cleanse the teeth of plaque.
#5: Water additive
Tropiclean Fresh Breath Water Additive Original

How it supports dog dental care: Water additives for dogs' teeth are a simple way to make sure they're getting ingredients that help keep their breath fresh and prevent dental problems – shake the bottle and add a capful to their water bowl!

It can eliminate bad breath for up to 12 hours and promote healthy dog gums (gum health is just as important as tooth health!).
#6: Puppy teething chew toy
How it supports dog dental care: This teething stick is a puppy dental care game-changer.

The soft, unique KONG rubber helps not only clean but also soothe sore teeth and gums.

You can fill the toy with treats to extend play time and stimulate their brains while teaching them appropriate chewing behaviour.

Available in small, medium and large for use for up to nine months.
#7: Dental chews
How it supports dog dental care: Like jerky for dogs, these tendons provide a healthy dose of tough chewing to entertain your pup while the chewy meat helps scrape off plaque.

You can break these into smaller sizes and use them as treats to encourage good behaviour.

Best for small to medium dogs.
#8: Dental toys
Tasty Bone Nylon Trio Peanut Butter

How it supports dog dental care: The textured surface of this chew toy helps scrape harmful build-up from your dog's teeth while also strengthening their teeth and gums, preventing infection, decay and tooth loss.

Not only does it taste like peanut butter, but it's also heaps of fun for dogs – how good?
How often should a dog's teeth be cleaned?
Once or twice a day is ideal, otherwise aim for at least three times a week. Pair healthy at-home habits with dental checks every six months or as often as your vet suggests. It's pet dental month through August, so what better time to come chat with the My Pet Warehouse team about tips for cleaning dog's teeth and the best products to use between vet visits – find your nearest store with our store locator. Happy brushing!