Is your dog an aggressive chewer? It's easy to figure out.
Walk to your wardrobe. Pull out your trackies. Is that a hole in the leg? It sure looks like a hole. How did that get there? I think I know how…Look at your dog. Are they rolling over for forgiveness or hiding under the bed? Yep! That's the work of one aggressive chewer. It doesn't stop at clothes – you've probably had to replace shoelaces, socks and even rugs, especially in their puppy years. You're not alone – every dog owner would have had their dog destroy an item of clothing or furniture in the past, particularly as Vet West write, during phases like teething. Dogs also like to chew to satisfy their own natural urges, so if they don't have a toy available to them, it makes sense that they'll look for the next best thing to gnaw on.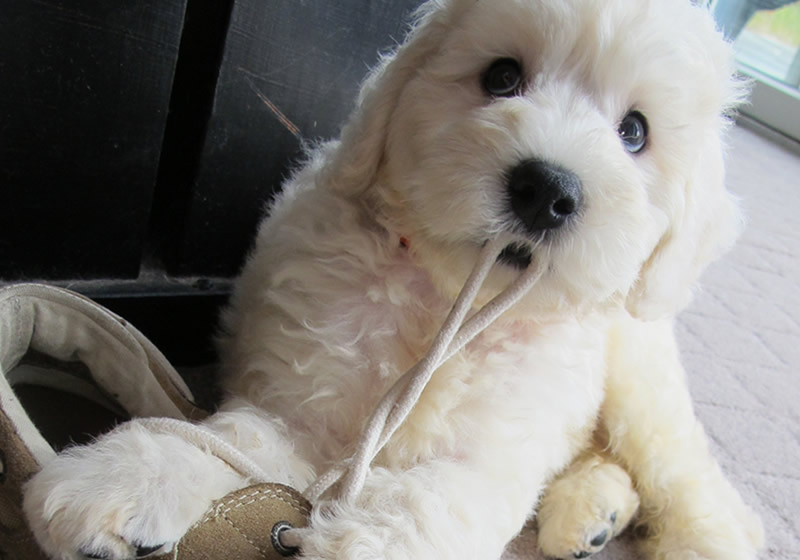 Ultimately, this makes sense once you put it into perspective. Dogs don't have the luxury of venting out their anger, going to a kick boxing class or talking about their problems over a coffee, which is what we do when we need to unload some of our frustration. It sounds silly, but think about how many times one of those activities has made you feel better after a long week at work. Dogs unleash their aggression the only way they know how – chewing.
It's actually rather easy to divert your dog's attention from personal items and valuables. All it takes is a good, tough chew toy. A decent chew toy is made from non-toxic materials and feels tough to squeeze or squish. It needs to have enough resistance and decent strength for it to be durable. While it might seem a little hard to stomach spending a little extra on more durable chew toys, you will be saving loads of money in the long term. No more repairing the sofa or replacing chewed up Nikes. Put simply, your dog won't be occupied with your personal items anymore once they have a decent chew toy to focus their attention (and aggression) on.
Plus, according to Pet Web MD with every chew, the rubber and rope toys will help clean your dog's teeth and promote good oral health. Good fun for them, good brush for their teeth! Here are some of our favourites:
The Kong Extreme Range (black) (High-level aggressive chewer)
You already know Kong for their popular and tough rubber toys – but did you know Kong has an extra durable range of toys?
The Kong Extreme range features some super tough toys. They still have the famous Kong shape and stamp of approval but they're made from ultra-strong rubber, so they're suitable for destructive doggies. The range doesn't stop at balls, it also contains flying disks and bone toys, so depending on what kind of toys your dog likes, there's sure to be something in the Kong Extreme range that they will like.
Aussie Dog Staffie Ball (High-level aggressive chewer)
The Aussie Dog Staffie Ball is Staffy proof! Specifically made for Staffies and Safford Cross breeds with a body weight around 30kg – 50kg, these toys are ridiculously durable and can withstand rough and tumble play. They've made them super durable and they come with a 12 month warranty .
You know a ball is seriously indestructible when it's been tested on lions, tigers and bears (oh my!) The Aussie Dog Staffie Ball is used in zoos for these animals today, so if they can't break them, we bet your Staffy will have fun trying!
Orange in colour, the Staffie Ball is fun to chase for dogs. Made from non-toxic materials, this ball also has an internal rattle which sounds when it's played with so it's extra exciting to play with.
Planet Dog Orbee Tuff range (Medium-level aggressive chewer)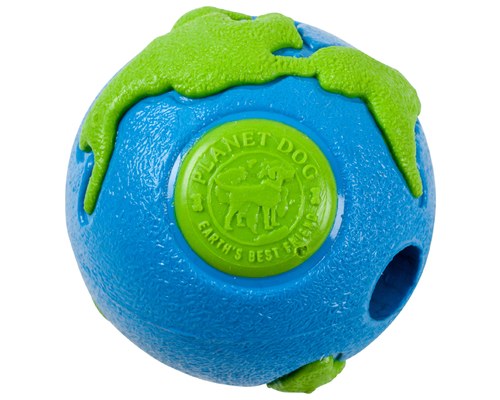 They're called 'tuff' for a reason! These toys aren't just durable, they are totally unique in design and appearance.
Planet Dog are conscious about their environmental impact, so their toys are made in the USA from non-toxic recyclable materials. There are plenty of different toys in their range including the original Orbee Tuff balls and the Double Tuff balls. Each toy comes in different sizes, shapes and colours to suit your dog's playful personality.
Tuggo (Medium-level aggressive chewer)
Have you heard about Tuggo toys? They're virtually indestructible. How do we know? These are the toys they give zoo animals in Sydney's Taronga Zoo! Tuggo can be filled with water to act as a wobbly weighted ball toy for resistant chewers. Exercise and active playtime has never been so much fun!
Tuggo is available in red or blue and comes in two sizes (18cm long or 25cm long) the capacity of the ball itself is the same, so both sizes will weigh 8kg when full.
AFP BBQ range. (Low-level aggressive chewer)
This range of toys is a four dimensional delight for any dog. They squeak, they're tough, they look delicious and they smell like a BBQ meat tray!
The AFP BBQ range are available in both hard and plush styles, all of which are totally tough. Made from rope, non-toxic plastic and thick-stitched materials, there is bound to be something in the AFP BBQ range that will match the level of your dog's playtime.
AFP XtraR range (Medium-level aggressive chewer)
These AFP XtraR toys are available in all kinds of kooky shapes and sizes. They aren't just chew toys, they can double up as treat toys! In the little holes and folds of this toy, you could use some dog friendly spread, so they can reward themselves as they chew away.
Each toy has an erratic bounce and just the right level of resistance to chewing. Your dog will spend hours licking and chewing this toy!
Nylabone (Extreme aggressive chewers)
Nylabone is a popular favourite. This range includes edible toys and non-edible toys, both for aggressive chewers. They're a little unusual in shape and design but they certainly provide a tough toy or treat for your dog to unleash their ultimate chewing power on!
Nylabone is one of the only heavy duty chew toy ranges on the market to cater for small dogs, extra-large dogs and every dog in between. They understand that aggressive chewers come in all breeds, great and small.
Bionic (High-level aggressive chewers)
Bionic toys are renowned for being uber durable! They'll outlast outdoor playtime in any weather. Great for really aggressive chewers, these toys have a solid and rubbery feel under their teeth so it encourages them to chew, chew, chew!
Bionics are made from durable and non-toxic rubber. They can act as treat toys too because they have little crevices and interior holes that will release treats or harvest dog friendly spreads. The Bionic is available in all sorts of shapes and sizes, each of them encourage problem-solving play, so they're the best kind of boredom buster!
Conclusion:
Before picking any of these toys, please keep in mind that a chew toy shouldn't substitute fun play time between you and your dog. Make time to have a one-on-one game with your furry friend to alleviate their stress and aggression. You should always supervise your little mate while they're playing with any of these toys.