There's a look that your dog gives you in the morning. It's the look they give you when you're getting out of bed, when you're eating your breakfast and when you open the door to leave. The look can be described as a mix between 'sad puppy dog' and 'I'm probably going to tear apart your brand new cushions today'. You know the look.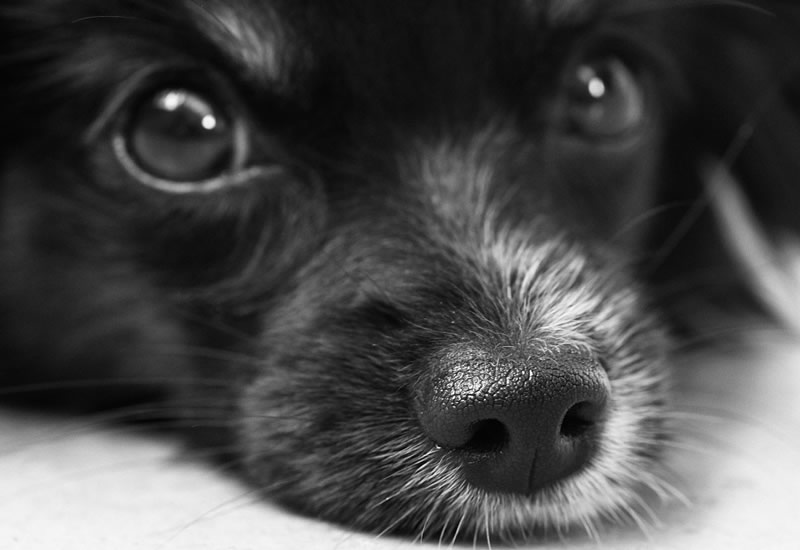 When your dog gives you the look – they're saying 'Hey! You're about to leave me here by myself for 8 hours – what am I meant to do while you're gone?' While it pains you to leave them alone while you go to work or do the shopping, unfortunately it's a fact that you can't always be with them.
You're not alone either – according to Pets In The City, around 28% of pet owners leave their pets home alone for between 10 and 19 hours every week. It's quite common to see households where everybody works or studies full time.
The good news is that 'the look' doesn't have to stay. Here's how to turn that doggy frown upside down.
Make a little extra time for them in the morning
We know it's hard – even talking about waking up half an hour earlier in the morning makes us cry a little inside. But if you think of those beautiful big eyes begging you for a brisk morning walk, then you'll be motivated to jump out of bed and put on those trackies. Push yourself to grab the lead and go for a quick walk. By doing this, your dog will be exercised nice and early so there's a good chance they'll end up sleeping through the morning. This means less time whining and sulking and more time catching those z's.
If you can't pull yourself out of bed earlier, add some one-on-one time with your dog to your morning routine. Your dog needs a little spark to ignite playtime because after all, they can easily tire of basic toys. Having a cute plush toy or a tug rope is great, but it isn't that fun when you don't have anyone to play with. Start-up playtime in the morning before you go, so when you leave, they'll feel happy enough from your short time together to see you go without whining.
Our advice is to use interactive dog toys that are stimulating for their mind. Interactive dog toys are different to your standard squeaky toy. These toys are multi-functional. They are treat dispensers, bouncy balls and chew toys all in one. Interactive toys are ideal for when your dog is left home alone for extended periods of time. While we advise that you supervise your dog during playtime, these toys are super-durable so will take a good hammering to rip them apart. It could be a good idea to give them a supervised test run before letting them loose with the toy on their own. Interactive toys are ideal for when you want to give your dog a more stimulating playtime, or when you can't focus 100% of your attention on them (like if you're on the phone or trying to cook). So while they aren't necessarily toys exclusively for dogs who are home alone, they certainly provide all dogs with engaging, interactive playtime.
Kong Classic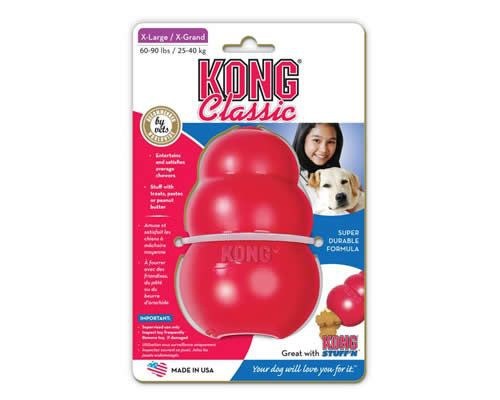 The Kong Classic is a popular selection for dogs. A major favourite, this toy is not only durable, it's interactive. Put some of your dog's kibble in the toy or spread some peanut butter around the inside. This means that your dog will get rewarded with a tasty treat every time they play. A great idea for dogs who need a food based incentive to play. If you haven't had an interactive toy before, the Kong Classic is a good toy to start with to determine if your dog is interested in puzzle and interactive toys.
We ❤ the Kong Classic because: It's the old faithful! Kong Classics one of the original interactive playtime toys.
Planet Dog Orbee Tuff Mazee Ball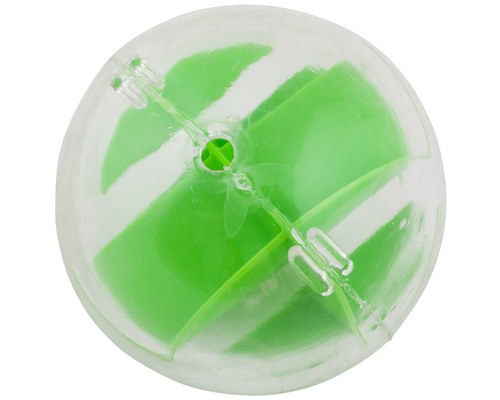 This ball will stimulate your dog's senses. With an internal maze inside, the toy rattles as little treats or kibble pieces roll around inside. With every nudge, poke and prod, the food will continue to shake, rattle and roll! Much more stimulating than a regular tennis ball, the Orbee Tuff ball will keep them occupied. It's easy to clean out with hot water and can even be put in the dishwasher.
We ❤ the Orbee Tuff Mazee Ball because: It's good for your dog and good for the earth.
Entertaineze Puzzle Ball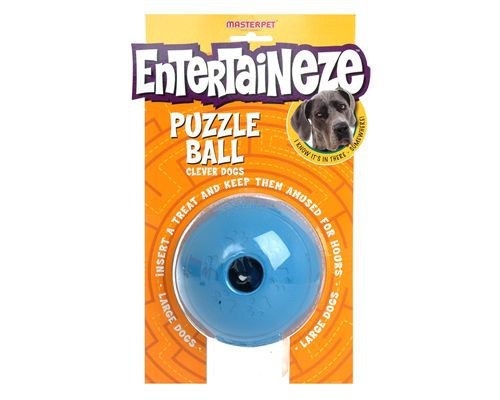 For a basic, yet functional toy to spark your dog's curiosity, the Entertaineze Puzzle Ball is just the thing. Puzzle balls are great for stimulating clever dogs while they play. Made from durable rubber, the toy is slightly squishy, so it has a decent level of bounce. Putting treats or kibble inside the toy is easy. There's a small hole on the side of the toy that you can poke treats into. The treats won't fall out easily, there's a little flap just inside the hole to ensure that the treats only become loose when the ball has been properly tumbled and thrown around by your dog. Easy to wash after play, this is a great outdoor toy.
We ❤ the Entertaineze Puzzle Ball because: It's really good for aggressive chewers.
Orbee Tuff Snoop Ball
The Snoop Ball is a curved, concave toy that accommodates treats and smaller sized balls. Because of its shape, this toy has a very erratic bounce. It tumbles and rolls well and encourages your dog to sniff out treats that are held inside the ball. Planet Dog toys are all durable and made from non-toxic materials in the USA. They are easy to clean after playtime and are ideal for both indoor and outdoor play.
We ❤ the Orbee Tuff Snoop Ball because: It's a unique interactive toy that will keep them entertained for hours.
AFP interactive food maze dog toy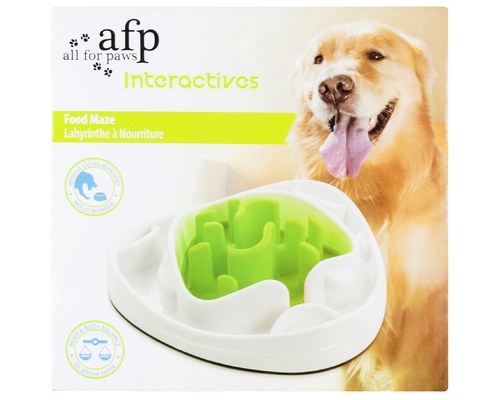 A larger toy, this product works to keep your dog stimulated. Unlike other toys in this list, this isn't a ball or a chew toy. This is an interactive food maze which is quite similar to a doggy puzzle. Just like a Go-Slow bowl, which is what you'd give your dog if they needed to learn to eat slower, this toy allows you to leave treats or kibble in the crevices of the maze. Your dog will enjoy spending time wiggling, biting and licking them out. The benefits of using a fixed toy like this is that the food won't get scattered around the house or garden – something that might happen with a treat dispensing ball. So if you're looking for a cleaner alternative to the other treat dispensing toys, this might be the perfect solution for you.
We ❤ the AFP interactive food maze toy because: It's a fixed toy that encourages your dog's curiosity.
Kong Genius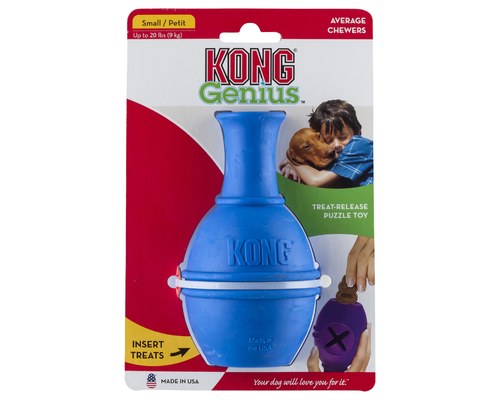 Only for the smartest of doggies, the Kong Genius takes a real MacGyver of a dog to get treats out of this ball. Each of these Genius toys can dispense treats, although it's not that easy to access for your dog. Thanks to the design of the 'X' shaped hole, treats will fall out individually instead of all at once. Your dog will be able to smell the food, but they'll really need to work to get it out! Popular tactics to release the treats include tossing, licking and shaking the toy. Only persistent dogs will be rewarded with this toy! Kong Genius comes in blue and orange and is suitable for puppies and adult dogs alike.
We ❤ the Kong Genius because: It's genius! It will really keep your dog occupied for ages.
Kong Wobbler
A unique toy, the Kong Wobbler is a boredom buster that will really keep your dog curious. If you've had a cat play with the Feline Wobbler before, you'll already know how much fun this toy can be. Because of the Wobbler's curved shape, with every nudge, the toy begins to shake and sway, releasing treats from the inside. Encouraging your dog to play even more. As with other Kong toys, the Wobbler can dispense treats but it takes a little more effort than just a simple chew and shake manoeuvre to get them out!
We ❤ the Kong Wobbler because: It will get your dog up on all fours. The toy is so erratic in movement that your dog will be chasing it all day!
Aussie Dog Home Alone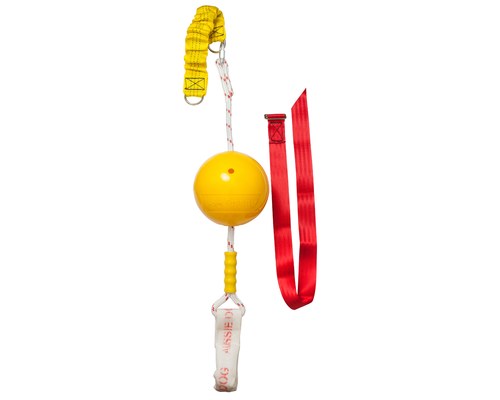 Is your dog left home alone for a prolonged period of time? This could just be the toy for you. The Aussie Dog Home Alone toy can be tied up to a tree or pillar and left for your dog to play with during the day. Fill the ball up with dry food so when moved, the toy makes a rattling sound. The more the toy is played with, the more treats are dispensed. The toy also replicates a tug of war situation so your dog can still have plenty of fun on their own.
We ❤ the Aussie Dog Home Alone because: It's the outdoor toy that gives you the best of both worlds! The toy is great for tugging and chewing and best of all its super easy to install.
Conclusion
All of these toys have a multitude of benefits for your dog. By giving them an interactive toy, you know that they'll be having the time of their life at home. It's important, especially if you're filling up a toy with treats that you leave loads of drinking water for them too. Finally, when you do return home to their big eyes and waggly tail, make sure you give them loads of praise and if you can, spare some time to take them on a walk to the park. Remember, your whole day might have been busy, but their whole day is spent just waiting for you.