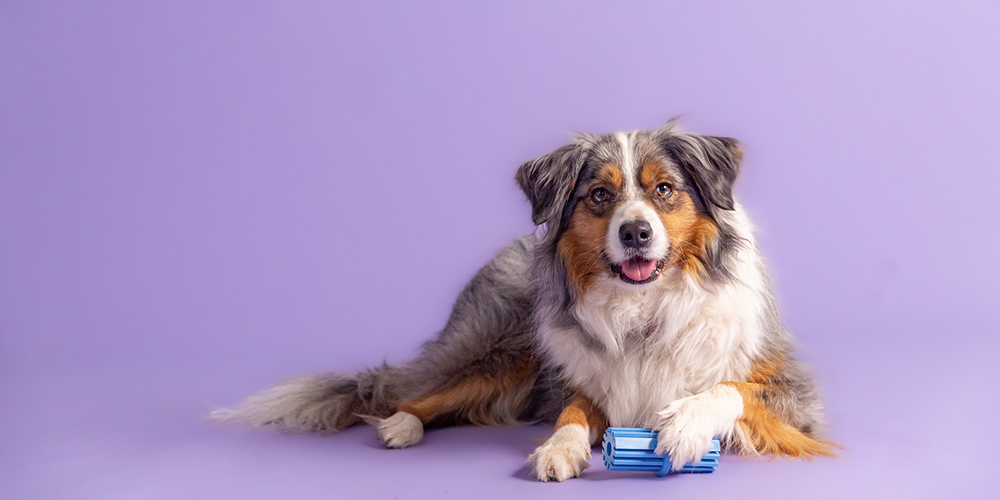 What are the benefits of dental toys?
Dental toys are an important part of dental care for cats and dogs. On top of your pet toothbrush and other dental products (which you can read more about here), toys make a great addition to your pet dental care routine in the following ways:
Help to clean teeth by reducing plaque and preventing tartar build-up

Strengthen gums

Encourage the chewing instinct, which can release serotonin and help your pet feel happy

Keep them entertained and stimulate their brains
August is pet dental month, the time of year we remind all paw parents of the importance of pet dental health. With daily at-home care and regular visits to the vet, you can help maintain your pet's oral health – the goal is to avoid dental problems occurring, as treatment can be more of a pain than prevention!
Try these dental toys
Made from strong nylon, the Tasty Bone Trio range is super durable to withstand hours and hours of chewing and drool – and there will be plenty of drool from the strong flavours. Choose from chicken, beef, mint or peanut butter. The surface is uniquely textured to help scrape plaque from the teeth, and the three-prong design provides plenty to chew on.
Made from durable KONG classic rubber, this dental stick is designed with denta-ridges to help clean plaque and tartar off your pet's teeth. Plus, you can fill it with KONG easy treat (made for dogs) to enrich the chewing experience, and it's great for fetch! Available in small, medium and large.
The Nibbler range from Living World is designed for small pets like rats, rabbits and guinea pigs. Chewing on a Nibbler can help discourage destructive behaviour or chewing of things you'd rather they didn't chew (we're looking at you, chords, socks and books…). It also helps to wear down teeth to stop them from growing too long or sharp. You can choose from:
Preventing dental problems for your pet
Daily prevention can help you stay on top of your pet's dental hygiene. Toys are a great double-whammy of dental care and mental stimulation, and work nicely in a routine that includes brushing, dental treats and regular vet visits. To learn more about oral hygiene this pet dental month, get in touch or visit your nearest My Pet Warehouse store for friendly, personalised advice.