Each Australian (and other nationalities living here) has their own way of celebrating Australia Day. It is the official National Day of Australia and contemporary celebrations include a range of activities that appreciate the country and everyone in it.
No doubt, you'll have your own traditions such as having a BBQ, watching fireworks or gathering with friends and family. We explore the ways that pets fit into Australia day celebrations and how we can include them in a safe and enjoyable way.
The Australia Day BBQ
Aussies are known for their great BBQing abilities. It's part of the culture and is a great way to spend time with friends and family. Since your pets are family, it's no doubt they'll be right there amongst the action. Of course it has nothing to do with the delicious smells radiating from the BBQ grill…
If you are having a BBQ at home this Australia Day or taking your pets to someone elses house keep these things in mind:
BBQ food often has a lot of seasonings including garlic, salt and onion, which are all toxic to dogs and cats. Keep people food and drinks out of reach at all times and tell guests not to feed your pet!
With guests coming and going, it's a good idea to supervise your pets and regularly check that they are okay. It's too easy for someone to leave a door or gate open and for your dog or cat to run away.
Do not leave pets alone with hazards. A hot BBQ plate, kebab sticks and plastic wrapping are a potential threat to all pets.
The Beach or Park
Most parts of Australia have access to gorgeous stretches of beach. Many of these beaches (or areas of them) allow dogs. The park is often the go to destination if there aren't any beaches nearby . If taking your dog to the beach or park is part of your Australia Day tradition there are a few precautions you need to take.
Make sure you take enough poo bags for the whole day. Not only is it horrible for other people, leaving behind piles on the beach can get you an on the spot fine.
You may slap sunscreen on your own body. But did you know dogs can get sunburnt too? Cover them in a dog safe sunscreen to ensure their skin isn't damaged by the sun's UV rays.
It's also essential that you take plenty of drinking water along for your dog, particularly if their the type to try and drink from the ocean or stagnant puddles!
Dressing Up
Image Courtesy of thepugdiary.com
Over the Australia day weekend they'll be plenty of pet parents dressing up their animals in Aussie themed outfits. Whilst it is a bit of harmless fun, there are some risks involved.
Some pets are more suited to being dressed up than others. If your pet really doesn't like it and seems distressed it's probably a better idea to avoid dressing them up.
Small pieces of costumes and items of clothing including buttons, plastic and zips are all choking hazards.
Flags around the neck, bandanas and bow ties must be loose so that they don't restrict breathing.
Plastic bags that contain the dress up clothes could cause suffocation if they end up around your pet's head.
Avoid using face paints or glitter on your pet because they could cause irritation if they come into contact with eyes/skin and an upset stomach if they are swallowed.
Pool Party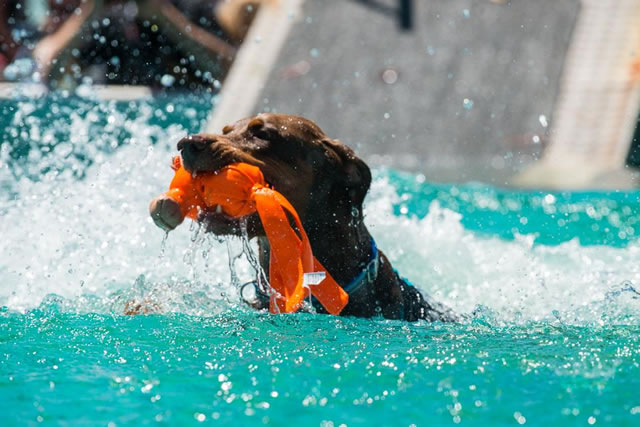 If you're lucky enough to have a pool then we're sure your dog has shown some interest in the water. Just like with children, pets must be supervised when they are near the water. This is especially true if they are old, have health conditions or are weak swimmers.
Some dogs are natural born swimmers wheras others are not. If you think your pet would enjoy a dip in the pool but can't keep themselves afloat consider a dog lifejacket.
Dogs may try to drink pool water, which could contain salt or chlorine, so ensure that there is a constant supply of fresh drinking water.
Eating 'Aussie' things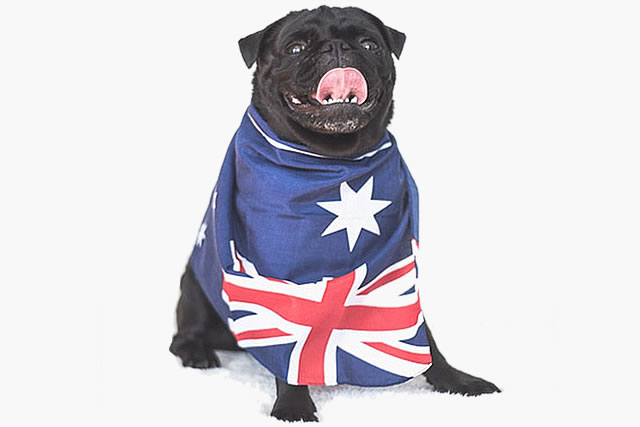 Image Courtesy of Treats a la bark DIY dog lamingtons - Flickr
Lamingtons, vegemite, snags and Tim Tams may be the food of choice for the 26th January but they should not get anywhere near your pet's mouth. The salt and sugar content in these foods will not go well in your pet's stomach and some ingredients like chocolate are deadly.
Try a dog friendly recipe like dog lamingtons found on the Treats A La Bark website.
Watch Fireworks
They'll be plenty of fireworks (legal and illegal) around Australia Day and are the source of many pet parent's worries. The loud noise can cause cats and dogs to escape homes because they are scared. If you know that your pet is particularly scared of fireworks but you still want to go out consider the following:
Ensure that they are microchipped and wearing collars.
Make them a den in a safe room.
Leave the TV or radio on a soothing station to block out the noise of fireworks.
Contemplate getting a pet sitter or leaving them with a family member that doesn't want to watch the fireworks.
Getting away for the weekend
With the long weekend, many families choose to getaway for the weekend. It seems as though beach holidays and camping trips are the getaways of choice. There are plenty of ways to include your pet in your next weekend getaway:
Search for pet friendly accomodation or camping sites online.
If you can't take your pet away with you, visit your local pet sitter.
For tips on camping with your dog check out our guide here.
We hope you have an enjoyable and safe Australia Day with your pets but most of all have fun!