My Pet Warehouse and Savourlife are teaming up for the Rescue Challenge. We've enlisted the help of Casper the dog to tell you more about what the challenge involves and how you can make a difference.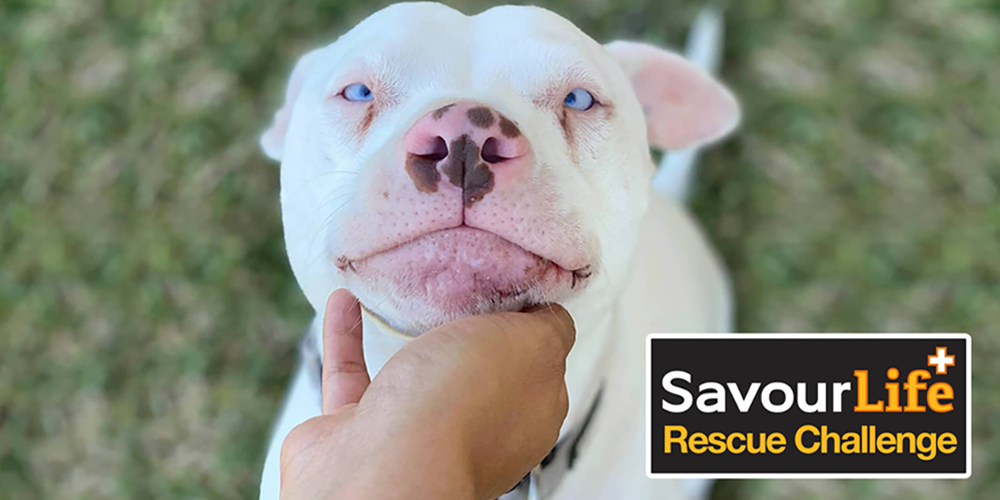 Hey everyone! I'm Casper.
No. Not the ghost (although I understand why you got confused with my white coat and piercing blue eyes). I'm Casper the pup. One of the local dogs here at Deaf Dogs Rescue Australia
And I'm here to tell you that from March 29th to April 25th My Pet Warehouse is taking part in the SavourLife Rescue Challenge. Now this is kind of a big deal, because with your help they'll be raising much appreciated money for local rescue groups like mine which often care for us pets in need.
Wanna know the best part though? Getting involved is super easy! Whenever you purchase SavourLife online or in-store during the Rescue Challenge, the awesome people at SavourLife will make a donation to one of the participating local dog rescues which includes mine!
To say we're very grateful for this can't be understated. You see, every year local rescue groups around the country work to re-home tens of thousands of dogs around Australia. That's a lot of four-legged friends!
We're pretty lucky to have such amazing people looking out for us. These are just some of the costs that your donation will help cover:
Critical Medical Treatment
Some of us need a bit of extra help to get back on our feet. The amazing rescue groups who look after us do so much to get us back to our best but vet bills can be pretty expensive! Donations go a long way to helping us find permanent homes.
Feeding
Delicious treats like SavourLife don't grow on trees (trust me, I've been sniffing for a while now). This donation will make sure that we receive all the necessary treats for training and food to keep us happy and healthy!
Sheltering
Why do people make it sound so bad 'to be sent to the dog house'? It's amazing! Shelter is a luxury that not all rescue dogs have enjoyed in their previous lives so us rescues really value the effort rescue groups put in to get a roof over our heads.
Transporting
Unfortunately dogs aren't allowed to hold a driver's license - yet - so sometimes we need to travel to get the assistance we need in order to be rehabilitated and rehomed. The generosity from SavourLife and My Pet Warehouse will ensure we get the ride we need.
Other Basic Health Checks
Vaccinations, flea, tick and worming, you name it! Making sure we're healthy enough requires some regular checkups at the vet while we're in the care of our incredible rescue group. It's a huge part of the rescue process though and we need to make sure we're completely healthy before we can be fully rehomed!
So far the team at SavourLife have supported the rehoming of over 23,000 rescue dogs across the country and I've been told that the incredible people at My Pet Warehouse can't wait to support that effort.
The best part for you though? Getting involved is as easy as heading in-store to buy all your four-legged friend's favourite SavourLife food and treats! Trust me, they'll love it too. It's a win-win!
Check out the full SavourLife range now