The number of luxury pet products being sold in Australia is increasing.
A recent survey by the World Society for the Protection of Animals (WSPA) discovered that last Valentine's Day more than 1 in 3 pet owners planned to give their pet a gift. This worked out to be 3.4 million Australians spending a whopping $46.9 million!
Image courtesy of Geckoam – Flickr
WSPA found that of these Australians, dog and cat owners were the most likely to give their pet a present on February 14th. The pampering isn't just reserved for special occasions either… In 2012 Commonwealth Bank looked into the spending habits of their pet owning customers.
The figures showed that during 2012,Commbank credit card customers spent over $345 million on their cherished pets. This included $101 million on vet expenses and $54 million on pet supplies.
The humanisation of pets
Although these figures are staggering, it's really not too surprising. If we want to get all scientific (which we do) – the belief that humans can establish closer bonds with their pets through the purchase of luxury pet goods is described as the humanisation of pets. Pets are also increasingly cared for according to human life patterns and human aesthetics.
Pets wake up, eat and go to sleep in a similar pattern to humans in the household and are groomed to look neat according to human standards. Pets are fashioned in coloured collars and are sometimes put in clothes that resemble our own.
Pets are fast becoming an extension of ourselves and most people love it!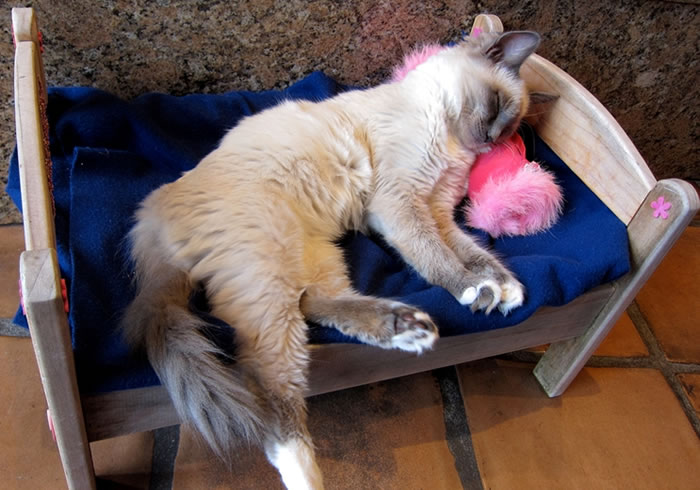 Image courtesy of Steve Jurvetson – Flickr
Gourmet food and five star accommodation
The number of pets is slowly declining in Australia due to urbanisation and smaller homes but this doesn't mean Aussies are spending less on pet products - the amount of money spent on each pet is actually increasing.
Some items that fall into the luxury pet products category include:
Pet spas and hotels.
Parties and weddings for pets.
Designer clothes.
Collars and leads with luxury attributes like diamonds or crystals.
Grooming products like nail polish and perfume.
Luxurious habitat accessories.
Premium and super premium food for pets
DOGUE is a pet product supplier that specialises in luxury items for dogs. They began as a single store in 1998 but now have multiple stores, grooming boutiques and even the DOGUE Country Retreat hotel and spa for dogs.
According to the about page on the DOGUE website Simone Kingston (founder) says that the store was inspired by the needs of her very own dog Gulliver. It was Australia's first ever dog boutique and brought 'the world of haute couture to the canine'
The range now includes DOGUE collars, toys, clothes, beds and even accessories for cats.
How much is too much?
The need to spoil our pets is natural, after all we only want the best for them. We want them to be healthy, happy and live longer lives and certain pet products help us to achieve this.
The thrill on your dog's face when he receives a new toy is amazing and seeing your cat lick her front paws after enjoying her premium cat food is also very rewarding. There are a few things however you should consider when making those extra special purchases for your pets:
Luxury pet products shouldn't be more important than your pet's health.

A brand new leather collar can't replace regular veterinary visits or pet insurance.

Luxury pet products shouldn't be more important than your pet's happiness.

An adorable rain coat or bandana may be a way of showing off your pet's style flair but you must always make sure that they are happy and comfortable with any product that they are wearing or playing with.

Don't forget that there are less fortunate pets in the world.

Your pet maybe adored by your family but there are many other pets in shelters without a home. Perhaps when you visit My Pet Warehouse to treat your own pet you can donate a much needed item to a local pet charity.
Every pet deserves a treat now and again whether it's a memory foam dog bed a fancy cat collar or even a fully functioning reptile waterfall! The question is, how much is too much?
Author Bio
Amy is part of the My Pet Warehouse team. She is a copywriter, social media co-ordinator and a self-confessed pet lover. Amy shares a house in Melbourne with her partner and a rambunctious little Pug called Chowski. She has been writing professionally for two years but her love of writing began many years before.
You can find Amy on Google+