A blur of people and dogs mixed with the delicious smell of sausage and onion. White huts circled around the outside of the park and beckoned visitors to interact. Pets in the Park 2014 had started.
It's easy to see why this event is called Pets in the Park – everywhere you looked there were pets! Mostly dogs of course, but there were chickens and a well-behaved goat in a pink collar on a leash.
With all these dogs around, you'd think it would have been chaos. And it was…But thankfully it was the organised, fun type of chaos!
Count the kibble and win!
The My Pet Warehouse stall held a Count the Kibble contest, where people guessed how many pieces of Canidae kibble were in a jar. Upon inspection of the jar, participants entered their best guess in hope of winning a 6 month supply of pet food.
Over 250 people tried their hand at winning but only one person will have the closest guess to the magic number! The winner will be contacted by email so if you made a guess keep an eye on your inbox.
Clown dogs, bride dogs and… hot dogs
The event that gathered a lot of attention was the Best Dressed Pet Contest. It doesn't matter how you feel about dogs in clothes – this contest was undeniably captivating.
Favourites included a dog in a bridal gown: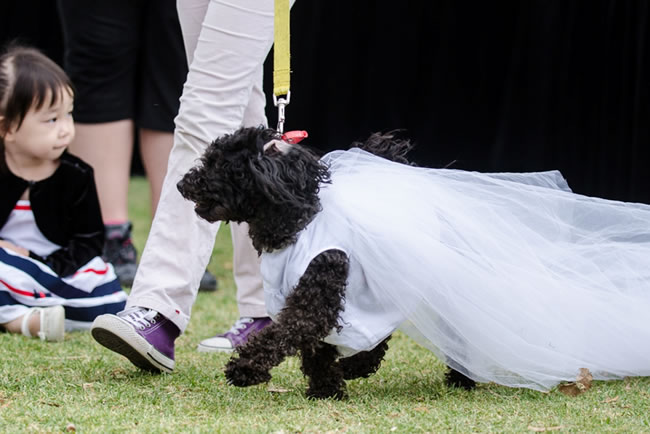 These two in coordinating outfits complete with matching booties:
And this dog dressed up like a jester in a silky onesie with matching hat:
The winner of the Best Dressed Pets contest was this cute little Dachshund dressed up as… you guessed it, a hot dog!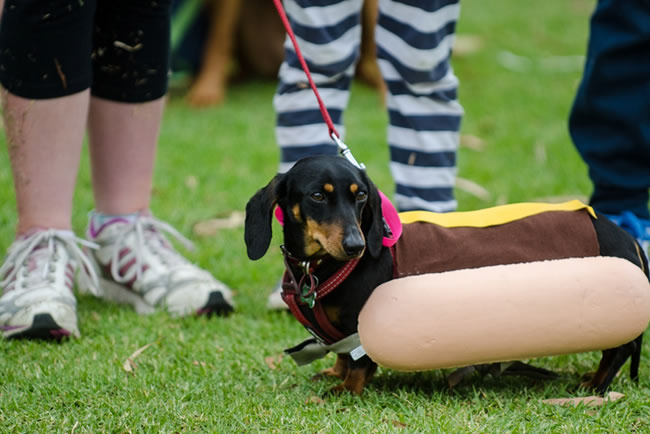 Ebony and Christopher
Ebony is a cute little dog that is a bit unusual. So unusual, in fact, that she won the Most Unusual Pet contest. Ebony is a French Bulldog X Toy Poodle - a mixed breed that you don't come across very often.
Ebony and her owner won themselves a $100 gift card to spend at My Pet Warehouse. They celebrated by sharing a Golp dog-friendly ice cream cone.
Nice to meet you!
We got to meet every man and their dog (quite literally!) at Pets in the Park in East Malvern. So many visitors stopped by our stand to say hello and we enjoyed meeting some new faces.
We can't help thinking, though, that some visitors were only there for the free treats!