Last month, Cat Café Melbourne launched an IndieGogo crowd-funding campaign to raise money to refurbish the first Cat Café in Australia. The campaign goal was set at $5,000 but actually raised just over $11,000! They surpassed their goal by raising $6,000 more than expected.
Of course this couldn't have been achieved without the generosity of all those people who donated money to the campaign. All those who donated were entitled to one of eleven perks, which included visits to the café, the chance to sponsor a cat and various cat café goodies!
This campaign ran for a month and it's evident by the amount raised that Melbourne really wanted to see this fantastic feline establishment open. In fact, all 40 of the Early Bird Visit perks were claimed within hours of the campaign commencing!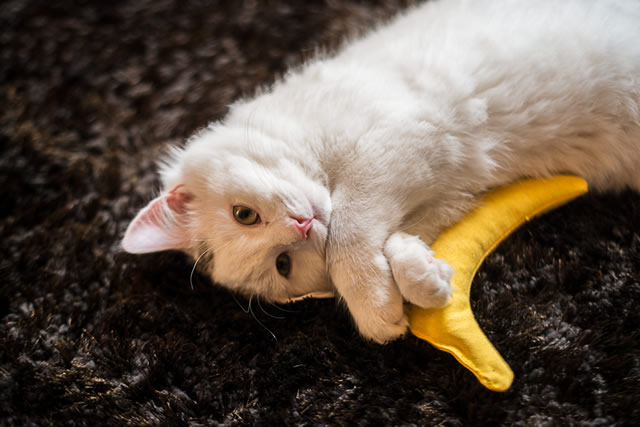 The early bird gets the… cat!
On Thursday, I had the pleasure of visiting the first cat café in Australia. I was one of those people who purchased an Early Bird Visit, with the promise of meeting the cats before the café opened to the general public.
Let me tell you, I was not disappointed. Everyone that knows me is aware that I am a dog-person. I have a dog and I love dogs. Although I contemplated getting a cat once - it never really happened.
Despite this, I thoroughly enjoyed my visit to the Cat Café Melbourne. So, even if you are not a die-hard kitty fan, you are sure to enjoy the experience.
What is Australia's first cat café like?
The café officially opens to the public on the 30th July therefore when I visited, they hadn't quite put the finishing touches on the place. The smell of freshly made coffee wasn't wafting through the air yet and there wasn't a barista in sight… There was however a small desk welcoming myself and my colleague, Rebecca, into the beautiful heritage-listed building.
We washed our hands to avoid spreading germs to the cats and headed through the main door. Excitedly, we stepped through the doorway to see a tall, carpeted staircase. It felt as though we were walking into someone's home.
Cat scratchers, as far as the eye could see
I don't know quite what I expected but it wasn't at all how I imagined it. The upstairs space was warm, smelt faintly like Turkish Delight and was so unbelievably homely!
Rebecca, barely made it up the stairs before she sat down and began to gently stroke a cat. I stepped around her and entered the main room to see three sets of beautiful eyes staring at me. A cat walked over and I bent down to pet her. It felt as though I'd just come home after a day of work to be greeted by my cat. It was a lovely feeling.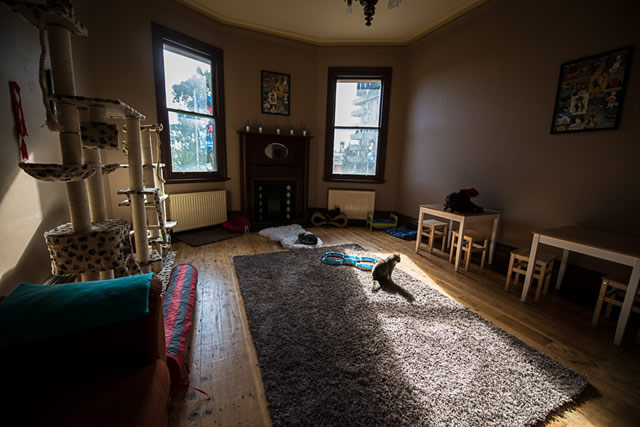 Looking around the room, there was a large comfy sofa, a couple of tables, some chairs and the mother of all cat scratchers that towered above my head. There were also some cat beds and a plush white sheepskin rug that seemed to be owned by a stunning grey cat called Winter.
Four rooms of kitty heaven
In total there are four rooms inside Cat Café Melbourne, all of which could pass as the average Australian living room. With bookshelves, chairs, beanbags and tables, there are plenty of spaces to sit and admire the cats.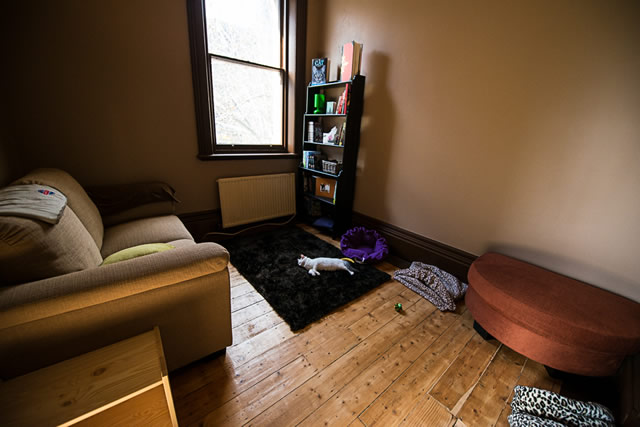 During our visit we found that the best (and most fun!) place to sit was on the floor. This allows you to be on the same level as the cats and they feel comfortable approaching and playing with you.
One of the rules of the Cat Café is that you cannot pick up any of the cats. When you are on the floor they happily swarm around your lap so you are able to get close and personal without needing to pick them up.
What's so good about a cat café anyway?
As I wrote previously, cat cafés are popping up all over the world, with the majority seen in Japan. Apart from being a cat lover's dream there are also many other clear benefits to opening such a unique establishment.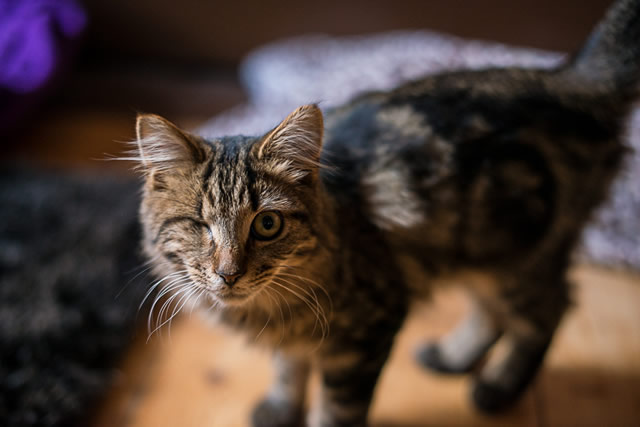 According to the Australian Companion Animal Council (ACAC) pet owners:
Typically use less medication
Have lower cholesterol and blood pressure
Deal better with stress
Show lower levels of risk factors associated with heart disease.
But what about people who can't have pets? Shouldn't they get to experience the awesome health perks of interacting with a furry bundle of love? The answer is yes and the Cat Café Melbourne can help to deliver these stress reducing benefits along with a hot cup of coffee!
Whilst at the café, I was speaking with a volunteer and she was explaining how international students often adopt a cat for their apartment and then once they graduate the cat is often left homeless. She felt as though the Cat Café will be a great place for students to get their 'cat fix' without irresponsibly adopting a cat.
There was also a self-confessed cat lover, who was visiting at the same time as Rebecca and I. She previously owned four cats but had to re-home them when she moved to a rental where pets are not allowed.
This lady's husband had bought her tickets to the Cat Café because he knew how much she missed having cats in the home. For those who cannot give a cat a home, it's a great opportunity to have some one-on-one time with a cat who is just waiting for some attention.
Top 5 tips when visiting the Melbourne Cat Cafe
Listed below are my top 5 tips to follow when visiting :
Book ahead

It is important to book ahead to avoid disappointment. Since this is Australia's first cat café, it is going to be extremely popular when it opens. Even after this date, it is quite likely to become a tourist attraction. On the Cat Café Melbourne website you will find an easy to navigate booking system. This allows you to easily book an hour time slot to visit the cats. Each hour will cost you $10, which helps to pay for cat supplies including litter, medication and food.

Wear comfortable clothes

This is such an important tip because what you wear will affect how you interact with the cats. I suggest that you wear:

Jeans or leggings that cover your legs.

This will prevent any accidental scratches whilst playing with the cats. It will also allow you to sit comfortably on the floor. Avoid wearing tights unless you want the cats to redesign them to include holes!

Flat shoes

There are hardwood floors upstairs so avoid wearing heels. The clip-clopping of heeled shoes will echo through the rooms and may make the cats run away from you. There is also a steep staircase that you need to use to enter and exit the cat area, which would be difficult to navigate in high-heels.

Long sleeved top

Some of the cats are young and therefore extremely playful. A long sleeved top will stop you from being scratched by wayward claws. Another tip is to avoid wearing thick knitwear. I made this mistake and had plenty of kitty claws stuck in the threads of my jumper during the visit!

Take a camera

The cats are so beautiful, you are bound to want to take a photo. Bring a camera or use your phone to take some fun pictures of the cats. If you upload them to Instagram, don't forget to tag @CatCafeMelbourne!

Read the cat's profiles

On the Melbourne Cat Café website, they have listed the profiles of each of the cats. As you'd expect, each one has their own personality. For example, Lynx (a distinguished gentleman with a moustache) was quite happy to lay down in the middle of a doorway during our visit. When you read his profile it reveals that as the second oldest cat he "loves to stare at people directly in the eye and watch everything that goes on around him."

Keep an eye on the time

Our session was booked for an hour. We paid to park for an hour. Don't tell the parking inspector but we may have stayed for a couple of minutes longer! You know the saying – time flies when you're having fun? Well, before we knew it an hour had gone by. Keep checking the time to make sure you don't get a parking fine or miss your train!
Visiting the Melbourne Cat Cafe
No doubt you want to visit the Cat Café as soon as humanly possible… If you do you can book your session of feline fun online today at www.catcafemelbourne.com.au. In the meantime keep up to date with the progress by following them on Facebook, Twitter and Tumblr.
The Melbourne Cat Café is a one-of-a-kind experience and with every furry resident adopted from a local shelter it's heart-warming to see them enjoying their second chance at life.
Cat Cafe Melbourne address
The cat cafe is conveniently located in the heart of Melbourne's CBD, located at 375 Queen St, Melbourne 3000.
Author Bio
Amy is part of the My Pet Warehouse team. She is a copywriter, social media co-ordinator and a self-confessed pet lover. Amy shares a house in Melbourne with her partner and a rambunctious little Pug called Chowski. She has been writing professionally for two years but her love of writing began many years before.
You can find Amy on Google+
Photos taken by Rebecca Houlden.