If you're looking for a place to wash your clothes, you go to a laundromat. If you're looking for a place to clean your car you visit a car wash. But what about your dog?
My Pet Warehouse have had dog washes in their stores for years but recently we've just unveiled a stand- alone DIY dog wash and grooming salon! Located in Malvern, the My Pet Wash store is focussed on one thing and one thing only – getting your dog looking good and smelling fresh!
Our new Grooming Salon & DIY Dog Wash in Malvern Victoria
What is a DIY dog wash?
Many of you reading this will be familiar with a hydrobath dog wash but for those who are unsure, a Do It Yourself (DIY) dog wash is exactly what it sounds like. You bathe your own pooch using a special coin operated dog wash system.
Our new Grooming Salon's DIY Dog Washes in action!
These dog washes are pretty nifty because they give you everything you need to wet, shampoo, condition, rinse and dry your dog. Some people may be reading this and thinking "I can do this all at home!"
This is true but if you have a 40kg Bernese Mountain dog, you can't exactly pop him in your kitchen sink… Not to mention even the littlest of dogs can scramble out of the bathtub leaving behind a trail of soapy destruction.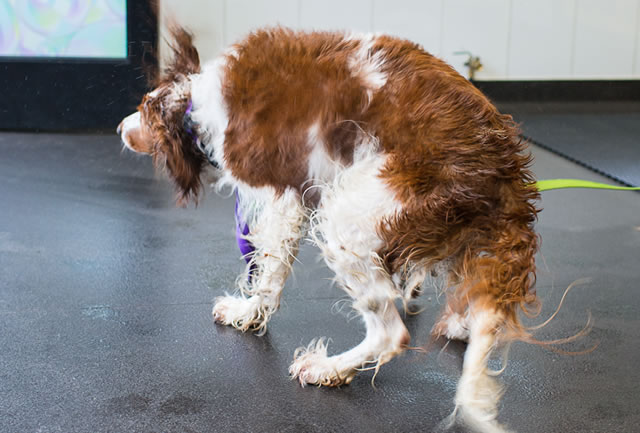 Fresh form the DIY Dog Wash!
A squeaky clean dog getting dry!
Benefits of using a coin operated dog wash
Ideal for larger dogs
Quicker and easier than doing it at home
No wet dog shaking itself in your house
The right equipment available on hand
No clean up – just wash and go
Great for stubborn dogs that just jump out of sinks and bathtubs
Can make it a fun day out with kids
What grooming services are available at the My Pet Wash?
As well as self-serve dog washes, there's also a professional groomer on site to help you out with other grooming needs. These include:
Full groom
Tidy up
Nail clipping
Anal gland expressing
Tooth cleaning
Ear cleaning
A close up of a dog getting its nail's clipped
There are many benefits to using the services of a professional groomer especially if you are not confident on using clippers on your dog. Don't know whether to DIY or use a groomer? Read the pros and cons of each one here – Dog Grooming DIY or professional?
From drab to fab - dog grooming before and after
How can I make a booking?
When using the DIY dog wash facilities it's not necessary to book. Just bring your best bud in and there should be a wash station available for you.
For all grooming services, you'll need to make a booking.
DIY Dog Wash and Grooming Salon - Malvern
120 Burke Road, Malvern Victoria 3145.
(03) 9885-7174
.
Opening Hours:
Dog Wash - Monday - Sunday:
Grooming - Monday - Sunday:
7:00am - 8:00pm
9:00am - 5:00pm
Author Bio
Amy is part of the My Pet Warehouse team. She is a copywriter, social media co-ordinator and a self-confessed pet lover. Amy shares a house in Melbourne with her partner and a rambunctious little Pug called Chowski. She has been writing professionally for two years but her love of writing began many years before.
You can find Amy on Google+
Photographs taken by the talented Rebecca Houlden - witheverylight.com.au