If your family celebrates Christmas, woo doggie do we have some great ideas for getting your fur fam involved! Santa claws is coming to town, which means there's bound to be paw-resents under the tree... Okay, now that we've got our favourite puns out the way, let's get into Xmas celebrations the whole family, furry or not, can enjoy!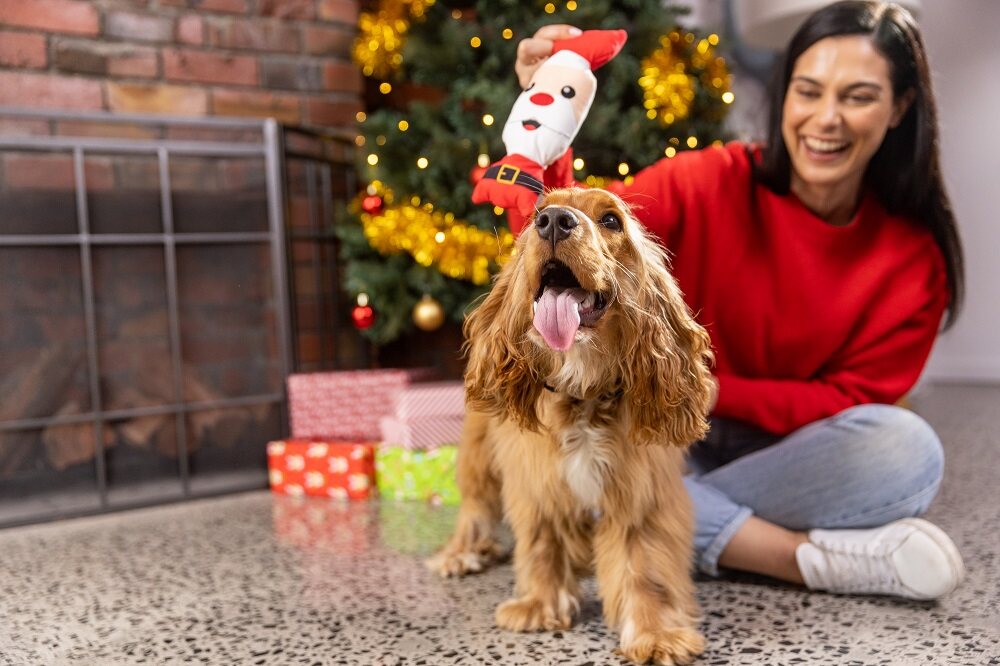 Stocking stuffers for your pets
We reckon Christmas gifts for your pets are a super cute way to bring them into the fold. Of course, your pet doesn't 'get' that it's Christmas, but if you're celebrating, they do get that there's plenty of energy in the home, maybe people coming in and out, lots of laughing and talking, the tantalising smells of roast dinners and sweet treats, and a flurry of excitement around the Christmas tree while wrapping paper goes flying.
Having a few little treats under the tree for your cat or dog can help keep them entertained and involved in these family memories. If you have smaller pets, like guinea pigs, you might want to get into the festive spirit with some treats and toys for them, too! No need to get your tinsel in a tangle; here are our fun and easy stocking stuffer ideas for pets.
Dog Christmas presents
Keep your goodest pal feelin' festive with interactive toys and delicious treats to get their tail wagging through every Xmas lunch, road trip or gift exchange.
Our range of Christmas-themed toys makes for great dog gifts that blend into the fun 'n' festive vibe of the season. Check out the range to choose from all sorts of cute little creatures in Christmas hats to encourage playing and stimulate your pooch's brain. These Xmas sticks are perfect for a December game of fetch! We have plenty of smaller dog toys to stuff in their stocking for play all year round, too.
Give your pooch a nutritious boost each day as you count down to Christmas with this Aussie-made dog advent calendar with 100% Aussie ingredients.
Hang these Xmas dog canes on the tree (or maybe in a stocking where your dog can easily get to it!) for a treat they can sink their teeth into. Made from air-dried beef, this chewy cane is great for dental health and supports body temperature regulation and blood flow!
Cat Christmas presents
Christmas cat, oh Christmas cat, how lovely are thy whiskers (did you sing the tune in your head?). Plenty of our cat toys are a great stocking stuffer size, but you can get your kitty even more involved in the festive fun with toys and treats, such as:
Keep your cat feelin' the love this month with their daily boost of nutrition in the form of turkey and cranberry Christmas-tree-shaped treats – made from 100% Aussie ingredients!
These crinkly toys will delight your cat's senses and encourage hind-leg kicking and wrestling to help get out that hunt-and-play energy! Plus, it comes with premium catnip for extra engagement.
Who doesn't love Christmas lights? Each of these colourful Xmas-light-shaped toys is filled with catnip and creates a crinkling sound to stimulate your cat's curiosity and play-time behaviours.
Does your cat give your Christmas tree a fright each year? Redirect their hunting instincts to this Christmas-tree shaped toy to help keep them active and mentally stimulated.
P.S. If you want to protect your Christmas tree from mischievous claws, check out our article on cats and Christmas trees.
Yep, you read that right – this cute lil' avocado toy is designed to encourage interaction with soft and fluffy bits and, of course, catnip to capture your cat's curiosity.
These boredom-busters are great to have around the house at Christmas time because the red and green designs look like festive tinsel tufts!
Christmas presents for smaller animals
Bring the festivity to your guinea pig, rabbit, mouse or rat with on-theme treats in Christmas-y flavours, like cranberry or peppermint. Check out these other small animal treats for now or all year round.
We wish you and your fur family a very merry Christmas
If you're looking for more tips on keeping your fur babies safe this holiday season, check out our article on how to have a safe and merry Christmas with pets. Or browse our range of products for Christmas shopping made easy. However you spend the end of the year, we hope you can enjoy some quality time with the whole family.