In Japan, the cat café is the cat's whiskers. But will they ever open one in Australia?
Although it may seem new and daring, the history of these feline establishments goes back over 15 years. The first cat café, the Cat Flower Garden, opened in Taipei, Taiwan in 1998. After this, they began to pop up in Japan where there are now over 150 cafés with resident cats.
These cafés house anywhere between 12 – 24 cats at one time and most are cats that have been adopted or rescued. There are also strict rules regarding the treatment of the cats and animal protection laws are strongly enforced.
Why Cats?
The Internet is ruled by cats. The dominance of cat related imagery and videos are a prime example of why cat cafés have become popular as opposed to dog cafés or rabbit cafés (although these do exist!).
There are several reasons that cats may have been chosen to co-exist with café-goers.
Size – It's kind of obvious but due to their size establishments can house many more cats than other larger animals.
Flexibility – Cats have the ability to climb and sit on high surfaces which means they can fill up all the nooks and crannies of cafés instead of clogging up the floor!
Personality – Their cool-guy persona means that they're more likely to approach you slowly. Unlike certain charismatic dogs, cats won't inundate patrons as they enter the door or knock coffee mugs from tables.
Cute and fuzzy – A warm cat and a warm cup of coffee are enough to make anyone's heart melt.
What do you do at a cat café?
The rules of each place vary but the basic idea is that it is a meeting place for people but with cat's added in. You can sit back and enjoy a drink and have the option to interact with cats.
The success of these coffee shops in major Asian cities is partly to do with the urban lifestyle. Many people rent in high rise or apartment buildings where their landlord forbids them from owning a pet. These locations allow pet lovers to get their pet fix without risking getting evicted.
La Carmina (travel blogger) writes about her visit to a cat café in Hong Kong. She notes that the cats roam the space freely and are even allowed to enter the kitchen. In the café that she is in (Ah Meow) there are many young couples on dates and people stop to take photos of themselves with cats. Most menu items are decorated with cat faces or shaped like kittens.
Why isn't there one in Australia?
Coffee shops with cats have seen huge success with both animal lovers and local residents and not to mention a large number of tourists. They have opened up in many countries across the world including:
Japan
China
United Kingdom
France
Spain
Germany
Austria
Hungary
Korea
Australia is a nation of pet lovers. 66% of Australians own pets and this figure is one of the highest in the entire world. It seems natural then that the response to a cat café would be incredibly positive.
So, why has one not opened yet? Well… The answer is logistics. There are many rules regarding food safety and hygiene that make opening this specialised type of café difficult. The building must also be established to be a comfortable and safe place for both cats and people.
In order to make all the above possible, it requires a large start-up budget.
Just recently, one woman has been granted the go ahead to open the first cat café in East London. As well as gaining planning permission Lauren Pears has raised the £109,000 needed by turning to crowd funding.
Crowd funding involves raising small amounts of money from many individual people in order to add to a large pool of money. It relies upon donations from those who are behind the suggested project.
Australia's first cat coffee shop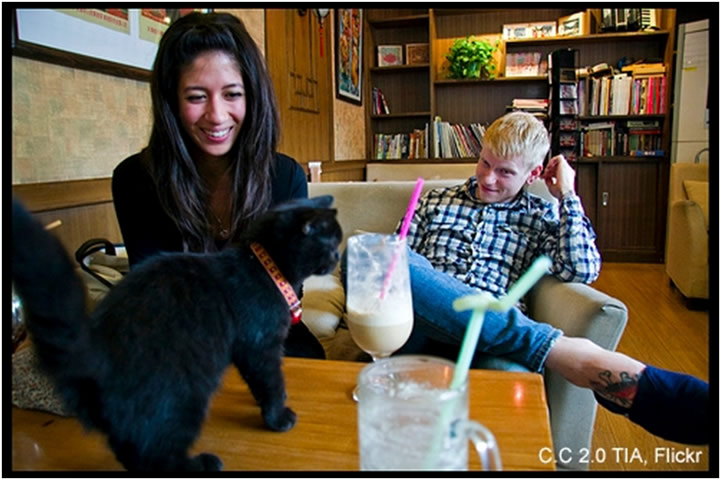 If Anita and Miles Loughran have their way there will be a cat café opening in Melbourne in the near future. Like Lauren Pears, they have also turned to crowd funding to source capital for this huge development.
Refurbishing premises to the tailored needs of several kitties does not come cheap and we do not want to spare any expense in providing the best environment for our resident rescue cats.

This is why we have launched this Indiegogo campaign, and we need your help to spread the word and raise awareness of this project (and offer you some awesome perks along the way!).
You can contribute now via Cat Café Melbourne's crowd funding page and in return you can choose an awesome perk. This comes in the form of a range of items – everything from a $2 badge to a $250 VIP membership with a year's unlimited entry to visit the cats!
The best part about this future coffee shop is that all of the resident cats will be adopted from shelters and they will be raising money to donate to local cat rescue shelters.
Would you visit a cat café?
If the idea of a cat café sounds purr-fectly irresistible, hop onto Cat Café Melbourne's crowd funding page and show your support. Don't forget to tell all your cat-loving buddies too!
Author Bio
Amy is part of the My Pet Warehouse team. She is a copywriter, social media co-ordinator and a self-confessed pet lover. Amy shares a house in Melbourne with her partner and a rambunctious little Pug called Chowski. She has been writing professionally for two years but her love of writing began many years before.
You can find Amy on Google+