new
018065057655
126055
19.99
/natures-miracle-house-breaking-spray-236ml-p-26542
AUD
InStock
NATURE'S MIRACLE HOUSE BREAKING SPRAY 236ML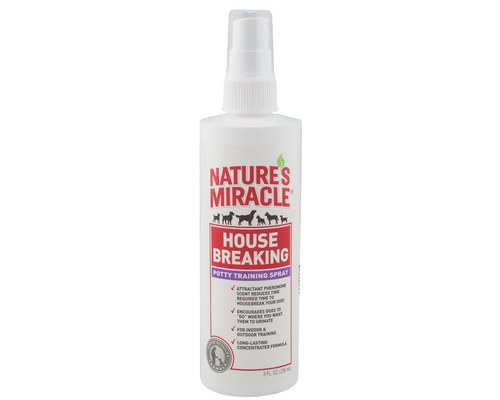 NATURE'S MIRACLE HOUSE BREAKING SPRAY 236ML
FREE SHIPPING over $49.99*
SAME DAY DELIVERY**
CLICK & COLLECT
Note: Availability depicts company wide stock levels; *Shipping exclusions apply; **Select zones only; Please refer to Shipping page.
NATURE'S MIRACLE HOUSE BREAKING SPRAY 236ML
Nature's Miracle House Breaking Spray is a heaven-sent that will leave your house with a heaven-scent!
This House Breaking Spray is excellent for teaching your dog to use the toilet exactly where you want them to. Ideal for use during toilet-training, this spray helps ensure that your dog will no longer use your carpet or deck to wee on again. With Nature's Miracle, you can take control of exactly where your dog chooses to pee.
While you're toilet training your puppy, feed them on a consistent schedule and give them plenty of water to drink. This way they'll want to go to the toilet more frequently, giving you more opportunities to train them.
Instructions:
Easy to use, simply hold the spray about an inch away from the surface where you want your dog to 'go toilet'. Spray a little circle on this area and lead your dog to the spot. Allow them to sniff out the spot, inhaling the scents that will encourage them to 'go toilet'. Once they've done their business, make sure to praise them for their efforts - this way they'll be encouraged to continue their good behavior.
Nature's Miracle works because it uses a distinctive scent which encourages dogs to urinate - it's non-toxic and uses natural methods of getting your little mate to wee where you want - not wherever they want! Take control again with Nature's Miracle.
Do You Have A Question About This Product?
Please note: Product information will be included with the form automatically.
NATURE'S MIRACLE HOUSE BREAKING SPRAY 236ML
is rated out of
5
by
30
.
Rated

5

out of

5
by
Celiajaneee
from
Lifesaver!
My 18 week old puppy was impossible to toilet train! A week of using this and he's going on his pads exactly where I want him to. the smell isn't as bad as I thought it would be! I find it goes away after a while, it's just the initial spray. This has fixed so much frustration for us and a big problem! Thankyou natures miracle! I know there's negative reviews but try it for yourself before you judge!
Date published: 2017-05-21
Rated

5

out of

5
by
Ratterlov
from
Not a gimmick it WORKS
I bought this on a whim because we had tried everything else but he kept relieving himself in the house, we sprayed this outside where we wanted him to go and he immediately went there EVERYTIME we even took it with us on walks and to other people's houses and used it there. What a lifesaver
Date published: 2016-05-11
Rated

5

out of

5
by
Rios
from
It works !
I was really stressed out, my 8 weeks puppy was voiding everywhere in the house until I found this product . I sprayed it on the pad and now he goes there by him self, I love it ! It does stink up for a couple of hours but hey I rather smell that and have my puppy void in a specific place than to have a house full of urine and clean all the time . So I'm thankful for this product.
Date published: 2016-03-18
Rated

5

out of

5
by
theresamaria
from
Saved my white carpeting
I adopted a rescue dog that had very little training – whether it was housebreaking, playing with other dogs or people – how to deal with strangers, etc. I had to actually follow her around to make sure she didn't wet in the house. I was on the verge of insanity until I found the potty training spray. At first, I didn't see any difference, but after a week or two, she paid more attention to what I was spraying in the place I would always take her. Now granted, she might be going there simply because she smells what she left there before, but I don't know. It seems once I spray a couple of squirts, she immediately does her thing. Now it is getting to where I don't have to spray every single time we go outdoors. But if I see her wasting time or looking around, I spray a squirt and it gets her attention so she can do what we came there for. At the same time I bought the spray, I purchased a little fire hydrant that was supposed to have the same effect and cost over double what the spray did. It was a waste of money because she has never paid attention to it and has never pottied near it. I would highly recommend this spray, but you have to give it time. Keep in mind my dog has many problems, so her learning curve may be out of whack, but she was able to pick up on the intentions of this spray and in the past month has only had 2 accidents in the house compared to 2 a day. My only complaint about this product is that the sprayer isn't functioning correctly. I need to either get another spray nozzle or unscrew it and just pour a little out. I hope all of you can be as lucky as I am with this product.
Date published: 2014-09-29
Rated

5

out of

5
by
Reenz2
from
Amazing!!
I have a 5 month old Morkie and I could not get her to go on her peepee pads. She was having accidents all over the house. The first time I sprayed this on her pad she went went right where she was supposed to! She has not had ONE accident since. I cannot tell you how thrilled I am with this product, I tried everything and nothing worked until this spray!!
Date published: 2011-12-12
Rated

5

out of

5
by
Rooster
from
I have been using Nature's Miracle for over 15 years for stain and odor remover. When I saw this product at my pet store I didn't even hesitate to buy it. My 2 year old lab is easily distracted but I have to admit, this product works. She does all of her business in the area that I have marked 90% of the time. I have been using this product for about a week. I am very happy with the results.
Date published: 2011-09-15
Rated

4

out of

5
by
New dog blues
from
Worked for us
We brought home a 14 week puppy who had never been in a house, but immediately thought it was the bathroom. We would walk him and walk him only to come in the house and have him do his thing. Bought this the second day home with him and sprayed the yard. Immediately we saw results. Because of the fine misty spray that ended up all over me and the dog, however, I suggest pouring a little in a small cup and scattering it over the grass where you want your dog to go. That worked much better. My only problem is that last night I grabbed it instead of the spray to prevent him from chewing on the furniture. (He things anything wooden is a chew toy!) Now the smell from the fine mist is all through the house. We've been trying and trying to get it out and it still stinks. So, word to the wise. Don't spray it! Pour it only and keep it away from anything else so you don't accidentally grab it and do the stupid thing I did!
Date published: 2017-08-02
Rated

3

out of

5
by
Nise65
from
Full of promise
Unfortunately this product hasn't worked for me. I can't get my dog to sniff where I sprayed. Maybe in time.
Date published: 2018-12-29
Rated

2

out of

5
by
Treece
from
Not very helpful
I have had two toy poodles that were very easy to train with the natures miracle training pads. I had no trouble at all. Then they quit selling them in the stores so every pad I have tried since then is not working. So I tried this spray but they turn away from the paper instead of using it. Do you make the training pads anymore? If you do can I order them from you? They were the best training tool I had found. I really need to find those training pads. Can you help me?
Date published: 2017-02-11
Rated

1

out of

5
by
HC00
from
DO NOT BUY
I got this product not realizing that it's to train your dog to "GO" where you want him to and not "avoid" him from going where I don't (That's on me totally get it) I def think that there should be a warning label or bigger label on the bottle that's what this is intended for. After it leaking out of the bottle on to my clothes, car seats and floor my whole house and car smells like urine. I've done everything to get the smell out and it just sticks with you. If I leave anything in my car it starts to absorb the smell or urine.. If you do buy the product for what it's intended for you've been warned.
Date published: 2022-02-16