new
9331932000839
529018
48.99
/passwell-complete-lorikeet-5kg-p-6892
AUD
InStock
PASSWELL COMPLETE LORIKEET 5KG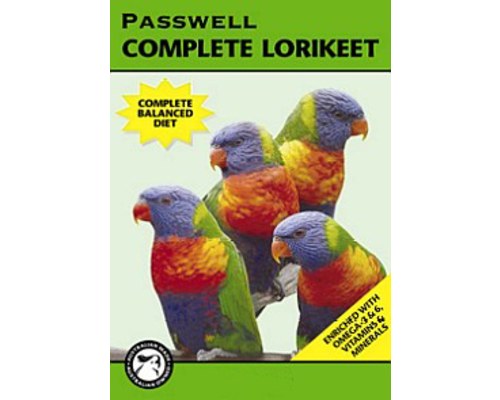 PASSWELL COMPLETE LORIKEET 5KG
Availability: In Stock
Note: company wide stock level.
Passwell Complete Lorikeet is a complete balanced diet for pet, aviary or wild lorikeets. Complete Lorikeet contains all essential nutrients to maintain healthy Lorikeets and can be fed wet or dry.
This is a granular powder that is a complete balanced diet for pet, aviary or wild lorikeets. The product can be fed dry, straight from the pack, or mixed with the desired quantity of water to produce a wet mix. Remove soiled or uneaten food daily and replace with fresh food. Some lorikeets will load their drinking water with dry food so always ensure that fresh water is available.
Available in 500g, 1kg, 5kg, 10kg and 20kg packs
Do You Have A Question About This Product?
Please note: Product information will be included with the form automatically.
PASSWELL COMPLETE LORIKEET 5KG
is rated out of
5
by
23
.
Rated

5

out of

5
by
Anonymous
from
Passwell complete lorikeet 5kg
This bird food is awesome , we feed it to our rainbow lorikeet and also to 2 scaley breasted lorries that drop in for a feed almost every day. They then have babies and bring them to our house to feed when they are a little older . All birds absolutely thrive on it
Date published: 2020-09-04
Rated

5

out of

5
by
VJ56
from
Passel Complete Lorikeet 5 Kg
My Lorikeets love this food . The 5 Kg bag is very economical.
Date published: 2020-08-24
Rated

5

out of

5
by
Michele Q
from
My lorikeet loves it
This is the only food my lorikeet will eat. It smells very fruity and mixes really well unlike some that are grainy. I have been using passwell Complete for several years now and my lorikeet is 10 years old.
Date published: 2020-08-09
Rated

5

out of

5
by
Mark Constantine
from
Wait, this is for birds?
I started putting this in my coffee last year and now I can't live without it. The lorikeets like it, too and have also taken a keen interest in coffee. Not sure if it's causation or correlation but we've both got our heads in the bag every morning. Highly recommend!
Date published: 2020-06-19
Rated

5

out of

5
by
Chantel
from
Great product
This is an excellent product developed by experts.
Date published: 2019-11-27
Rated

5

out of

5
by
Pabloaust
from
Lorikeet food
I'm a novice when it comes to feeding wild lorikeets. It would be nice to have additional information included in the sale explaining proper techniques, frequency, and a reference to a suitable bird feeder if making this food up wet.
Date published: 2019-11-16
Rated

5

out of

5
by
Ak31
from
Happy lorikeets
Great value for money and shipping was excellent! Got plenty to feed the wild ones too
Date published: 2019-09-03
Rated

5

out of

5
by
gss_au
from
Ausie Birds love Passwells
Rainbow and Scaley Breasted Lorikeets and Blue Face Honey Eaters push for a position around the bowl. They love Passwell's Lorikeet food and leave the bowl perfectly clean. The small cost for the food is worth spending to have such beautiful birds visit each day.
Date published: 2019-08-04
Rated

5

out of

5
by
Kayenne
from
Perfect feed
Wild Lorikeets love this, and it's good for them. I use it for my "special" lorikeets; ones I've helped recover from an ailment or improve condition from "runner" status, but have a difficult time keeping all the other ones from slurping it all up. Found it to be the best product all round and I know I'm adding to the health of the flock.
Date published: 2018-09-30
Rated

5

out of

5
by
Debonekun
from
Very good healthy food for lorries
I fined this food to be excellent for a range of honey eaters. It keeps them in good health and it's really easy to mix.
Date published: 2018-06-03