Pet Food Online & In Store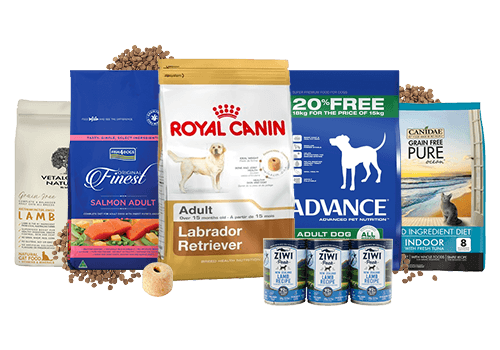 As far as food goes, pets are really just like humans. They require food that gives them the right nutrients needed to maintain a healthy body and mind.
Then there are pets who are just plain fussy (we're looking at you, cats), you know the one's that turn their nose up at anything you put in front of them.
Well, at My Pet Warehouse you'll easily be able to find the food your best friend will love in our stores, or online. We know that you want fast pet food delivery - so that's why we offer fast, free shipping on pet food orders over $49.99 - dispatched from our centres in Melbourne, Perth, Sydney and Brisbane.
A Variety Of Food For Dogs
Every dog is different, we understand that. That's why we stock a massive range of wet and dry food for you to choose including, breed specific, food for specific body types, age specific, skin and coat nutrition, and more.
If your veterinarian has recommended a prescription diet for your pet, you'll find them online at My Pet Warehouse. Our prescription diets come from the leading brands and include veterinary diets for gastrointestinal, sensitive skin and urinary issues.
Food For The Domesticated Hunter
Your cat is a natural hunter in both body and mind. Therefore your cat needs a food which offers specific nutrition that supports their unique anatomy. At My Pet Warehouse, we stock an extensive range of food that's unique to your cat's nutritional requirements. These include: wet and dry cat food such as food for hairball, indoor, age specific, and more..
There's something for even the most finicky of felines.
Similar to our dog food range, we also stock prescription food for cats to purchase under recommendation from your vet.
What About Small Animal Food?
Great things come in small packages, right!? So you'll find pet food online for all creatures great and small at My Pet Warehouse. We stock food for reptiles, rabbits, guinea pigs, birds and reptiles.
Fish Food
See our range of food for a variety of fish types including goldfish, tropical, pond, and marine fish.
We only stock well known and trusted brands such as Nutrafin and Tetra.
Pet Food - Shop by Brand: