new
729849112834
208032
199.99
/petsafe-elite-little-dog-spray-bark-control-p-22250
AUD
InStock
PETSAFE ELITE LITTLE DOG SPRAY BARK CONTROL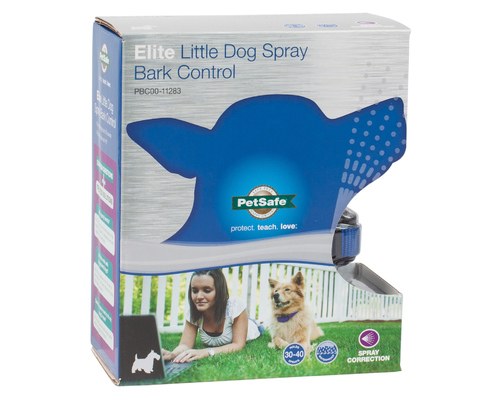 PETSAFE ELITE LITTLE DOG SPRAY BARK CONTROL
Availability: In Stock
Note: company wide stock level.
PetSafe Elite Little Dog Spray Anti Bark Collar for Small Dogs

Nuisance barking is annoying for you and your neighbours. If you have tried to stop your dog from barking through other means but have failed - an anti-bark collar is your next option. This bark collar will help you to control the issue in a way that is comfortable for both of you.

How does this dog bark collar work?

The Patented Perfect Bark technology means that your dog's behaviour is only corrected when he barks. The bark is detected in two ways: Through a microphone and vibrations coming from your dog's throat. This prevents your dog punished for the barking of other dogs in your household or next door.
When he barks he will receive correction through a mist of harmless spray. The spray contains all-natural ingredients and just startles him and stops him from barking.
Features
External controls.
Waterproof.
Low spray indicator.
New technology to fit into a small collar.
Model Number:
PBC00-11283
Battery:
PetSafe RFA-188
Suitable dog size:
Up to 26kg
Max. collar size:
Adjustable up to 50cm
Bark collar weight:
55g
Do You Have A Question About This Product?
Please note: Product information will be included with the form automatically.
PETSAFE ELITE LITTLE DOG SPRAY BARK CONTROL
is rated out of
5
by
19
.
Rated

5

out of

5
by
Michelle723
from
Awesome
My dog has responded amazingly to wearing this. We live in an apartment and he was territorial barking in the common areas and outside near the building. 4 sprays from this total and he no longer barks in the areas. He comes right in to the elevator and doesn't do his "patrol". We now put the collar on loosely and turned off as he knows if it is on what will happen so he doesn't bark. I had tried every option recommended by professionals and nothing worked. Overall this has been great and he has been enjoying waking through the building as he is focused on us and walking, not others.
Date published: 2020-09-07
Rated

5

out of

5
by
Vman
from
Barking collar works!
Excellent barking solution. Works immediately. After a week doggy stopped barking, even without collar.
Date published: 2019-07-27
Rated

5

out of

5
by
Stan
from
Calms the endless barking
After a few months with a new dog who has a barking problem we decided to try a citronella collar. Oh relief! It breaks the cycle. It's gentle. No harm is done. My little guy is so smart that I can't see us needing to use it forever. This is a great training tool. Thank you so much.
Date published: 2018-09-27
Rated

5

out of

5
by
Anonymous
from
Works like magic! Doesnt inflict pain,very important
I own two brussels griffons who true to the breed bark a lot.I couldn't take them for walks because the barking was that bad.One day wearing the collar and everything changed.We all love our walks now!Thank you.Barking problem?Try the collar.It works.
Date published: 2017-08-07
Rated

5

out of

5
by
Russell
from
Effective
We have a beagle who doesn't bark a lot but keeps going like the energizer bunny when he does. This is the only collar I have found that works and is effective. The cheaper ones go off for any noise and our dog is afraid to move. We use this at night and it is a god send. I do have to make sure it isn't behind a fold of his skin.
Date published: 2016-11-19
Rated

5

out of

5
by
Anonymous
from
Works great!
This collar has been a miracle worker. We were unable to walk our dog in our neighborhood because he went crazy barking at other dogs. I tried working with multiple trainers and read all of the advice I could find. Nothing worked. Now, he calmly walks past other dogs with no barking. I don't dread walks anymore, and my dog seems happier because he is getting more walks and is much less stressed.
Date published: 2016-03-16
Rated

5

out of

5
by
Kerry H.
from
Peace and quite
I love this collar!! From the first day my little cocker spaniel has responded with little or no barking while wearing . It is very user friendly for me as well. I was skeptical, but will be recommending to anyone who has a barker.
Date published: 2016-01-20
Rated

5

out of

5
by
Anonymous
from
Quinn
This has been the absolute BESt investment I have ever made. I have a 7 pound Miniature Pinscher. She is the sweetest dog but barks at EVERYTHING! In April/May of 2012, I was staying with my sister-in-law to care for my dying Mother-in-law. My MIL could not deal with our dog's screechy bark (Not to mention my husband hated her too because of it). I bought this collar and was amazed at how well it works and as a result my MIL derived some pleasure from my small dog being around. When my dog wears the collar, she is a completely different dog. She's quiet (even a little submissive). It doesn't completely keep her from expressing her needs, as she has figured out how far she can go with it, but I don't have to worry about her going nuts every time a truck or school bus drives by. The Battery does need to be changed frequently as it is not very practical to turn it on and off all of the time (You have to use a coin, butter knife or screw driver and you forget to turn it back on when you are trying to put it on her in the middle of an episode). I love this collar and recommend it to MANY! The Big dog collar, though, did NOT work on my Golden Mix.
Date published: 2013-11-08
Rated

4

out of

5
by
ThreeDogCircus
from
Effective so far
We have a mini dachshund puppy that is the queen of barking. After trying multiple other types of collars, this Elite Spray Collar seems to work the best. She definitely does not like the spray of citronella and it immediately curbs the barking.
Date published: 2021-02-27
Rated

4

out of

5
by
Puppylove13
from
Brings some peace and quiet !
Very good product. Worked well to stop most of the nuisance barking on our little dog. Just do yourself a favour and purchase a spare battery at the same time as ours didn't even last three weeks when first fitted.
Date published: 2019-07-30