new
729849112834
208032
199.99
/petsafe-elite-little-dog-spray-bark-control-p-22250
AUD
InStock
PETSAFE ELITE LITTLE DOG SPRAY BARK CONTROL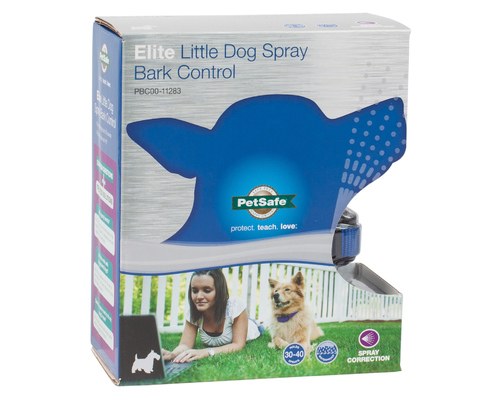 PETSAFE ELITE LITTLE DOG SPRAY BARK CONTROL
FREE SHIPPING over $49.99*
SAME DAY DELIVERY**
CLICK & COLLECT
Note: Availability depicts company wide stock levels; *Shipping exclusions apply; **Select zones only; Please refer to Shipping page.
PetSafe Elite Little Dog Spray Anti Bark Collar for Small Dogs

Nuisance barking is annoying for you and your neighbours. If you have tried to stop your dog from barking through other means but have failed - an anti-bark collar is your next option. This bark collar will help you to control the issue in a way that is comfortable for both of you.

How does this dog bark collar work?

The Patented Perfect Bark technology means that your dog's behaviour is only corrected when he barks. The bark is detected in two ways: Through a microphone and vibrations coming from your dog's throat. This prevents your dog punished for the barking of other dogs in your household or next door.
When he barks he will receive correction through a mist of harmless spray. The spray contains all-natural ingredients and just startles him and stops him from barking.
Features
External controls.
Waterproof.
Low spray indicator.
New technology to fit into a small collar.
Model Number:
PBC00-11283
Battery:
PetSafe RFA-188
Suitable dog size:
Up to 26kg
Max. collar size:
Adjustable up to 50cm
Bark collar weight:
55g
Do You Have A Question About This Product?
Please note: Product information will be included with the form automatically.
PETSAFE ELITE LITTLE DOG SPRAY BARK CONTROL
is rated out of
5
by
29
.
Rated

5

out of

5
by
Doxy owner
from
Perfect for vocal mini dachshund
Perfect for my mini dachshund. Keeps her quiet Sometimes she will give a low rumble so ask to express concern about noises she hears but that is okay with me. This thing does wonders. Vibrating and noise emitting collars just made her bark more to "fight" them. It also is small enough not to weigh down or impede movement on little doggies. The only time it fails to silence her barking is when someone rings front doorbell. She lets it shoot off in her face because she needs to ward off invaders. Luckily that doesnt happen often.
Date published: 2022-03-25
Rated

5

out of

5
by
March
from
Easy to use
I actually bought one a yr ago and my Maltipoo knows when it is on and when it is off. She don't like it being sprayed at all so it does a great job controlling her barking. She hardly has to use it now. Told my son he needs one for his dog.
Date published: 2021-06-26
Rated

5

out of

5
by
jennzenn
from
Works so great!
[This review was collected as part of a promotion.] I received my PetSafe - Elite Little Dog Spray Bark Control collar and was very excited to give it a try as my fur baby sometimes gets excited and barks too much. I love that it is safe and non-toxic! My baby's safety is number one and I am very pleased with how effective and efficient this is!
Date published: 2021-06-17
Rated

5

out of

5
by
Russk
from
What a clever awesome new way to train!
[This review was collected as part of a promotion.] I love this idea it is a clever and really great way to train without any harm to your animal. This is a really great product I love the size of it I think it is perfect. The smell is not bad and it works really well when we tried it. Highly recommend this training item I really like it.
Date published: 2021-06-07
Rated

5

out of

5
by
hammerboss
from
Works well
[This review was collected as part of a promotion.] I have a mini-daschund who is about as stubborn as they come, I did really not want to have to go to a mechanical source to get her to at least mind me for a short time, sadly she resisted every other effort and method. With not a lot of options left I gave this collar a try - she fought it for a short while then realized that the collar was going to win every time. She still barks at times, however the barks are much shorter and longer in between.
Date published: 2021-05-20
Rated

5

out of

5
by
Fasteddie67
from
Stop Your Dog Now With This PetSafe Device
[This review was collected as part of a promotion.] I have always had an issue of barking with my little Princess. She is only ten pounds. I have tried several solutions regarding this issue from an electric collar and shaking a bunch of coins in a box at her. The Elite Little Dog Spray Bark device has solved her barking. The device employs a spray of citronella whenever she barks. It took several days of having the collar on for the barking to stop. The product is designed to gradually increase or decree the intensity of the sensitivity to the barking. I wish this product was available years ago.
Date published: 2021-05-15
Rated

5

out of

5
by
Michelle723
from
Awesome
My dog has responded amazingly to wearing this. We live in an apartment and he was territorial barking in the common areas and outside near the building. 4 sprays from this total and he no longer barks in the areas. He comes right in to the elevator and doesn't do his "patrol". We now put the collar on loosely and turned off as he knows if it is on what will happen so he doesn't bark. I had tried every option recommended by professionals and nothing worked. Overall this has been great and he has been enjoying waking through the building as he is focused on us and walking, not others.
Date published: 2020-09-07
Rated

5

out of

5
by
Vman
from
Barking collar works!
Excellent barking solution. Works immediately. After a week doggy stopped barking, even without collar.
Date published: 2019-07-27
Rated

5

out of

5
by
Stan
from
Calms the endless barking
After a few months with a new dog who has a barking problem we decided to try a citronella collar. Oh relief! It breaks the cycle. It's gentle. No harm is done. My little guy is so smart that I can't see us needing to use it forever. This is a great training tool. Thank you so much.
Date published: 2018-09-27
Rated

5

out of

5
by
Anonymous
from
Works like magic! Doesnt inflict pain,very important
I own two brussels griffons who true to the breed bark a lot.I couldn't take them for walks because the barking was that bad.One day wearing the collar and everything changed.We all love our walks now!Thank you.Barking problem?Try the collar.It works.
Date published: 2017-08-07
2.00