With the teaming up of our stores, we're bringing you some exciting changes including introducing PETstock Rewards as the new My Pet Warehouse in-store, value driven rewards program.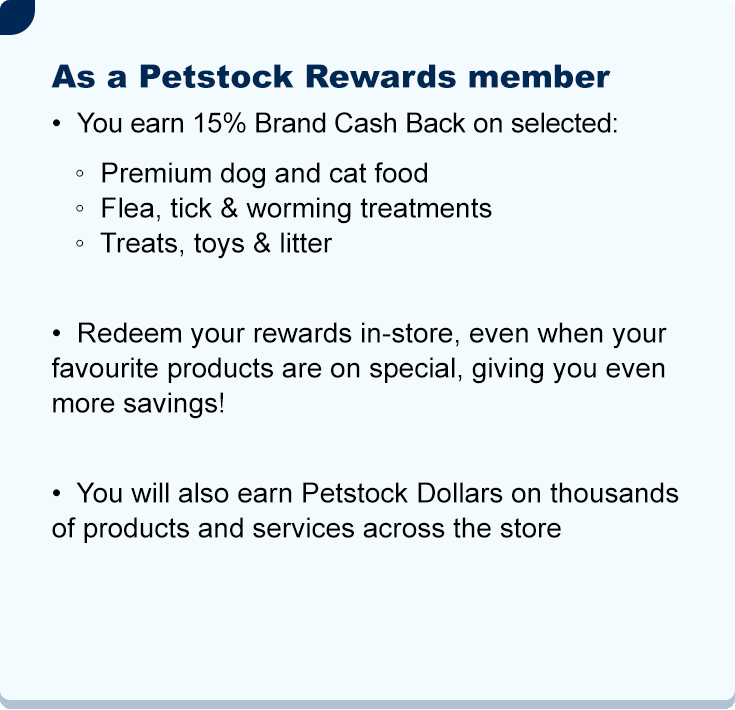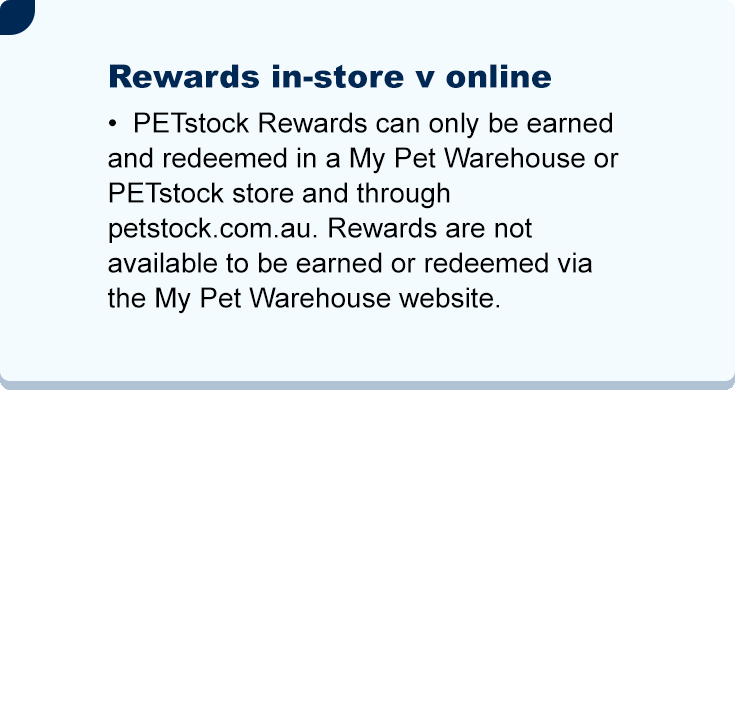 To make the transition as easy as possible, we'll automatically transfer your Unleashed Loyalty account into your PETstock Rewards account for you, so you don't have to lift a finger!
PETstock Rewards memberships will be active from 01/11/2022 for the majority of customers, or from the 08/11/2022 for customers shopping at our Coburg, Fitzroy, Northcote, Tooronga or Yarraville stores.
You can learn more about all the great benefits of PETstock Rewards at petstock.com.au/rewards.
We look forward to providing more great value, service and advice on your next visit.
Please refer to www.petstock.com.au/pages/rewards-terms for full terms & conditions.
Changes to Unleashed Loyalty
Please note the following changes to our 'Unleashed Loyalty' incentive program, which (as mentioned above) is being superseded by the 'Petstock Rewards' program. We ask that you please take a moment to understand how this change may affect your ongoing entitlements;
Customers will continue to accrue 'Voucher' entitlements prior to 01/11/2022. After this date, all owed entitlements will be emailed to eligible customers/accounts. These vouchers will expire 3 months from the date of issue.
'Welcome' coupons issued previously, or prior to 01/11/2022, will continue to be redeemable In-store & Online providing they're valid and within the original 28-day validity period offered.

Terms & Conditions:
We ask that you please allow (up to) 8 weeks for these entitlements to be processed.
Please note that vouchers cannot be reissued after they have expired and can only be used for a single purchase. Vouchers cannot be applied to recurring Repeat Delivery subscription orders, and cannot be used in conjunction with any other offer in which a discount is applied at checkout. Only one voucher can be applied per online transaction (this may differ in store).
All 'Welcome' coupons are redeemable one-time by new customers only, with eligibility decided by My Pet Warehouse at its sole discretion. A minimum order value of $70 applies for eligibility. Coupons cannot be used in conjunction with any other offer, or with recurring Repeat Delivery subscriptions. Coupon codes must be applied to the 'discount coupon' field during checkout when shopping online.
We reserve the right to make, amend, and/or update these T&Cs at any time and we will take reasonable steps to bring any material changes to your attention, however it is your responsibility to inform us if your personal details change (including, but not limited to, your email address, postal address or phone number). If we do not have your correct and up to date personal details, we may not be able to contact you.