new
046798771517
646007
9.79
/tetra-weekend-gel-block-24gm-p-7925
AUD
InStock
TETRA WEEKEND GEL BLOCK 22G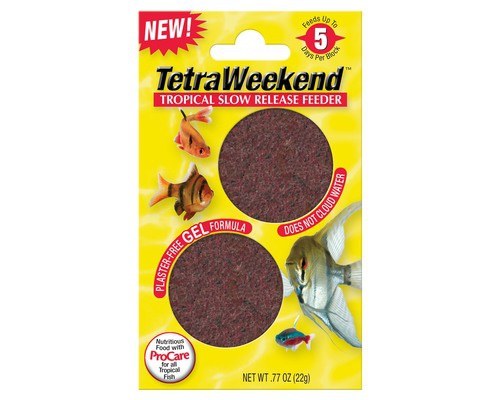 TETRA WEEKEND GEL BLOCK 22G
FREE SHIPPING over $49.99*
SAME DAY DELIVERY**
CLICK & COLLECT
Note: Availability depicts company wide stock levels; *Shipping exclusions apply; **Select zones only; Please refer to Shipping page.
TETRA WEEKEND GEL BLOCK 22G

Existing plaster blocks are "old school" technology that can wreak havoc on your water quality! Tetra's innovative new gel feeder blocks contain no plaster and feed up to fourteen days with the Tetra Vacation Tropical Slow Release Feeder. Tetra's feeders provide real nutrition to fish when they need it.
Allows fish to eat when hungry vs. plaster feeders that dissolve
Packed with Tetra's patented, health enhancing ProCare ingredients
Will not pollute water or negatively effect water quality
Gel blocks may be left in the aquarium when regular feeding is resumed
Do You Have A Question About This Product?
Please note: Product information will be included with the form automatically.
TETRA WEEKEND GEL BLOCK 22G
is rated out of
5
by
31
.
Rated

5

out of

5
by
Robert25
from
Platys thrive on it! not sure about my betta
More reliable than friends/family/sitters for my fish when I need to travel. I have 20 platys and they seem to do better with the block in a 29 gallon tank, with heater, than me feeding them 2xs a day. Not sure how my betta does I don't know if he gets to eat or not. Is this product meant for bettas?
Date published: 2019-08-11
Rated

5

out of

5
by
soup07c
from
AMAZING!!
I know that a lot of people have written reviews that this product didn't work but I think it worked great! I left for a week for my 5 gallon tank and put a quarter of the block in and it worked like a charm! No clouding and all fish are well and healthy!!
Date published: 2019-01-06
Rated

5

out of

5
by
TLS21
from
This worrked great for my week trip to NY
I was able to cut this into 3 pieces and split it between a 5, 10, and 20 gallon tank for a short trip to NY. This was perfect in case my fish were hungry and needed a little something until resuming normal feedings. It stayed together too and didn't get messy.
Date published: 2018-01-03
Rated

5

out of

5
by
Spidergran
from
Very impressed.
I put 2 tetra vacation 14 day blocks in my AR850 tank before going away for ten days. was a little worried due to other reviews, so was very happy to arrive home today to find the food all eaten, fish healthy, and water crystal clear. Very impressed and will definitely use it again.
Date published: 2016-12-28
Rated

5

out of

5
by
CoriesEverywhere
from
This product is great but only after I broke it into pieces.
I threw my Tetra Weekend 5 days block into my tank 1 day before my vacation, and noticed that none of my fish were touching the block. I had to look onto the tetra website to find the tip to break it into pieces. After I broke up the main block into several smaller ones and squished one of the small pieces into crumbs the fish began to realise it is food and started eating it. So the product works great and my water isn't cloudy and the fish does eat it, but only after it got broken into pieces. All my fish appear to be healthy after my vacation and I took out the remaining bits in my tank. The only problem with this product is that I had to look online to find the instruction to break up the block.
Date published: 2012-12-31
Rated

5

out of

5
by
dezel
from
tetra vacation feeders are great
Tetra vacation feeders work great and dont cloud the water.
Date published: 2011-07-27
Rated

4

out of

5
by
teknooh
from
Used several times with good results
I've used this several times and have had none of the issues others mention. Dosing is pretty important, and I always underfeed slightly because I know the fish will be fine if they run out a little early. My pleco always goes straight for it and gorges itself, but everybody seems to be happy and healthy when I come back. The only reason I gave it 4 stars is because I wish the discs came in smaller amounts. I literally use only a quarter of a disc, so the rest goes to waste. Still, an easy, worry-free way to make sure they're fed while I'm gone.
Date published: 2020-12-22
Rated

1

out of

5
by
Drurybunch
from
Sick fish
Bought this for a 4 day vacation feeder. As instructed, only put in half. Came home to a disgusting cloudy tank. Fish was sick for over a week. Never again!
Date published: 2020-03-19
Rated

1

out of

5
by
Gullible
from
It does not last 14 days
I had my daughter check on my tank after I'd been gone a week. I have a bigger tank and thought I might need a second block put in. The first block was totally gone, but my filter, which I had just changed the previous week, was clogged! Because it was clogged the water went up and over the filter edges and there was a puddle on the floor. It had been there for some time because there was water damage. She came and fed my fish for me, so this is not a product I would recommend...to anyone.
Date published: 2019-07-24
Rated

1

out of

5
by
IAmAGroceryBag92
from
This is the worst
I bought this a week ago and I am so happy I did... NOT!!!
Date published: 2019-06-11