new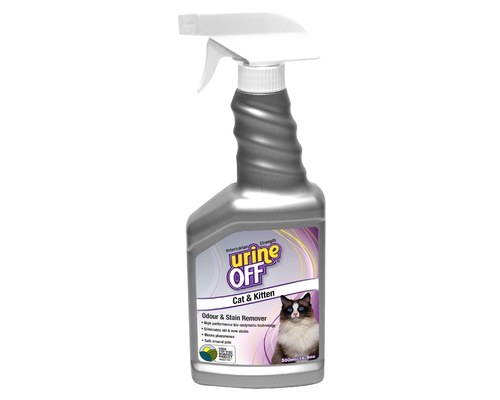 URINE OFF CAT AND KITTEN 500ML
Availability: In Stock
Note: company wide stock level.
How Does Urine Off® Work?
To understand how Urine Off® works, it is important to know a little about urine. Urine, whether human or animal, has three main components.
1 Urea, a slightly sticky substance;
2 Urochrome, gives urine its yellow color
3 Uric Acid, is a mild acid, rich in nitrogen.
Uric acid contains non-soluble salt crystals, which present the biggest challenge to removing urine from surfaces and fabrics.
The first two components can be washed away with ordinary cleaning and commercially-available urine odor products, but the uric acid crystals are extremely insoluble and remain tightly bonded to the surface. After initial cleaning and drying with ordinary products, it may appear that the problem is solved. However, any type of moisture will reactivate those remaining crystals and the smell returns, as strong as ever.
There are a number of urine odor products available to the retail customer. Most are composed of surfactants (detergents) and a masking agent. A few also employ enzymes and some use alcohol as a solvent. Still others are chemicals, whose molecules encapsulate, or coat, the urine molecules "seal in" the odor. The shortcomings of these approaches are that the odor is usually addressed only temporarily, and the stain most times not at all. None appear to have success with old, dried urine deposits.
In the case of pets, the problem is compounded because of their territory-marking behavior and their very acute sense of smell. Even when the urine odor has been rendered imperceptible to humans, animals detect it and are compelled to re-apply their own scent! So once an animal has "gone" in one spot, they frequently return to it again and again, no matter what we do.
But now... there is Urine Off® The enzymes in UO are specifically developed to work in combination with our specially adapted microorganisms (bacteria) that actually "eat" the uric acid crystals, in addition to removing the other components of urine. Effectively removing these crystals is what distinguishes Urine Off® from the rest of the products we've tested.
With the source of the odor AND the stain removed, the problem is solved. Urine Off® has a pleasant citrus fragrance and even that disappears when the product dries.
Do You Have A Question About This Product?
Please note: Product information will be included with the form automatically.
URINE OFF CAT AND KITTEN 500ML
is rated out of
5
by
7
.
Rated

5

out of

5
by
Izzy1234
from
Great product.
Did the job on a tricky leather lounge where the pee had spread in between the cushions and into the backing. Used as directed with success. I may reapply as suggested at a later time, just waiting for the full effect to be known as the smell is continuing to decrease even after a few weeks of the initial application. Very much improved, thank goodness! I also used it at the back of the toilet where the boy's urine soaks into the grout...another great result!
Date published: 2019-04-15
Rated

5

out of

5
by
Alibaba
from
Works well
Yes it removes stain n smell n my cat seems not go back to the spot again
Date published: 2018-01-20
Rated

5

out of

5
by
Cat Mummy
from
This stuff is fantastic!
Our two cats were a bit spooked by a new litter tray, so decided to use the floor next to it instead. It was such a pain to have to clean it up, only to find they'd done it again the next moment. Urine Off not only cleans it up, but removes their desire to 'mark' the area again as every trace of urine is removed. It really is fantastic stuff.
Date published: 2017-02-19
Rated

4

out of

5
by
Sandra D
from
great stuff
I use mine to freshen the litter box and to give a quick spray if one of the cats have done a smelly pooh covers/removes odour fast. I have used it to clean up messes on furniture it seems to work ok.
Date published: 2017-07-12