new
9323961006647
337006
19.99
/vets-all-natural-complete-cat-mix-1kg-p-6115
AUD
InStock
VETS ALL NATURAL COMPLETE CAT MIX 1KG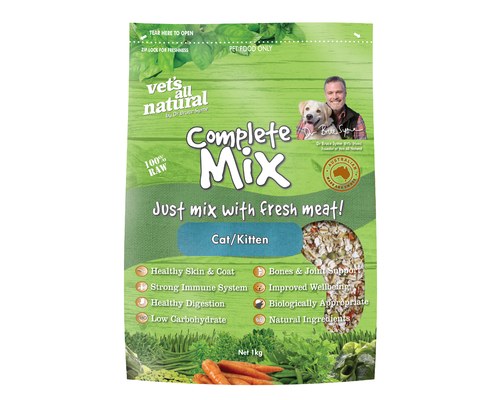 VETS ALL NATURAL COMPLETE CAT MIX 1KG
Availability: In Stock
Note: company wide stock level.
VETS ALL NATURAL COMPLETE CAT MIX 1 KG
* A healthy balanced diet consists of natural vegetable matter and grains with raw meat.
* Complete Mix represents the required vegetable matter and grain portion of your dog or cat's healthy diet.
* It is an economical way to ensure your dog or cat gets the best.
* You simply add Complete Mix to the appropriate ration of raw meat, like kangaroo, rabbit, beef, mutton, lamb or organic chicken and you have a100% preservative and additive free, completely natural, raw, perfectly balanced meal.
* No Cooking! To avoid the harsh damage to proteins, vitamins and enzymes caused by cooking Complete Mix is formulated in accordance with the principles of raw food.
* The ingredients are air dried at, or below, body temperature.
* The Muesli type mix is simply added to fresh, raw meat.
* For maximum benefit, it should be soaked in warm water. This promotes more digestibility, nutritional value and palatability.
* Complete Mix contains a combination of uncooked mixed cereal grains including rolled oats, cracked barley, flax seed meal and whole oats. The carefully formulated meal also has dried vegetables, garlic, parsley, barley grass, calcium, yeast , kelp, lecithin and vitamin C.
* Cats and kittens love our special cat and kitten varieties. Compared with dogs, cats are generally
uniform in size and therefore dietary requirements vary little. The growth rate and requirements of kittens and adult cats are very similar. There is one cat formula for all ages. The formula is high in
nutrient supplements to balance the small amounts used per meal. The meat blend in the Premium Choice is high to match their highly carnivorous nature.
DAILY FEEDING GUIDE
Weight (kg) = Complete Mix (gm) = Fresh water (mls) = Fresh meat (gm)
0-1 = 20 = 20 = 140
2 = 30 = 30 = 190
3 = 35 = 35 = 250
4 = 5 = 35 = 180
5 = 45 = 45 = 200
6 = 50 = 50 = 230
4 = 50 = 50 = 150
5 = 55 = 55 = 160
6 = 85 = 5 = 170
7 = 95 = 95 = 180
Do You Have A Question About This Product?
Please note: Product information will be included with the form automatically.
VETS ALL NATURAL COMPLETE CAT MIX 1KG
is rated out of
5
by
7
.
Rated

5

out of

5
by
Basset Owner
from
Brilliant Vets All Natural
Keeps my cats healthy and happy. Follow this diet regime for your cats and you'll be very happy with their condition.
Date published: 2019-03-23
Rated

5

out of

5
by
Beth P
from
Highly recommend.
Easy to use, cats love it, great value! Highly recommend.
Date published: 2018-11-04
Rated

5

out of

5
by
Mellywells
from
This worked wonders for my cat - a miracle cure for him
I have a male cat that I took in off the streets - not sure how old. He has urinary issues that I thought I was managing as well as other problems - he is a bit odd, but lovely. Anyhoo for a week he was going crazy at night wailing, pacing, racing around, looking so very uncomfortable all the time - I was very worried about him but also going slowly mad with lack of sleep. Figured next time was a vet visit. I was feeding him at the time an individual pet mince product from the supermarket. I put him on the vet all natural with Kangaroo meat as soon as it arrived and oh my gosh the difference was almost immediate - he took to it straight away and he's been on it now for 3 weeks. Truly it was his miracle cure - I was at my wits end. I really do believe it was the inferior product from the supermarket that was hurting him. My other two cats though (one of which has an autoimmune disease) won't go near it unfortunately - I would love it if they did. As a side note he eats this product very differently to the way he used to, pulling it out of his bowl and making a huge mess - I wonder if he thinks it is actual prey??
Date published: 2018-03-09
Rated

5

out of

5
by
Merry
from
Great vitamin pack for cats fed with roo
Have always fed my cats this mixed into their roo, as I understand the philosophy of a raw food diet and so know I am giving them the best possible nutrients.
Date published: 2018-01-13
Rated

3

out of

5
by
Sue I
from
Looks Good Cat Hated It
Kind of a muesli with herbs, I liked the idea but my cat would rather starve to death. Gave 3 stars as the product looks reasonable, but I would love to know how many cats actually eat the stuff.
Date published: 2020-07-17
Rated

1

out of

5
by
AC77
from
No interest from my cats!
I've been researching raw feeding and thought this would be a good way to start. Both my cats have no interest in this mix. Raw meat on its own they devour. Raw meat and mix, they walk away. As the package shows I think this is more suited to dogs.
Date published: 2019-09-27