new
9323961006692
337007
76.99
/vets-all-natural-complete-cat-mix-5kg-p-6116
AUD
InStock
VETS ALL NATURAL COMPLETE CAT MIX 5KG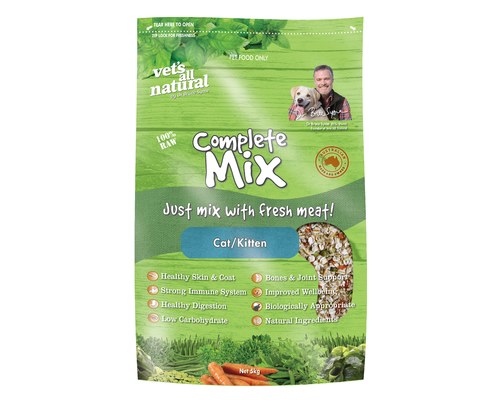 VETS ALL NATURAL COMPLETE CAT MIX 5KG
Availability: In Stock
Note: company wide stock level.
VETS ALL NATURAL COMPLETE CAT MIX 5 KG
* A healthy balanced diet consists of natural vegetable matter and grains with raw meat.
* Complete Mix represents the required vegetable matter and grain portion of your dog or cat's healthy diet.
* It is an economical way to ensure your dog or cat gets the best.
* You simply add Complete Mix to the appropriate ration of raw meat, like kangaroo, rabbit, beef, mutton, lamb or organic chicken and you have a100% preservative and additive free, completely natural, raw, perfectly balanced meal.
* No Cooking! To avoid the harsh damage to proteins, vitamins and enzymes caused by cooking Complete Mix is formulated in accordance with the principles of raw food.
* The ingredients are air dried at, or below, body temperature.
* The Muesli type mix is simply added to fresh, raw meat.
* For maximum benefit, it should be soaked in warm water. This promotes more digestibility, nutritional value and palatability.
* Complete Mix contains a combination of uncooked mixed cereal grains including rolled oats, cracked barley, flax seed meal and whole oats. The carefully formulated meal also has dried vegetables, garlic, parsley, barley grass, calcium, yeast , kelp, lecithin and vitamin C.
* Cats and kittens love our special cat and kitten varieties. Compared with dogs, cats are generally
uniform in size and therefore dietary requirements vary little. The growth rate and requirements of kittens and adult cats are very similar. There is one cat formula for all ages. The formula is high in
nutrient supplements to balance the small amounts used per meal. The meat blend in the Premium Choice is high to match their highly carnivorous nature.
DAILY FEEDING GUIDE
Weight (kg) = Complete Mix (gm) = Fresh water (mls) = Fresh meat (gm)
0-1 = 20 = 20 = 140
2 = 30 = 30 = 190
3 = 35 = 35 = 250
4 = 5 = 35 = 180
5 = 45 = 45 = 200
6 = 50 = 50 = 230
4 = 50 = 50 = 150
5 = 55 = 55 = 160
6 = 85 = 5 = 170
7 = 95 = 95 = 180
Do You Have A Question About This Product?
Please note: Product information will be included with the form automatically.
VETS ALL NATURAL COMPLETE CAT MIX 5KG
is rated out of
5
by
6
.
Rated

5

out of

5
by
LennysMum
from
Australian made Complete Mix keeps my cat healthy and happy
Have been using this brilliant product for years. It is completely natural and saves me so much time when preparing my cat's meal. With his favourite kangaroo mince and sardines added, I am confident I have served him a healthy meal. His health is exceptional and its an Australian company.
Date published: 2020-08-21
Rated

5

out of

5
by
Saffymum
from
Love this product
I have been using this product for years with my Ragdoll cat and he is very healthy. Since starting him on the mix, his coat is silky soft and he loves the taste. I serve it mixed with raw kangaroo mince and I'm interested to note that he also drags his dinner out of the bowl and onto the floor! A couple of times a week, I add in a cut up chicken neck in bite size chunks and he really enjoys the combination. He has a very sensitive stomach, but tolerates the mix very well. I highly recommend it, but suggest slow introduction if it is a new food, with just a little taste mixed up in mince then gradually adding more. It does need to be thoroughly mixed in.
Date published: 2020-02-22
Rated

5

out of

5
by
Basset Owner
from
Super addition
My 11 year old Burmese loves it and has been on it all her life. Her coat, weight and well being are excellent. My new rescue kitten has taken a couple of months to fully love it and she does now.It has helped her particularly with her bowels, now she has firm stools that don't pong.Yay.
Date published: 2019-06-09
Rated

5

out of

5
by
Megan H
from
Excellent product, cat loves it.
We've been buying Complete Cat mix for over 2 years now for our 3 year old Ragdoll. We mix it with kangaroo mince, he gets fed morning and evening and has never once walked away and not eaten it, as he did with other food when we first got him. Our cat is happy and healthy. Purchasing Complete Cat mix through My Pet Warehouse is excellent value, especially the free shipping and it always arrives quickly after purchase. We are very happy customers and will continue to use My Pet Warehouse for pet products.
Date published: 2018-07-17
Rated

5

out of

5
by
FloJo
from
cats love the taste
I wanted to try this product it sounded very nutricious and the cats love the taste ,even smells inviting.its easy to use mix with a bit of water to soften then add to the fresh meat and mix in, gloves make it easy to mix in, then feed,all my cats eat it.You could start off with a small amount then gradually increase as the cats get used to it,well worth the cost to try.Thanks
Date published: 2017-06-17
Rated

1

out of

5
by
Cat4
from
Not eaten by our cats
I bought this product thinking it would be a good alternative however none of our four cats will eat it no matter what it is mixed with. I have contacted the company but have had no reply from them as yet.
Date published: 2018-09-30