new
9323961006661
169015
72.99
/vets-all-natural-complete-mix-puppy-5-kg-p-3759
AUD
InStock
VETS ALL NATURAL COMPLETE MIX PUPPY 5 KG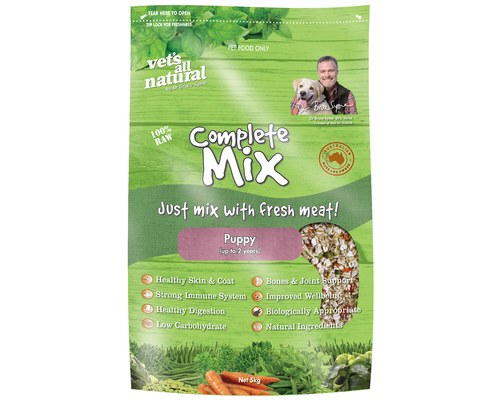 VETS ALL NATURAL COMPLETE MIX PUPPY 5 KG
Availability: In Stock
Note: company wide stock level.
VETS ALL NATURAL COMPLETE MIX PUPPY 5 KG
* A healthy balanced diet consists of natural vegetable matter and grains with raw meat.
* Complete Mix represents the required vegetable matter and grain portion of your dog or cat's healthy diet.
* It is an economical way to ensure your dog or cat gets the best.
* You simply add Complete Mix to the appropriate ration of raw meat, like kangaroo, rabbit, beef, mutton, lamb or organic chicken and you have a100% preservative and additive free, completely natural, raw, perfectly balanced meal.
* No Cooking! To avoid the harsh damage to proteins, vitamins and enzymes caused by cooking Complete Mix is formulated in accordance with the principles of raw food.
* The ingredients are air dried at, or below, body temperature.
* The Muesli type mix is simply added to fresh, raw meat.
* For maximum benefit, it should be soaked in warm water. This promotes more digestibility, nutritional value and palatability.
* Complete Mix contains a combination of uncooked mixed cereal grains including rolled oats, cracked barley, flax seed meal and whole oats. The carefully formulated meal also has dried vegetables, garlic, parsley, barley grass, calcium, yeast , kelp, lecithin and vitamin C.
* If your puppy is less than1 year old they will thrive on this formula. Puppies need more protein and more base nutrients and vitamins to sustain their rapid growth rate. To achieve this the Puppy formula includes more yeast, calcium, kelp, barley grass, lecithin, and vitamin C.
DAILY FEEDING GUIDE
Weight (kg) = Complete Mix (gm) = Fresh water (mls) = Fresh meat (gm)
0 - 1 = 25 = 25 = 70
2 = 30 = 30 = 100
3 = 40 = 40 = 120
4 = 50 = 50 = 160
5 = 60 = 60 = 200
6 - 10 = 100 = 100 = 320
11 - 15 = 150 = 150 = 420
16 - 20 = 200 = 200 = 600
21 - 25 = 250 = 250 = 750
26 - 30 = 275 = 275 = 850
Do You Have A Question About This Product?
Please note: Product information will be included with the form automatically.
VETS ALL NATURAL COMPLETE MIX PUPPY 5 KG
is rated out of
5
by
9
.
Rated

5

out of

5
by
KrisAnne
from
Vets All Natural Adult
Vets All Natural Adult helped our old Labrador return to a healthy weight and no longer suffers from terrible hot spots which had her chewing her own skin off. Never had any since changing to this diet with the recommended raw meat.
Date published: 2020-05-27
Rated

5

out of

5
by
RottiRadar
from
Worth every cent!
Was recommended this mix from our vet and have used mixed in with his nightly raw meat meal since 12 weeks old, and our now 6 month old Rottweiler has gained weight nicely and he is complemented by everyone with how shiny his coat is and that he looks so healthy. Not even hesitating in buying a 15kg mix with the 5kg lot about to run out.
Date published: 2019-07-05
Rated

5

out of

5
by
Jan22
from
Doggy muesli
I feed this to my puppy for breakfast. It's easy to prepare as I just add mince and water.
Date published: 2019-05-02
Rated

5

out of

5
by
Sonya B
from
Great product
I ordered this on the recommendation of a friend. My Pet Warehouse had 20% off so it was well priced. It arrived quickly and efficiently and the dogs love it. Would recommend My Pet Warehouse and Vets All Natural Complete Puppy Mix.
Date published: 2019-01-22
Rated

5

out of

5
by
Hayleymcb
from
Great food
When having check ups with the vets, they continuously kept telling us that our dog needs to be on just biscuits. Our dogs poo wasn't the best with the biscuits but we continued to give her that even though she wasn't keen on the biscuits. We then spoke to a friend of ours who absolutely recommended this product. After trying this now for 3 months her coat is now so healthy/shiny and her poos are normal and not runny and she looks forward to eating every time. I highly recommend everyone to get this product!
Date published: 2018-01-07
Rated

5

out of

5
by
Bubbles
from
Quick easy
I recently purchased dog food. Was very easy to order , good price and delivered very quickly will def use again
Date published: 2017-07-17
Rated

5

out of

5
by
Margaret
from
Recommended by vet
This product was recommended by our lovely vet when our German Shepherd Puppy arrived home at the age of 2months. He is on the diet since then. We mix the product with boiled meat and rice. He's 15 months now and is very healthy. It's an all-in-one product. We don't add the suggested amount on the package but half of it. The amount of water need for the mix should be more than the suggested amount.
Date published: 2017-06-19
Rated

3

out of

5
by
Chicken Coop
from
Complete Mix
My puppy is pretty fussy, and I am struggling to get her to eat this. I am smuggling a small amount into her dinner & if she is hungry enough she will get it down! I have mixed it with chicken stock, but she knows! I am sure it's a great product, and the reason I bought it was because she has Anal Gland issues - so time will tell!
Date published: 2019-09-27