new
9323961007415
169022
93.99
/vets-all-natural-complete-mix-sensitive-skin-5kg-p-12834
AUD
InStock
VETS ALL NATURAL COMPLETE MIX SENSITIVE SKIN 5KG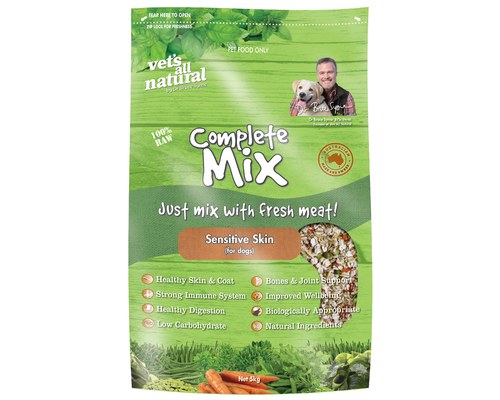 VETS ALL NATURAL COMPLETE MIX SENSITIVE SKIN 5KG
Availability: In Stock
Note: company wide stock level.
Vets All Natural Complete Mix Sensitive Skin, 5kg
The Complete Mix Sensitive Skin dog food from Vets All Natural is a complete diet for dogs with sensitive skin. Dogs live a longer and healthier life when they eat the right food. Canines have lived on a diet of raw meat, grains and vegetable matter for millions of years and this food mimics this natural diet.
The cooking process used to create dry or processed foods destroys natural enzymes and microbial content. It also gets rid of all the important vitamins, fatty acids, amino acids and protein.
Raw diets and the use of air drying keep all of these elements intact. When the Complete Mix Sensitive skin is mixed with a preservative-free raw meat it is as though your dog is eating a prey animal and their gut contents.

Natural balanced ingredients include:
Rolled oats, cracked barley, flax seed meal, carrots, split peas, calcium carbonate, yeast, parsley, kelp, lecithin, barley grass, Vitamin C and garlic. The sensitive skin mix also includes probiotics (protexin, milk thistle, omega 3 powder, quercetin, green tea, zinc, colostrum, astragalus and perilla seed to nourish skin and fur.

Directions for feeding:
Shake up contents before use to ensure ingredients are mixed evenly together.
Mix with the suggested volume of water - for best results mix at room temp up to 24 hours ahead or up to 30 minutes ahead in warm water. This allows the mix to soften, ferment and release more nutrients.
Add soaked mix to the appropriate ration of raw meat (instructed on packet).
Feed to your dog and leftover mix can be refrigerated (eat within a few days) or frozen.
Do You Have A Question About This Product?
Please note: Product information will be included with the form automatically.
VETS ALL NATURAL COMPLETE MIX SENSITIVE SKIN 5KG
is rated out of
5
by
13
.
Rated

5

out of

5
by
Jellybean
from
Natural is best
My dog had a yeast skin infection l tried 3 different dry foods but none helped I tried Vets all Natural mixed with raw kangaroo meat. All the infection is gone. Pet warehouse has the best price and delivery is very quick.
Date published: 2021-03-02
Rated

5

out of

5
by
Atatch4
from
This stuff works!
After dealing with skin rashes his whole life, my 4yo GSD is now rash and itch free! We had tried cortisone injections, medicated shampoos and other remedies to help with his skin, but with a simple diet change there was improvement within a week. My boy is now happier and living a more comfortable life.
Date published: 2019-09-11
Rated

5

out of

5
by
Jarrod
from
Vets all natural complete mix sensitive skin
Great product have a English staffy that had skin problems before using this, have been using for about 2 months now & all skin problems have gone highly recommend it
Date published: 2019-08-20
Rated

5

out of

5
by
Jane B
from
Brilliant for allergic or itchy dogs
The various dogs I have and have had do SO well on this stuff. One was allergic to many things - after a year on this stuff, her allergies virtually disappeared. A rescue dog and my current dog weren't allergic, but seemed to be a bit itchy and scratch a lot for no reason visible. After a month on this stuff + his Omega oil, their skin settled right down, coats gleamed and no more scratching. Told the person who adopted the rescue (I was fostering): they fed it initially but let it lapse. The itchies returned, so she put the dog back on it. Again, the scratching settled and just went away. Just great food, mixed with raw roo as he recommends.
Date published: 2019-04-07
Rated

5

out of

5
by
Tim Boy
from
Vets All Natural Complete Mix for Sensitive Skin
I bought the Complete Sensitive skin a couple of weeks ago and at first my dog wasn't fussed about it but I mixed it into his meat and now he eats it all up. I have noticed his coat is becoming very soft.
Date published: 2019-02-03
Rated

5

out of

5
by
Barney12
from
Easy Preparation
My pooch loves this food and it's so easy to prepare and then just add meat. He has only been on it for about a week but have already noticed he doesn't seem to itch as much. Will definitely continue to use.
Date published: 2019-01-11
Rated

5

out of

5
by
Mitzey
from
Easy to use
Been feeding this for about a month. Pup really loves it. Easy to use and I think in the long run cheaper as well. Will have to wait and see if it helps with the sensitive skin
Date published: 2018-03-24
Rated

5

out of

5
by
DeeDeew
from
Great Service
Since I've been using Vets all natural Sensitive skin dog food for my labrador's very itchy skin, I have been able to take her off all medication. Such a relief to find something that worked after spending $100 of dollars trying everything else!! My Pet Warehouse provides the best and quickest delivery service i have every had. I forgot to order Lilly's food once but i got it the next day so she wasn't without it!!
Date published: 2017-11-12
Rated

5

out of

5
by
Dann
from
Great product, fast delivery
My dogs skin and overall health has benefited greatly from this product. I purchase online as we live in rural NSW. Quick and easy through My Pet Warehouse
Date published: 2017-08-21
Rated

5

out of

5
by
Tezz
from
Satisfied Pups
We have just finished transitioning our 2 French Bulldogs onto Vets all Natural over 10 days. It is early days but our girl hasn't been red and itchy at her private parts, the redness has also reduced from her paws and there has been no more butt scooting. Hopefully this isn't just a coincidence! They love the taste and have no problems in finishing there bowls, we mix it with Kangaroo. Seem to have 2 happy puppies. Unrelated to the product, the service received from My Pet Warehouse is always brilliant, received product the following day.
Date published: 2017-07-08