new
9323961006630
169011
19.99
/vets-all-natural-complete-mix-weight-loss-1kg-p-3755
AUD
InStock
VETS ALL NATURAL COMPLETE MIX WEIGHT LOSS 1KG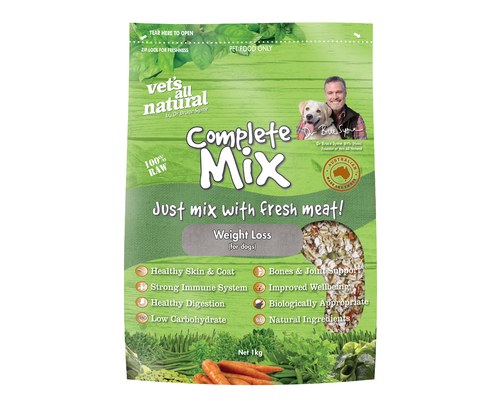 VETS ALL NATURAL COMPLETE MIX WEIGHT LOSS 1KG
Availability: In Stock
Note: company wide stock level.
VETS ALL NATURAL COMPLETE MIX | WEIGHT LOSS | 1kg
Having an overweight dog is something to change because that can lead to many health problems. To keep them spirited and smiling, they would need to lose some weight so that they can fulfil their lifelong dreams of playing fetch all day or to one day catch their tail.
The Vets All Natural Complete Mix Weight Loss formula is all about
lowering your dogs calorie intake
. Being
low in fat
,
low in protein
but extremely
high in vegetables and roughage
, your dog will still receive high levels of the essential nutrients needed to them bubbly and active.
Perfectly impersonating the gut environment of their prey out in the wild, the mix is an absolutely
balanced nutritional advantage
. The ingredients are uncooked and raw, the exact way canines are meant to ingest plants and vegetables in order to maintain their skin and coat, teeth, stomach, intestines and enzymatic environment whilst avoiding modern diseases easily susceptible by canines. What's more – by simply blending in some raw meat you can make this a Biologically Appropriate Raw Food diet, an economical meal without losing any quality.
The most important guideline to follow when using this product is to make sure you follow the steps for your dogs target weight, not their actual weight – this is to ensure they have a reduced intake.
Using this Complete Mix Weight Loss is easy:
Soak the Complete Mix in room temperature water for 12-24 hours (for immediate use, soak and stir in hot water for 30 seconds)

This is important to improve the palatability and digestibility while also activating starch in the vegetables
Ingredients*:
Rolled oats, Cracked barley, Flax seed meal, Whole cracked oats, Carrots, Split peas, Calcium carbonate, Parsley, Kelp, Lecithin, Barley grass, Vitamin C, Dried garlic.
*List of ingredients is not exhaustive. Should you have any concerns regarding allergies, please contact the manufacturer.
Meal preparation:


Target weight (kg) | Complete Mix (g) + Fresh water (ml) + Meat (g)
5 | 55 + 55 + 50
6-10 | 100 + 100 + 85
11-15 | 130 + 130 + 115
16 -20| 175 + 175 + 150
21-25 | 200 + 200 + 175
26-30 | 225 + 225 + 200
31-35 | 250 + 250 + 220
36-40 | 280 + 280 + 240
41-45 | 315 + 315 + 270
46-50 | 350 + 350 + 300
Do You Have A Question About This Product?
Please note: Product information will be included with the form automatically.